Directions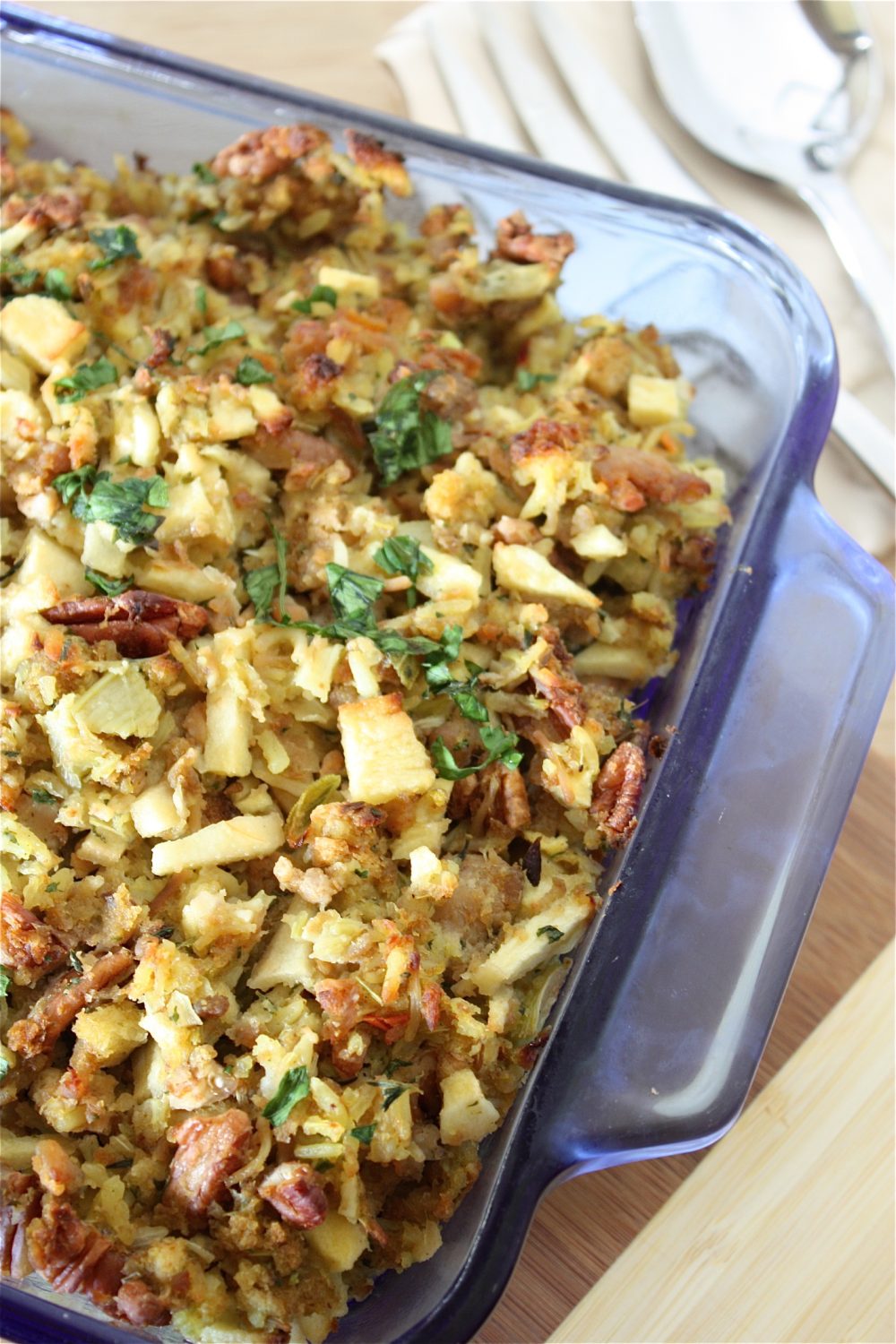 Everyone has a dish that defines their Thanksgiving table. This one dish can bring back memories of holidays past, and carry on family traditions for future generations.
I happen to be very blessed and come from a family of amazing cooks. I've never had a bad meal for any holiday or special occasion.
That said, I do have my favorites, and my mom's stuffing is one of them. It's a little taste of home.
Every person has a different interpretation on what stuffing is to them. There are hundreds of interpretations and schools of thought when it comes to what is, and should be, in stuffing.
Each ingredient has a role in stuffing. The apples provide a sweetness. The pecans, a crunch and earthiness. The sausage, a chew and spiciness. The herbs, a warmth and freshness.
The Rice-a-Roni… wait, Rice-a-Roni? In stuffing? Why yes. It adds a whole new texture that melds perfectly with the cornbread dressing.
Now, I'm normally a raw ingredient, homemade everything advocate…But sometimes I have to forgo my snobby food morals and side with tradition.
Yes, my mom uses boxed stuffing and Rice-a-Roni. And yes, it is delicious and wonderful, and satisfies all of my Thanksgiving (or any time of year) cravings.
I don't, and won't, question it. It's perfect just the way it is.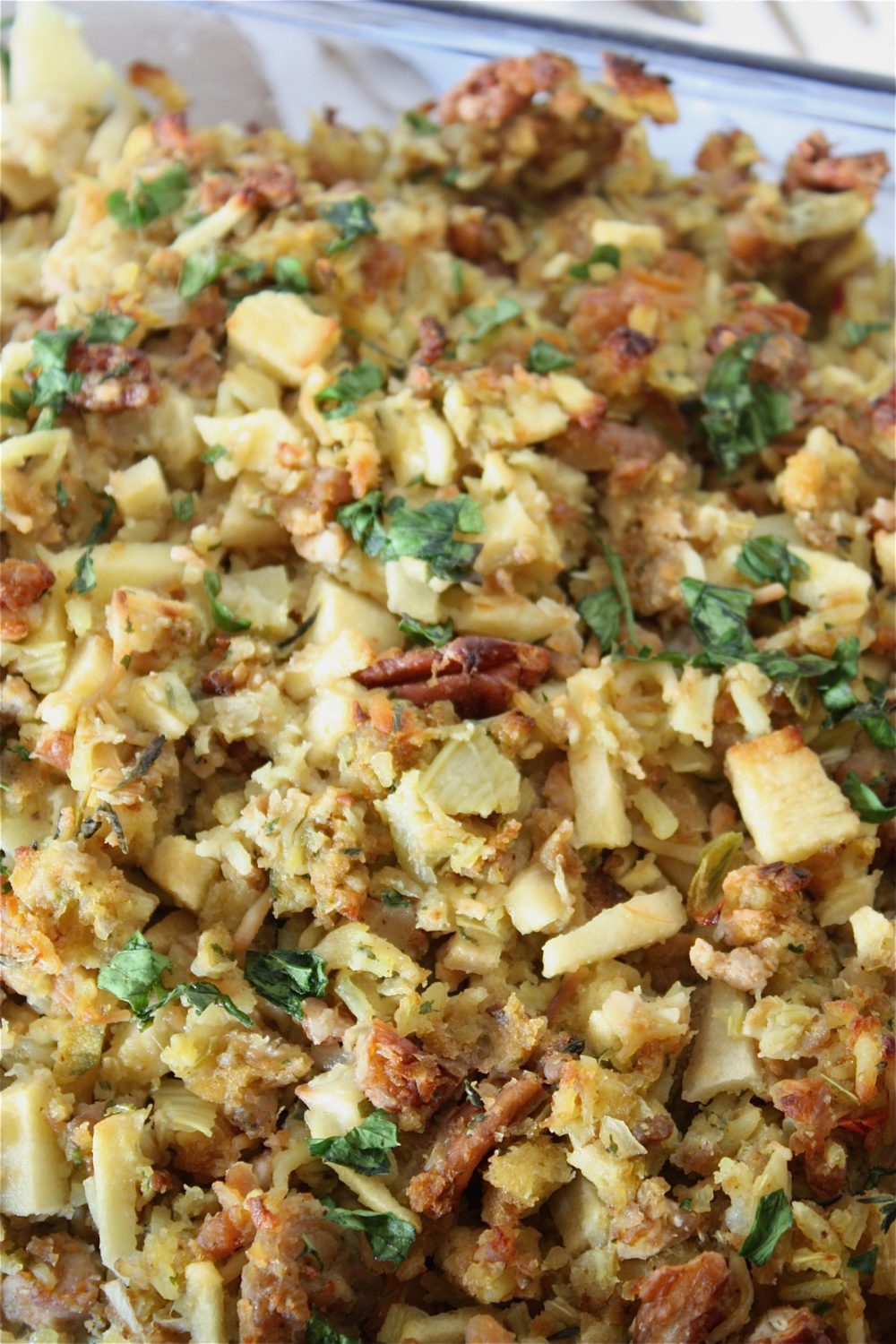 Mom's Sausage, Apple and Pecan Stuffing
1 box chicken flavored Rice-a-Roni
1 box Stove Top cornbread dressing
1-1/2 cups chicken stock
1 Tbsp. olive oil
1 onion, diced
4 ribs celery, cut into 1 inch pieces
1 pound chicken Italian sausage, casings removed
1 Tbsp. fresh thyme
1 Tbsp. fresh sage, finely chopped
1 Tbsp. fresh parsley, roughly chopped
1 tsp. fresh rosemary, chopped fine
1 apple (any variety), peeled, cored and diced into 1 inch chunks
1/2 cup pecans, roughly chopped
Preheat oven to 350 degrees F.
Prepare Stove Top cornbread dressing per package directions, using chicken stock instead of water. Set aside. Prepare Rice-a-Roni as per package directions. Set aside.
Add olive oil medium saucepan over a medium heat. Add onions and celery and saute until just softened. Add Italian sausage and break up with a wooden spoon. Cook until browned.
Stir in thyme, sage, parsley and rosemary. Set aside to cool slightly.
In a large bowl, carefully stir together cooked Rice-a-Roni, cooked cornbread dressing, Italian sausage mixture, diced apples and pecans.
Spray a 9″ by 13″ casserole dish with cooking spray.
Spoon in stuffing mixture. Bake uncovered for 30-35 minutes, until top the top is golden brown.
(Visited 56 times, 1 visits today)