Directions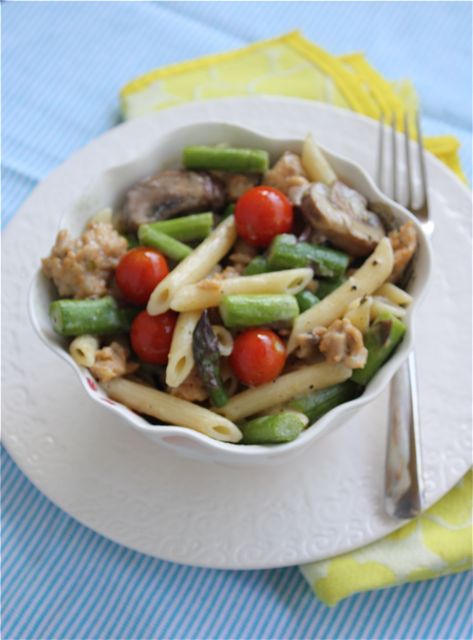 I come from a long line of pasta-loving women.
Growing up, my Oma would babysit me, and feed me loads and loads of "butter noodles" — pasta with butter, Parmesan cheese and pepper.
That's still my go-to comfort food and always will be.
I take after my mom in that instead of typical breakfast foods, I prefer leftovers for breakfast. It may sound odd, but for my mom and I, a little leftover pasta for breakfast is how we like to start the day.
Not every day, of course. Just when there's something good waiting for us in a Tupperware container in the fridge.
With this being Mother's Day weekend,  I could think of nothing better to put me in touch with my maternal side and bring back some fond memories.
A love of goat cheese is something else us ladies share. We're crazy for it, in fact. Nothing else can match goat cheese's tangy richness.
Goat cheese is perfect for spreading, but also a wonder in sauces. It melts quickly, and mixed with a bit of starchy pasta cooking water, voila, you have your pasta sauce.
Some folks think goat cheese is too strong and a bit overpowering. In this dish, the goat cheese is not overwhelming as a sauce.
Wishing all you mommas out there a happy, lovely Mother's Day.
Chicken Sausage, Goat Cheese and Asparagus Penne
1 pound penne pasta
1 teaspoon salt (for the pasta water)
3 Tablespoons olive oil
1 pound uncooked Italian chicken sausage, removed from casings
6 cloves garlic, minced
1 pound asparagus, woody ends removed and cut into 1-inch pieces
6 ounces crimini mushrooms, sliced
1 pint cherry tomatoes
1/2 teaspoon Kosher salt
1/2 teaspoon freshly ground black pepper
12 ounces herb goat cheese (or plain if you can't find herb flavor)
1 teaspoon grated lemon zest
In a large pot, bring 1 quart of water to a boil. Once the water is boiling, add 1 teaspoon salt and the pasta. Cook the pasta per the package instructions.
Reserve 1 cup of pasta water and set aside.
Drain the pasta once it's cooked.
Meanwhile, in a large skillet over medium-high heat, add the olive oil and heat until the oil is just shimmering. Add the chicken sausage and cook, breaking up with a wooden spoon.
When the sausage is cooked through and beginning to brown, remove from the skillet with a slotted spoon and place into a bowl, leaving the oil behind in the skillet.
To the skillet, add the garlic, asparagus and mushrooms. Saute the vegetables until they are just tender, about 4-5 minutes. Add the cherry tomatoes and lemon zest.
Season the vegetables with salt and pepper.
Stir in the goat cheese and reserved pasta water. Add the browned sausage back in and stir to combine.
Pour the sauce, vegetable and sausage mixture over the cooked pasta and stir to combine.
(Visited 18 times, 1 visits today)