A Preview of Spring (Almost)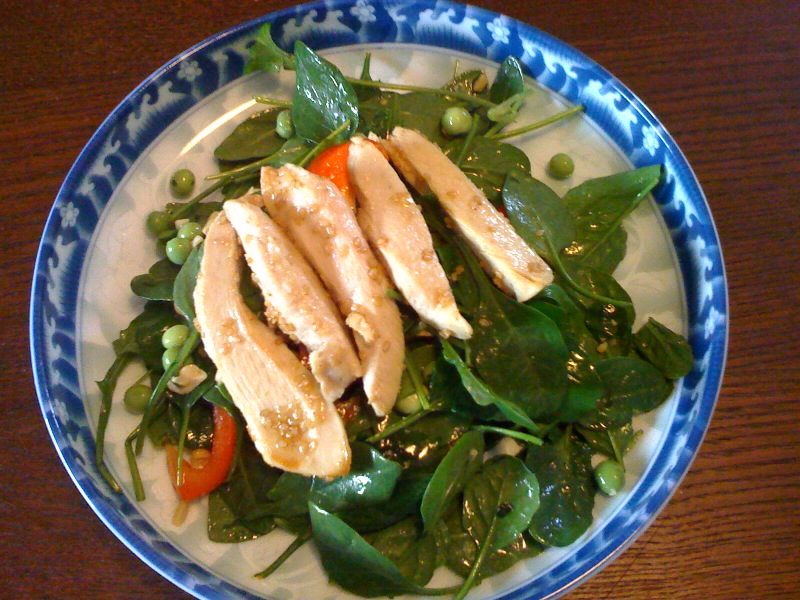 In an effort to reflect the spring-like day today, with the beautiful sunshine, yet still a bite of chill, a soup and salad dinner sounded just right.
Much to my surprise, I found two delicious recipes in Gluten-free Cooking by Sue Shepherd.  Now, don't get me wrong, this cookbook is great — it has beautiful photography and many diverse recipes.  But the whole gluten-free premise has thus far turned me off from trying any of the recipes.  My only experience with gluten-free cooking until this point has been those icky gluten-free brownie mixes.  Believe me, you don't want to hear the details of the aftermath of those brownies.  Let's just say it wasn't pretty.
No one in my family has Celiac disease, but I figure a gluten-free dinner can't hurt.  As it turns out, both recipes were delicious and no one would have any idea they are gluten-free, unless you tell them.
This dressing is now one of my favorites.  The sushi vinegar is tart and the peanuts are crunchy.  Makes me want to dance.
Sesame Chicken Salad

1 egg white, lightly beaten
1/2 tsp. salt
1 tbsp. (fresh) lemon juice
1 tbsp. cornstarch
1 lb. skinless chicken breast, cut into strips
2 tbsp. sesame oil
1 tbsp. sesame seeds

Salad

Two big handfuls fresh baby spinach
1 cup snow pea sprouts
7 oz. snow peas
7 oz. cherry tomatoes, halved
1 avocado, diced
1/2 a green pepper, seeded and cut into strips

Dressing

1 tbsp. sesame oil
3 tablespoons sushi vinegar
1 clove garlic, crushed
1 tbsp. shopped cilantro
1/2 cup peanuts, roughly chopped

Combine the egg white, salt, lemon juice and cornflour in a bowl.  Coat the chicken strips in the mixture, cover and refrigerate for 30 minutes.

Meanwhile, mix the salad ingredients in a large bowl.  Put the dressing ingredients in a container and shake well.

Bring water in a medium saucepan to a boil.  Add 1 tablespoon sesame oil.  Place the chicken in the boiling water, stir quickly for 1 minute, then remove immediately and drain.

Heat the remaining sesame oil in a frying pan over medium-high heat.  Add the poached chicken pieces and sesame seeks and cook for 3-5 minutes, or until browned.

Pour the salad dressing over the salad and toss to combine.  Top with chicken strips.
Tips:
The whole step about soaking the chicken in the cornstarch slurry and then poaching it seems a little counterproductive to me, since the cornstarch mixture just washes off in the boiling water.  The recipe insists it makes the chicken more tender, but I didn't notice a difference.  What I would recommend is to marinate the chicken in the mixture, and then just saute it until lightly browned.
The lemon in the marinade imparts a lovely hint of lemon to the chicken, so don't leave it out.
I left out the snow pea sprouts because I couldn't find them.  I live in Tacoma, Washington, for god's sake.  I might as well be on Mars.
Instead of snow peas, I shelled some English peas and added those.  Isn't shelling peas incredibly relaxing and fun? I think so.  Give it a try.  Free therapy.
I had a red pepper, so I used it instead of a green pepper.  I think it looked prettier anyway.
Cauliflower and Cheese Soup

1 3/4 oz. butter
4 lb 2 oz. cauliflower, chopped into big chunks
1 lb 2 oz. potatoes, quartered
6 cups vegetable stock
1 cup milk
1 cup grated reduced-fat cheddar
1/3 cup grated parmesan
Salt
Freshly ground black pepper

Melt the butter in a large pot over medium-high heat.  Add the cauliflower and potato and cook, stirring, for 3-4 minutes or until lightly golden.   Add the vegetable stock and bring to a boil.  Cook for 15-20 minutes, stirring occasionally.

Remove from heat and let cool for 15 minutes.  Use an immersion blender or food processor to puree the vegetables into a smooth consistency.  Stir in the milk and cheeses until combined and the cheese has melted.  Season to taste with salt and pepper.
Tips:
I just eyeballed the measurements for the cauliflower and potato because I don't have a scale.  I just used a large head of cauliflower and four small Russet potatoes.
If you like a little texture to your soup, leave a few chunks of vegetable in there.  If not, puree away.
The soup is kind of boring looking without a garnish.  I didn't have anything readily available besides cilantro, which I DO NOT recommend as a garnish on this.  But it makes it look better.  I told my boyfriend to pick it out before he ate it.  Yeah, don't do that.  But maybe some crunchy bacon bits might give it some texture, and a bit of zested lemon peel might brighten it up.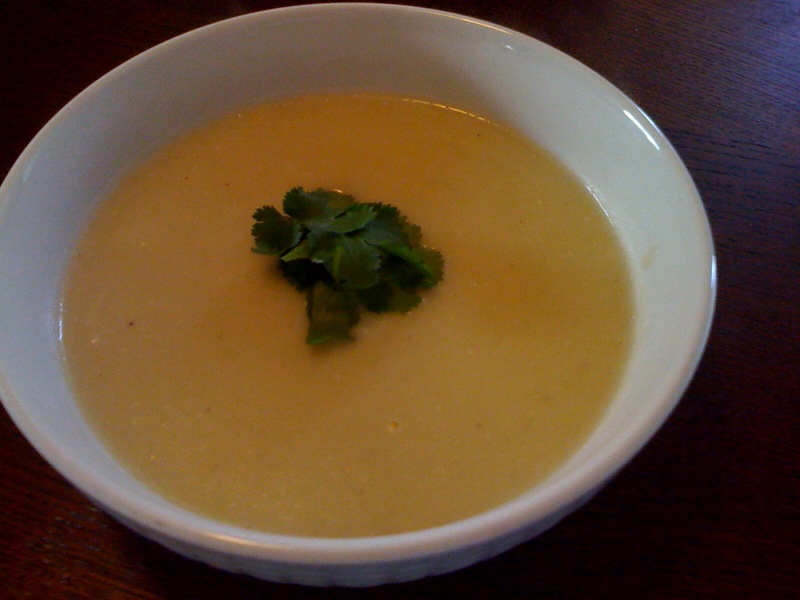 (Visited 26 times, 1 visits today)