Dinner for the Barbeque Deprived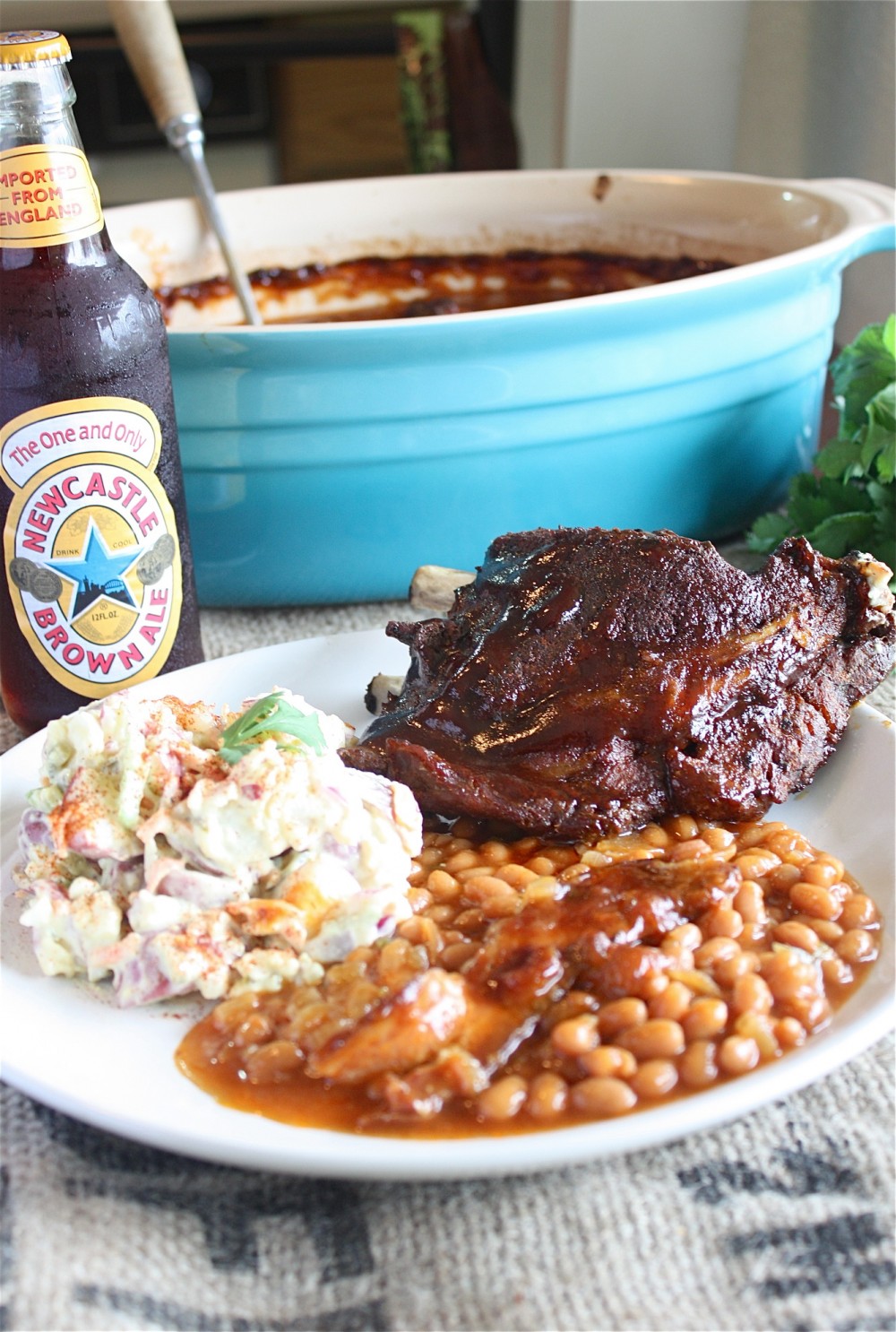 Ever looked for that certain special dinner that you dream about…that you crave…that you want so badly, but just can't seem to find?
This is my relationship with barbeque in Tacoma, where we live.
Either I'm blind, Google-tarded, or just not looking hard enough, but I cannot seem to find a decent barbeque restaurant in my city.
Now, there is a certain chain barbeque restaurant within the city limits, but I refuse to count this. If you've ever eaten at such an establishment, you'll know what I mean. There's a certain soul, a history, a sense of pride to a good barbeque joint that you just don't find at those chain restaurants.
I've driven around this place, as well as to surrounding towns in my pursuit of barbeque, only to be met with closed signs or worse, signs of being out of business for good.
There is no reason for this barbeque shortage in our area.  Really, the people are hungry for it.  We are begging for it.  "Bring us barbeque!" shout Tacoma residents from their sad, barbeque-less homes.  Okay, so maybe I'm exaggerating.  But for god's sake, it's a tragedy.
What's a girl to do when she's jonesing for some sticky, sweet, spicy, smoky, fall-off-the-bone meat?  Well, I guess I have to make it myself.
Today at the farmer's market, Casey and I came across "Cheryl the Pig Lady" selling big ol' racks of ribs.  By Casey's immediate salivation and questions of "Do you know how to make beans?  What about potato salad?", I figured I might as well try to make a barbeque-like dinner at home.
I say "barbeque-like" because I don't have a smoker.  I'm using my oven.  Sure, I could use that creepy liquid smoke stuff (what is that, anyway?), but until I actually do break down and buy a smoker, the oven will have to do.
First of all, BEST BEANS WE HAVE EVER HAD.  That goes for both of us.  I snuck a piece of bacon off the top, took a bite, gave Casey the other half, and we both melted.  Melted.  Seriously.  The bacon is all sweet and magical (Casey's word) and crunch on the edges.
I really love to use red potatoes for potato salad.  Their skins pop when you bite into each piece, and they hold their texture really well.
As Casey says, "It's everything wonderful in the world."
That's serious business.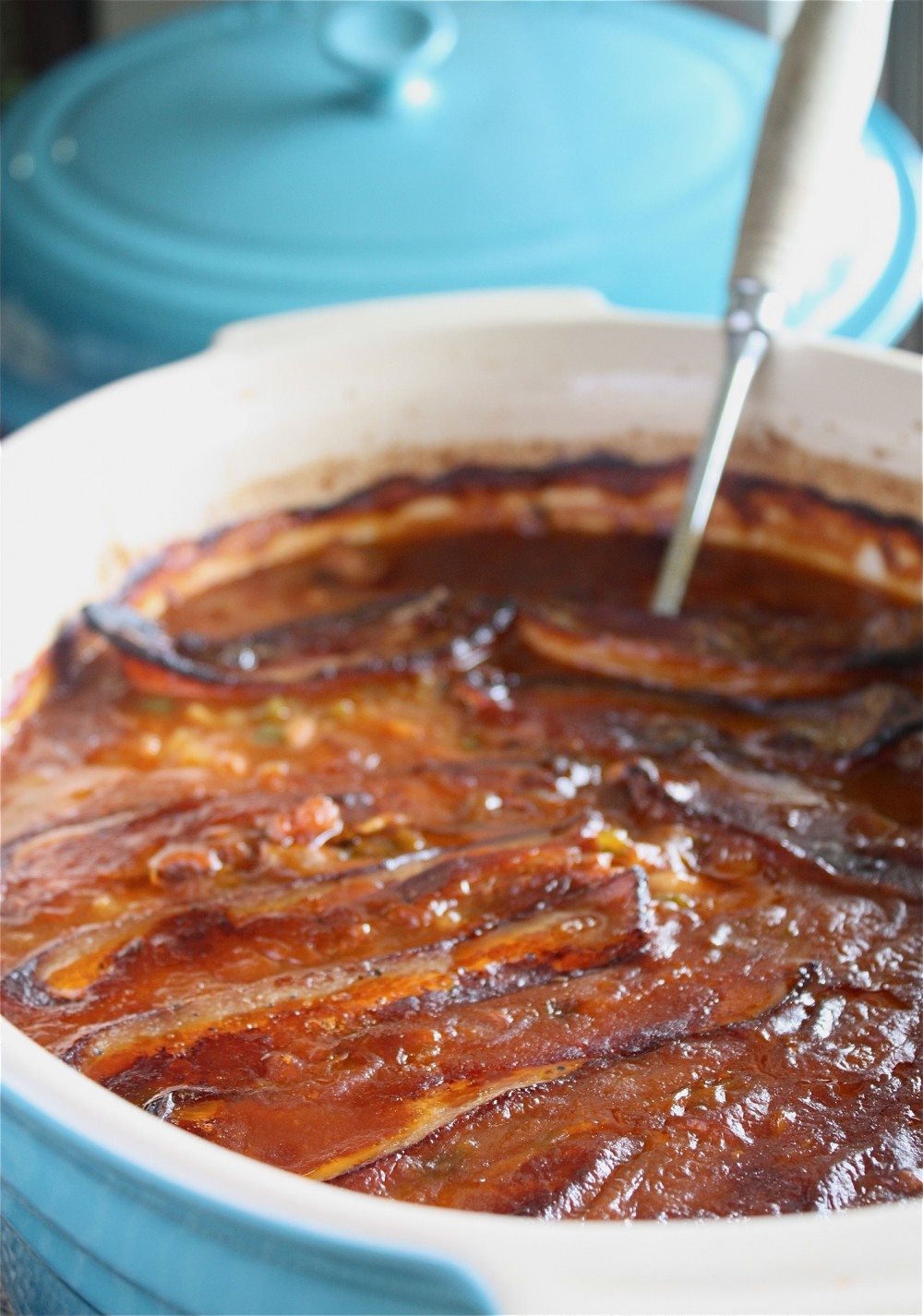 Quick Southern-Style Baked Beans
recipe by Pam Anderson, from The Pioneer Woman

Serves up to 18
8 slices bacon, halved
1 medium onion, cut into small dice
1/2 medium green pepper, cut into small dice
3 large cans (28 ounces each) pork and beans
3/4 cup barbecue sauce
1/2 cup brown sugar
1/4 cup distilled or cider vinegar
2 teaspoons dry mustard or 2 tablespoons Dijon
Adjust oven rack to lower-middle position and heat oven to 325 degrees. Fry bacon in large, deep sauté pan skillet until bacon has partially cooked and released about 1/4 cup drippings. Remove bacon from pan and drain on paper towels. Add onions and peppers to drippings in pan and sauté until tender, about 5 minutes. Add beans and remaining ingredients bring to a simmer. (If skillet is not large enough, add beans and heat to a simmer then transfer to a large bowl and stir in remaining ingredients). Pour flavored beans into a greased 13-by 9-inch (or similar size) ovenproof pan. Top with bacon, then bake until beans are bubbly and sauce is the consistency of pancake syrup, about 2 hours. Let stand to thicken slightly and serve.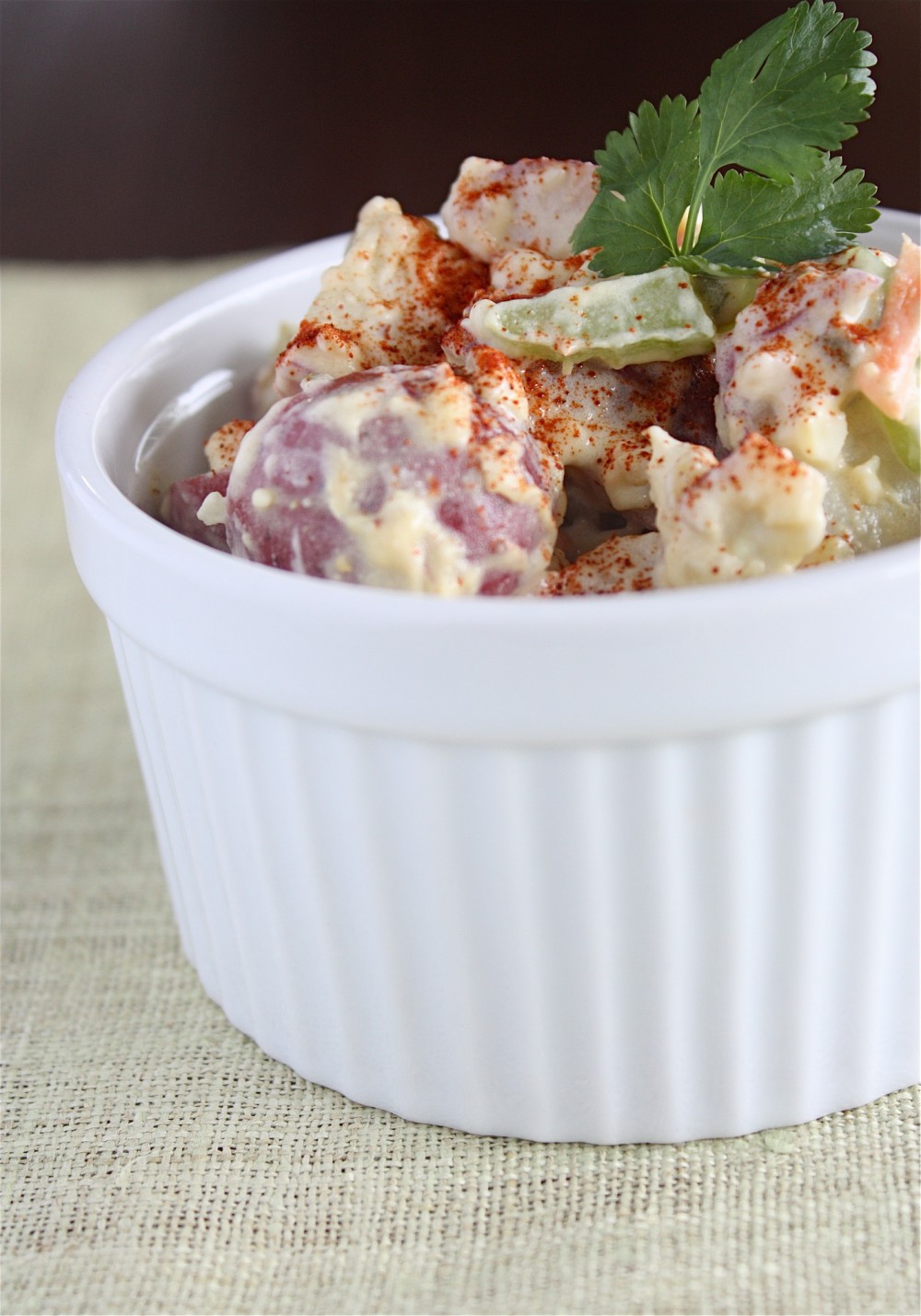 Creamy Red Potato Salad
Adapted from Southernfood
2 pounds red-skinned potatoes, scrubbed and cut in 1/2-inch cubes
3 hard-cooked eggs, peeled and chopped
1/2 cup diced celery
1/4 cup finely chopped red onion
3/4 to 1 cup mayonnaise
2 to 3 tablespoons sweet pickle relish
1 tablespoon spicy brown mustard or your favorite gourmet mustard
1 large carrot, grated
salt and pepper, to taste
Cook potatoes in boiling salted water for about 10 to 15 minutes, or until fork tender. Drain and let cool completely. Combine potatoes, eggs, celery and onion in a large bowl. Stir in 3/4 cup mayonnaise, the relish, and mustard. Add more mayonnaise, as needed, to taste. Add salt and pepper, to taste.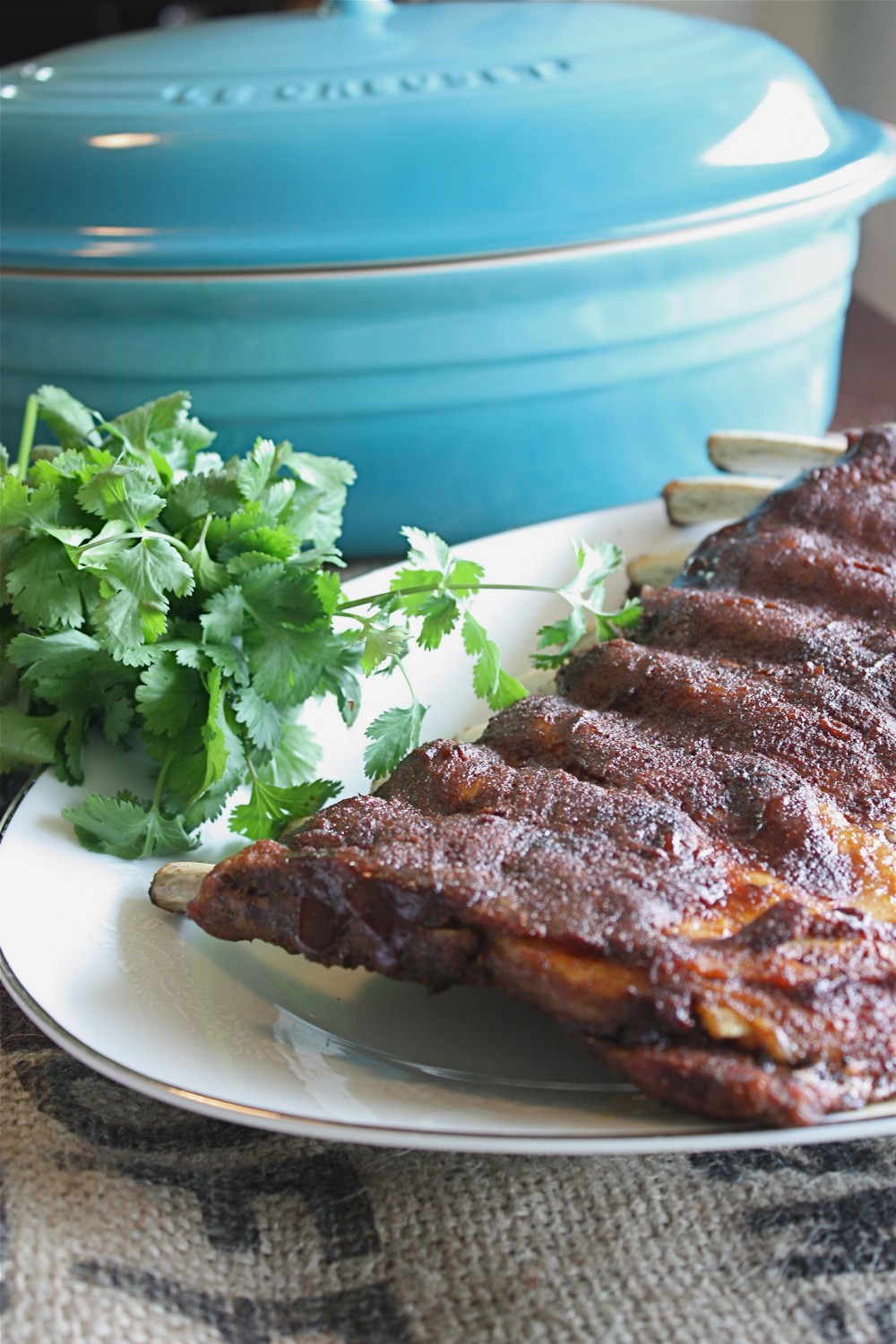 EJ's Simple Oven-Baked BBQ Ribs
Courtesy Food Network and Emeril Lagasse
2 racks baby back ribs
6 tablespoons Emeril's Rustic Rub, recipe follows
1 1/2 teaspoons salt
1 teaspoon freshly ground black pepper
1 teaspoon celery salt
Barbeque sauce
Preheat the oven to 300 degrees F and line a large baking sheet with a piece of aluminum foil large enough to cover the pan twice (you will be folding this over the ribs and sealing.)
Place the ribs on the prepared baking sheet in 1 layer.
In a small bowl, combine the Rib Rub, salt, pepper, and celery salt and stir to combine. Divide the seasoning evenly among both slabs of ribs, coating well on both sides. Fold the sides of the foil over the ribs and seal tightly on all sides.
Place the ribs in the oven and bake, undisturbed, for 2 1/2 to 3 hours, or until ribs are very tender.
Remove the ribs from the oven and peel back the foil so that the ribs are exposed. Using a pastry brush or the back of a spoon, coat the racks lightly on the meaty sides with barbecue sauce. Return to the oven until sauce is thickened and lightly browned, about 20 minutes longer. Remove the ribs from the oven and set aside to cool briefly before cutting between the ribs and serving. Serve with more barbecue sauce, if desired.
Rustic Rub:
Yield: 2 1/4 cup
8 tablespoons paprika
3 tablespoons cayenne
5 tablespoons freshly ground black pepper
6 tablespoons garlic powder
3 tablespoons onion powder
6 tablespoons salt
2 1/2 tablespoons dried oregano
2 1/2 tablespoons dried thyme
Combine all ingredients and store in an air-tight container.
(Visited 160 times, 1 visits today)