Epic Fail: The Great German Chocolate Cake Debacle of 2010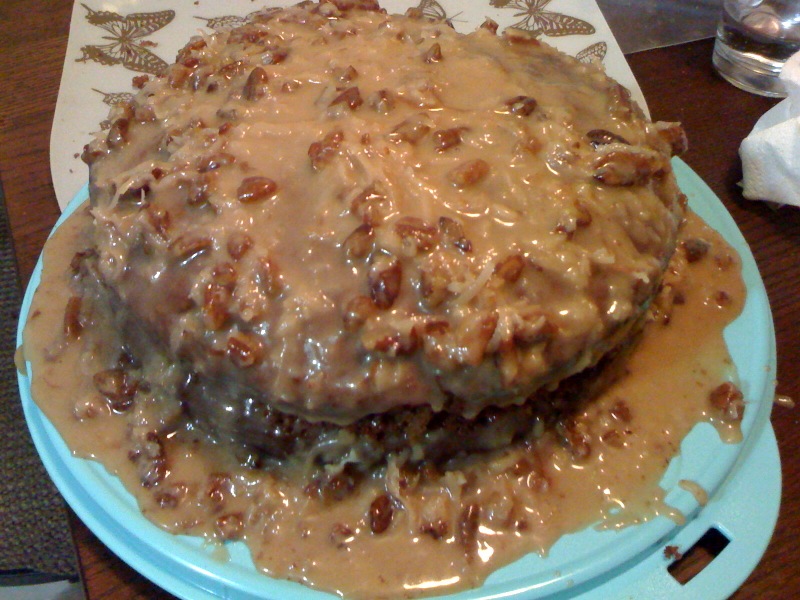 So here is my original post I was planning — oh, how nice and sentimental:
Seriously, I don't normally bake this much.  But March is  a month full of birthdays for my family and friends.
Tomorrow is my dad's 50th birthday.  (Sorry, dad.  I ratted you out).
German chocolate cake is his absolute favorite — "The way my mom used to make", he says.   Unfortunately, I can't locate the exact recipe my grandma used to use.  However, I have found one that is very close, and will surely remind him of the good old days.
This recipe is a fairly traditional one.  I've seen them every which way — inverted with coconut/pecan cake and chocolate frosting, using almonds instead of pecans, etcetera. But really, isn't dessert all about bringing back great memories?  So I'll stick with this one.
I know there are a lot of steps.  It just takes a little time and patience.
And that's where the original post will end, and what really happened begins:
PATIENCE?  HOW MUCH PATIENCE CAN A WOMAN HAVE? Honestly, I have never had this much trouble baking anything.  I had an epic fail with this cake.
First of all, the cake turned out dry for some reason.  No idea why.  And I could not, for the life of me, get the frosting to thicken enough.  I thought, "oh, when it cools down it will thicken up just right".  WRONG.  I even tried re-heating it to see if that would work.
So why, my friends am I sharing this with you?  Because everyone has recipes that don't work out.  And after I ranted and raved about how pissed I was about this one, my boyfriend quoted me some quote by Michael Jordan about how he has missed like a million shots and lost tons of games…yadda, yadda.  But really, it's true.  You can't win them all.
Here it is, for your viewing pleasure.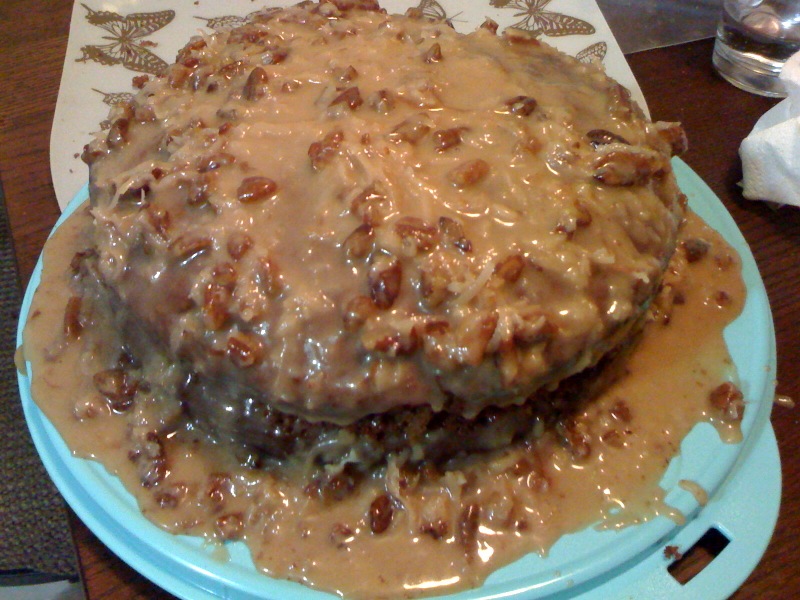 Here is the recipe, in case you want to try it. I'm sure it works just fine.  I must have done something wrong.  Maybe it's just karma catching up with me.
Let me know if you get better results.>
German Chocolate Cake
Courtesy Dinner and Dessert

Filling/Frosting

4 egg yolks
1 can evaporated milk (12 ounces)
1 cup granulated sugar (7 ounces)
1/4 cup packed light brown sugar (1 3/4 ounces)
6 tablespoons unsalted butter (3/4 stick), cut into 6 pieces
1/8 teaspoon table salt
2 teaspoons vanilla extract
2 1/3 cups sweetened shredded coconut (7 ounces)
1 1/2 cups finely chopped pecans (6 1/2 ounces)

Cake

4 ounces semisweet or bittersweet chocolate , chopped fine
1/4 cup Dutch-processed cocoa , sifted
1/2 cup boiling water
2 cups unbleached all-purpose flour (10 ounces), plus additional for dusting cake pans
3/4 teaspoon baking soda
12 tablespoons unsalted butter (1 1/2 sticks), softened
1 cup granulated sugar (7 ounces)
2/3 cup packed light brown sugar (about 4 3/4 ounces)
3/4 teaspoon table salt
4 large eggs , room temperature
1 teaspoon vanilla extract
3/4 cup sour cream , room temperature

FOR THE FILLING: Toast coconut and pecans on baking sheet in 350-degree oven until fragrant and browned, about 8 minutes.

Whisk yolks in medium saucepan; gradually whisk in evaporated milk. Add sugars, butter, and salt and cook over medium-high heat, whisking constantly, until mixture is boiling, frothy, and slightly thickened, about 6 minutes. Transfer mixture to bowl, whisk in vanilla, then stir in toasted coconut and pecans.

Cool until just warm, cover with plastic wrap, and refrigerate until cool or cold, at least 30 minutes.

FOR THE CAKE: Adjust oven rack to lower-middle position; heat oven to 350 degrees. Combine chocolate and cocoa in small bowl; pour boiling water over and let stand to melt chocolate, about 2 minutes. Whisk until smooth; set aside until cooled to room temperature.

Meanwhile, spray two 9-inch-round by 2-inch-high straight-sided cake pans with nonstick cooking spray; line bottoms with parchment or waxed paper rounds. Spray paper rounds, dust pans with flour, and knock out excess. Sift flour and baking soda into medium bowl or onto sheet of parchment or waxed paper.

In bowl of standing mixer, beat butter, sugars, and salt at medium-low speed until sugar is moistened, about 30 seconds. Increase speed to medium-high and beat until mixture is light and fluffy, about 4 minutes, scraping down bowl with rubber spatula halfway through.

With mixer running at medium speed, add eggs one at a time, beating well after each addition and scraping down bowl halfway through. Beat in vanilla; increase speed to medium-high and beat until light and fluffy, about 45 seconds. With mixer running at low speed, add chocolate, then increase speed to medium and beat until combined, about 30 seconds, scraping down bowl once (batter may appear broken).

With mixer running at low speed, add dry ingredients in 3 additions, alternating with sour cream (in 2 additions), beginning and ending with dry ingredients, and beating in each addition until barely combined. After final flour addition, beat on low until just combined, then stir batter by hand with rubber spatula, scraping bottom and sides of bowl, to ensure that batter is homogenous (batter will be thick).

Divide batter evenly between prepared cake pans; spread batter to edges of pans with rubber spatula and smooth surfaces.

Bake cakes until toothpick inserted into center of cakes comes out clean, about 30 minutes. Cool in pans 10 minutes, then invert cakes onto greased wire rack; peel off and discard paper rounds. Cool cakes to room temperature before filling, about 1 hour. (Cooled cakes can be wrapped in plastic wrap and stored at room temperature for up to 1 day.)

6. TO ASSEMBLE:

If you want two layers: Lay down a wax paper round the same size as the cake.  Place the first cake layer on top of it, and evenly spread about 1 cup of frosting over layer.  Stack second cake on top, and ice with remaining frosting.

If you want three layers: With serrated knife held so that blade is parallel with work surface, use sawing motion to cut each cake into two even layers. Starting with first cake, carefully lift off top layer and set aside. Using icing spatula, distribute about 1 cup filling evenly on cake, spreading filling to very edge of cake and leveling surface. Carefully place upper cake layer on top of filling; repeat using remaining filling and cake layers.  Cover cake with remaining frosting.
(Visited 446 times, 1 visits today)