Getting Mentally Prepared for Thanksgiving.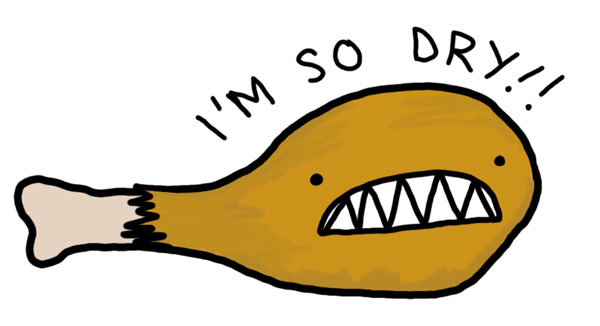 (Comic courtesy www.nataliedee.com)
I have officially just butchered my first turkey.   Actually, first animal in general.  Since my knife skills are horrible at best, I generally avoid buying cuts of meat that need to have the bones removed.  I usually leave that to the professionals.  But apparently there is no such thing as a boneless, skinless, natural turkey breast in Tacoma.   I know, the fact that I removed the turkey breasts from a turkey may not be a notable event to you, but I am pretty excited.  It even looked right.  Can't wait to butcher my next whole animal.  Next time, maybe a chicken.  Oooohhhh…Ahhhhh…
Thanksgiving can be a stressful holiday that requires a lot of prep.  Here are two dishes that are fairly quick, easy and fool-proof to de-stress your holiday.  Cooking a turkey breast instead of  a whole turkey can save you time that you can spend with your guests, and leaves less room for error.  This recipe just happens to be a healthy one, at 170 calories per serving.
Herb Roast Turkey
from "Better Homes and Gardens, Eat Well and Lose Weight"


1 2-pound boneless turkey breast, skinned
1/2 teaspoon salt
1/2 teaspoon black pepper
2 teaspoons finely shredded lemon peel
3 tablespoons lemon juice
2 tablespoons olive oil
1 tablespoon fresh flat leaf parsley
1 tablespoon fresh rosemary
1 tablespoon fresh sage
1 tablespoon fresh thme
6 cloves garlic
1 cup chicken broth
1/2 cup dry white wine
1 tablespoon fresh flat-leaf parsley

Preheat oven to 400 Degrees F.  Season turkey breast with salt and pepper.  Place turkey breast in a roasting pan.

The recipe calls for adding the lemon peel, lemon juice, oil, parsley, rosemary, sage, thyme and garlic to a bowl.   However, I found it faster and more effective to put all those ingredients in my food processor and give it about 6 pulses to create an herby rub for the turkey.

Rub herb mixture over the outside of the turkey.

Roast for fifteen minutes, uncovered.  Pour chicken broth and wine over turkey and reduce oven temperature to 350 Degrees F.  Roast for 25 minutes more, or until no longer pink (170 Degrees).  Be sure to spoon the liquid over the turkey every 10 minutes to keep it moist.

Serve sliced with liquid spooned over it as a sauce.

(Note= I found the lemon to be overpowering in this recipe, so next time I may not use any lemon juice and substitute more olive oil)
Sausage and apple stuffing is my absolute favorite stuffing.  I have tried many recipes, but this one is a crowd-pleaser, and one that I don't mind having tons of leftovers of.  It's also my favorite because it's the stuffing my mom has always made.  And Mom's is always best.
Sausage and Apple Stuffing
Courtesy Food Network Kitchens, www.FoodNetwork.com

2 sticks plus 3 tablespoons butter, divided
2 cups water
2 large bags of your favorite dried stuffing mix (I used Grand Central Baking Co.'s Rustic Stuffing, but that is local to the Northwest)
1 pound pork sausage (not links)
1 large onion, diced
2 cloves garlic, minced
2 stalks celery, diced
1 teaspoon dried thyme leaves
1 teaspoon dried sage leaves
1 cup chopped walnuts
3 medium apples, cored, sliced (I found two to be enough)
2 to 3 cups homemade or canned low sodium chicken broth

In a large pot, melt two sticks butter in water.  When melted, add dried stuffing mix and stir to incorporate liquid.  Set aside.

In a large saute pan over medium-high heat, melt 1 tablespoon butter and add sausage.  Break up sausage with a wooden spoon and saute until cooked through.  Drain on paper towels.

In the same pan, melt remaining butter and saute onions, garlic, celery, thyme and sage until onions are translucent.  Add walnuts and saute for 1 minute.  Add apples and saute for another minute.

Fill  10 by 15 by 2 inch pan with stuffing and moisten with stock.  Bake in pre-heated 350 degree oven, covered with foil for 1/2 hour.  Remove foil and bake until lightly browned, about 15 minutes.

(Note= Check your stuffing after being cooked for the first 1/2 hour.  If too dry, moisten with more stock)

If you don't eat pork, substitute your favorite ground turkey or chicken sausage.  Make sure not to use a pre-flavored stuffing mix.
(Visited 57 times, 1 visits today)