Happy New Year and a Marbled Bundt Cake with Chocolate Glaze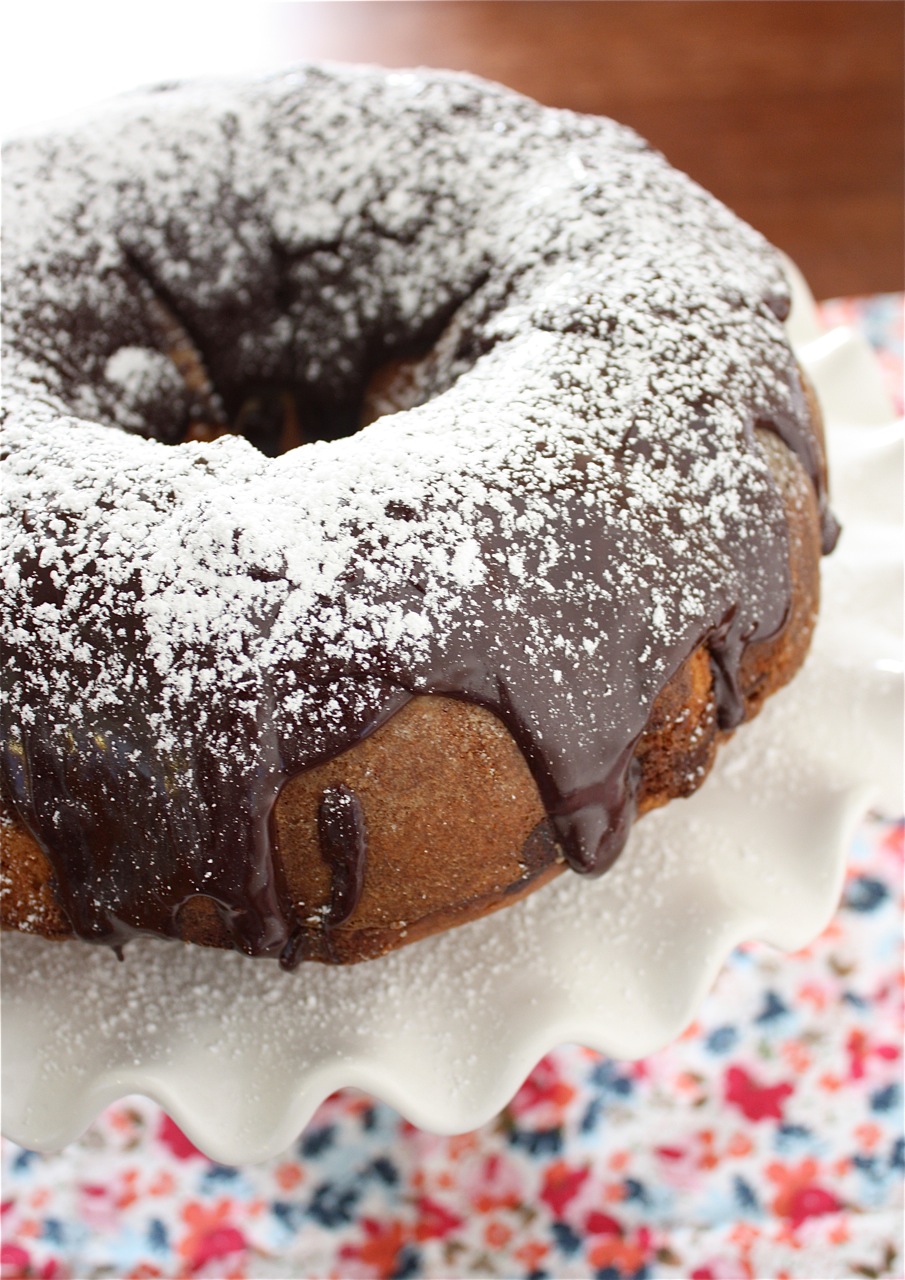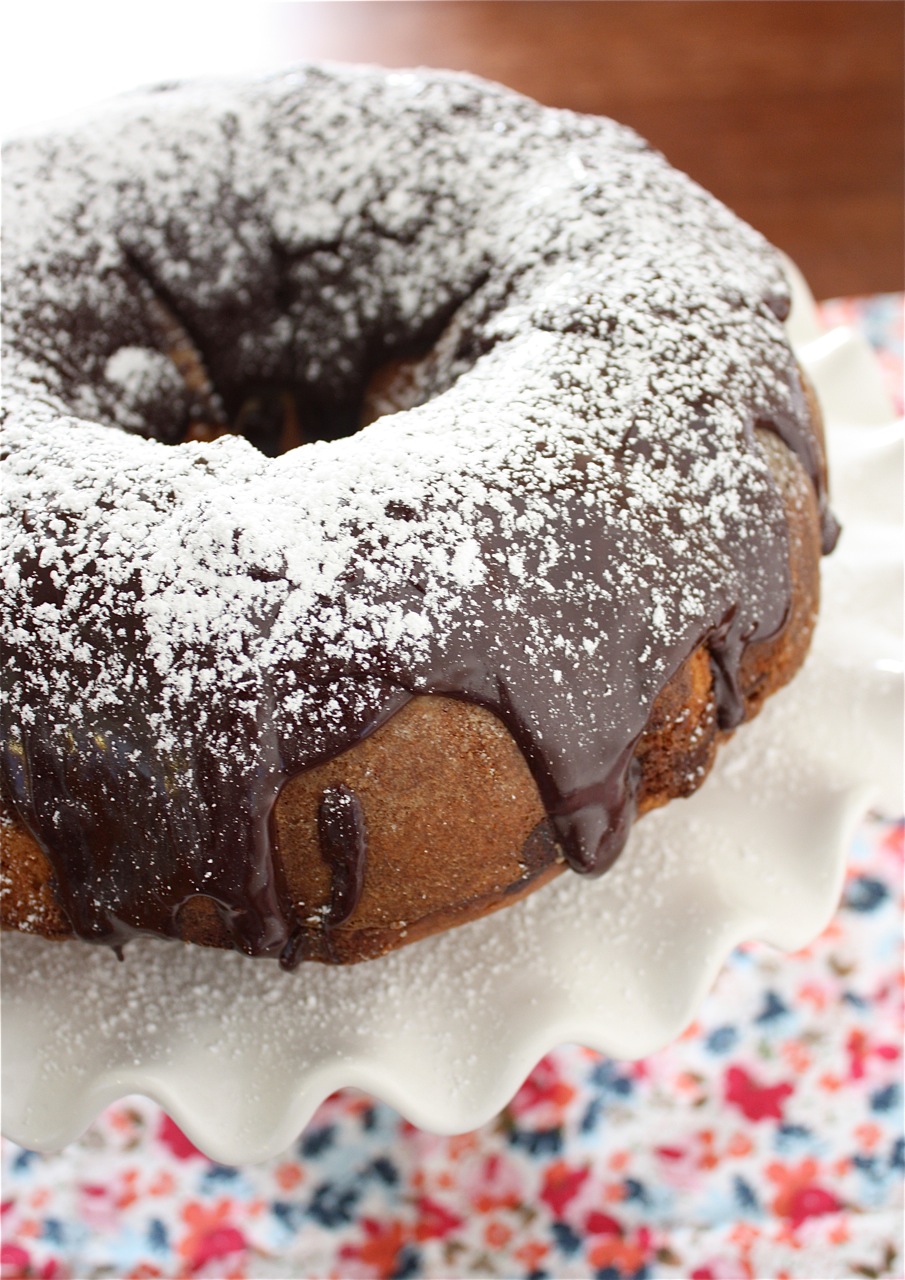 2012.
What a year it has been.
A year of new friends, careers began, hope and a renewed thankfulness for health, family and love.
I've never been the New Year resolution type. I'm in more of a constant state of self-improvement. You know, a work in progress. Though, of late, I have found it incredibly satisfying to focus less on myself, and more on improving the lives of those around me. My family, community, and friends.
If I have a goal for 2013, it's to continue this journey of living as much for others as I do myself.
The more people I meet and the longer I'm here on this earth, I see the evidence of each person, individually, having their own unique gift to give to the world. Sure, it can be a trite saying, but it does seem to ring true. The choice, however, is whether or not to tap into these special things about us. Passions and skills should be nurtured, protected and expressed.
After all, it can be quite fun to see someone blossom into their own. Seeing a friend find her passion, and putting her all into it. Watching my love accomplish his dream and become a positive figure in a sea of negative influences. A family member standing up for what's right and fighting for what he believes in.
These are the joys all around me.
In 2012, I've also fed my own spirit by rediscovering my voice. Not only do I truly enjoy writing, but it's fulfilling to me in a way I haven't found in any other area of my life. When you realize what you're passionate about, you gain a new responsibility: keeping it alive, feeding it, and sharing it with the world.
Easier said than done. Priorities, a lack of time and real life come into play.
This year, I'll make time.
That's my goal, at least. You might even call it a resolution after all.
The saying, "you can't have your cake and eat it, too," comes to mind. Can I both help others while investing in myself? Sure, I can — the key being a little thing called balance.
How does this all relate this marbled bundt cake?
I have no idea.
It doesn't, really.
In any case, we all need to end the year on a sweet note, don't we? After all, you CAN have your cake and eat it, too.
Marbled Bundt Cake with Chocolate Glaze
Adapted slightly from Bakers Royale
Makes one 10-inch bundt cake
Cake
3 cups cake flour
2 teaspoons baking powder
½ teaspoon salt
2 ½ cups granulated sugar, divided
½ cup natural (not Dutch-processed) cocoa powder
6 tablespoons water
1 ½ cups unsalted butter, melted and cooled
1 ½ teaspoons vanilla extract
5 large eggs
½ cup whole milk
Glaze
6 ounces bittersweet chocolate
⅔ cup heavy cream
Powdered (confectioner's) sugar, for dusting
Preheat oven to 350 degrees F.
Cover bundt pan with baking spray and dust with flour. Set aside.
Sift flour baking powder and salt into a bowl; set aside.
In a separate medium-sized bowl, add in ½ cup of sugar, the cocoa powder and water then whisk until mixture is smooth; set aside.
Place the melted butter and sugar in a stand mixer bowl fitted with a paddle attachment. Beat on medium high until mixture is blended, about 1 minute. Add in the vanilla and beat until combined. Add the eggs one at time, mixing well after each addition. Once all the eggs are added, beat the mixture until it becomes light and fluffy (it will resemble pancake batter, but slightly thinner).
Turn the mixer speed down to low and add the flour in three additions, alternating with the milk in two additions and mixing just until blended.
Add 2 cups of the batter to the cocoa mixture and stir until blended.
Using an ice cream scoop, pour two scoops of vanilla mixture into pan. Now alternate and pour one scoop of chocolate mixture on top of vanilla mixture. Continue to alternate between vanilla and chocolate layers until bundt pan is filled. Depending on the size of your scoop, the marbling effect will be thicker or thinner.
Bake the cake for 50-60 minutes at 350 degrees F or until a toothpick inserted into the center comes out clean. Cool the cake in the pan on a wire rack for 15 minutes. Invert the cake onto the rack and cool completely.
To make glaze, place the chocolate and cream in a pan over low heat and stir until the chocolate is melted. Set aside to cool for 10 minutes before using.
Pour the glaze on top of the cake, letting it drip down the sides. Let glaze set, about 30 minutes. Dust with powdered sugar.
Slice and serve.
(Visited 262 times, 1 visits today)