Tapas at Ocho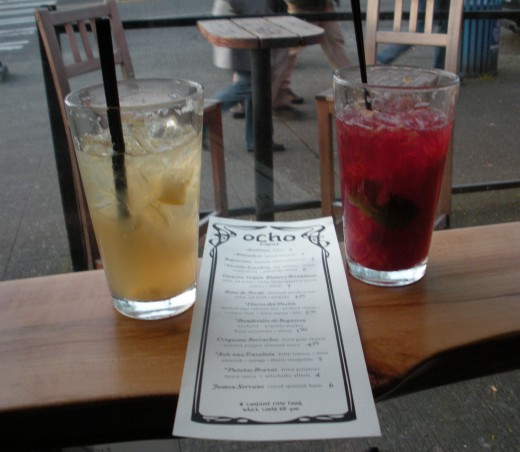 As you may or may not know, I struggle with blogging about restaurants. However, when I entered Ocho last weekend, I knew I'd have to share this experience with the world.  I just can't keep it in.
Ocho is tapas.  Sexy food.
It's sexy because the plates are small and…perfect.  When the waiter places the carefully crafted but not too fussy, little but intensely flavorful perfect portion in front of you, you'll know.  It's that good.
I see this restaurant as like a second or third date kind of place if you are really into the person and want to see if they can really hang.
See, Ocho is small, like the plates.  Really, the whole place is the size of a large master bedroom.  But it all just adds to the intimacy.
To my surprise, they don't take reservations.  Be prepared to wait…even hover like a hawk over its prey for a spot at the bar.  But do not be discouraged, it is worth the effort.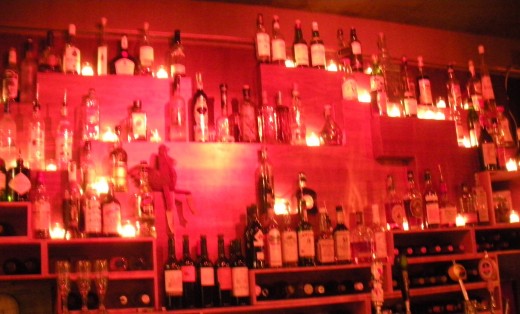 My sexy time was with one of my favorite people ever, Meguire.  Okay, so it wasn't sexy time, but we sure enjoyed ourselves.  Plate after plate after plate.
Tapas is really fun to me.  Fun because you can order half the menu — or even the whole menu if you wanted, and you wouldn't have to take out a bank loan.  You try things you wouldn't normally order.  You taste flavors that seem wrong in your head, but make sense in your mouth.
And so it began.
As we waited for our table (which ended up being a hunted-down spot at the bar), Meguire and I sipped on Ocho's Sangria Roja and Sangria Blanca.  Both a combination of brandy and red or white wine.  Both damn good.  Both insanely strong.  It's unusual when Meguire and I get together that we only have one drink.  But these were one cocktail strength.  Off to a good start.
Now, I must apologize for the quality of the photos.  Ocho is candle-lit — sexy, remember?  And frankly, as the plates came, I cared less and less about capturing it on film before they screamed for me to taste.
Coca con Frijole Blanco y Berenjenas
A white bean and eggplant puree on olive oil toast.  Really, an explosion of flavor in your mouth.  Who knew white beans could be so incredible?  I could have eaten three of these.  Next time, I'm ordering more.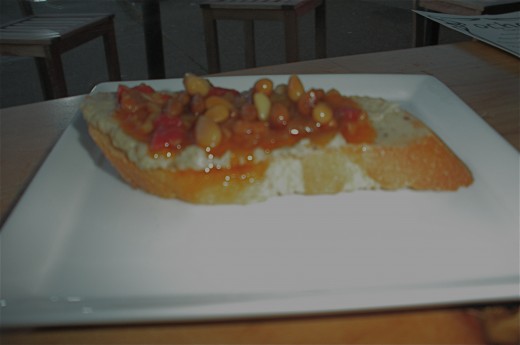 Patatas Bravas
Fried potatoes with artichoke aioli and brava sauce.  Spiced, slight crunch to the outside.  The brava sauce is like a spicy ketchup.  Delicious, but not my favorite thing on the menu.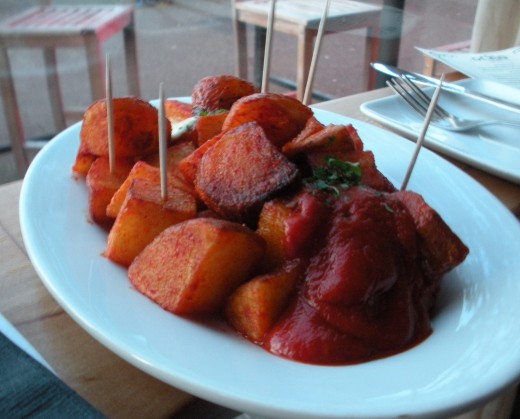 Huevos del Diablo
Deviled egg with salmon roe, pickled onion, fried capers, dill, tomato dust.  PERFECTION.  These are not your grandma's deviled eggs.  I am now obsessed with these eggs.  After we ate our first two, we ordered more.  How can deviled eggs be that amazing, you ask?  Don't ask.  Just eat it and enjoy.  I want some right now.  Sigh.  Oh, and how much cooler does "Huevos del Diablo" sound than "deviled eggs"?  Yeah, impress your friends with that one.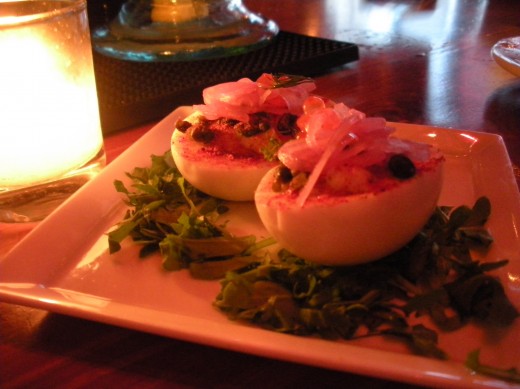 Arroz con Champinones
Seasonal mushrooms with herb butter and rice.  Almost risotto-like, creamy, nutty and full of perfect mushrooms.  Loved it.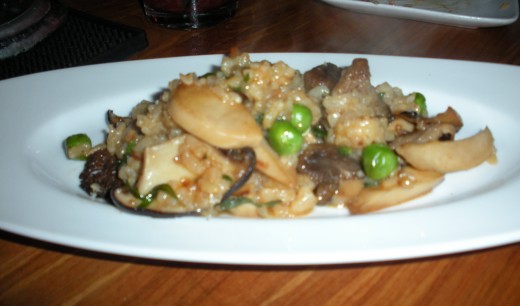 And this is where I stopped taking photos.  But this doesn't mean the food stopped rocking.  Oh, it rocked.
Gambas al Ajillo
Spicy garlic prawns.  I don't remember them being particularly spicy, but if you're a shrimp lover, these will make you do a little dance.
Brocoli
Escarole, garlic, pine nuts.  The perfect way to enjoy broccoli is this way.  I can't tell you which way that is yet, but I know it involves red pepper flakes.  I'm going to be experimenting and attempting to recreate this one at home.
Albondigas
Lamb meatballs, brandy carrot sauce, golden raisin.  When I ate this, it reminded me of something in my past.  I can't put my finger on what, but the flavors took me somewhere else.  Spiced, rich and flavorful.  Perfect crunch on the outside.
La Carolina
Pancetta wrapped blue cheese stuffed dates.  These are almost like little date lollipops.  Intensely sweet and creamy.
My favorite thing?  Definitely the eggs.  The white bean toast comes in close second.
I'm dreaming of my next visit there.
Go.  Enjoy.  Be sexy.  Or at least pretend for a couple hours.
Ocho, 24th & Market in Ballard. 4pm-2am daily. Happy Hour on Saturday and Sunday, noon-6pm. 206.784.0699
(Visited 61 times, 1 visits today)