Raspberry Jam Thumbprint Cookies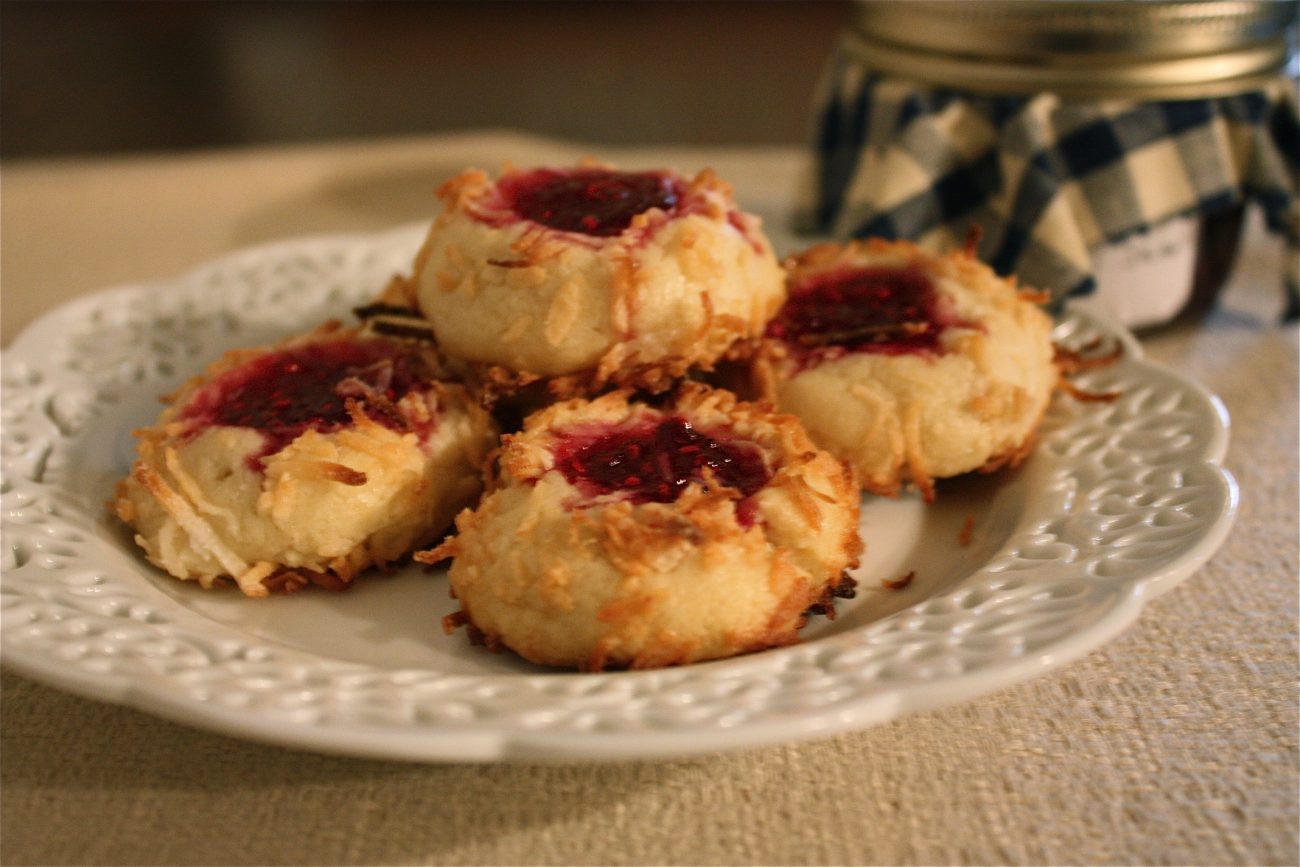 We enjoyed the recipe so much that I canned raspberry jam again this summer.  It was the perfect opportunity to make these Jam Thumbprint Cookies as a whole new way to enjoy the jam, and to remember our wedding.
Ina Garten's Jam Thumbprint Cookies
By Ina Garten from Food Network
3/4 pound (3 sticks) unsalted butter, at room temperature
1 cup sugar
1 teaspoon pure vanilla extract
3 1/2 cups all-purpose flour
1/4 teaspoon kosher salt
1 egg beaten with 1 tablespoon water, for egg wash
7 ounces sweetened flaked coconut
Raspberry and/or apricot jam
Preheat the oven to 350 degrees F.
In an electric mixer fitted with the paddle attachment, cream together the butter and sugar until they are just combined and then add the vanilla. Separately, sift together the flour and salt. With the mixer on low speed, add the flour mixture to the creamed butter and sugar. Mix until the dough starts to come together. Dump on a floured board and roll together into a flat disk. Wrap in plastic and chill for 30 minutes.
Roll the dough into 1 1/4-inch balls. (If you have a scale they should each weigh 1 ounce.)
Dip each ball into the egg wash and then roll it in coconut. Place the balls on an ungreased cookie sheet and press a light indentation into the top of each with your finger or a 1/4 tsp. measuring spoon, as I did.
Drop 1/4 teaspoon of jam into each indentation.
Bake for 20 to 25 minutes, until the coconut is a golden brown. Cool and serve.
Note: I just made these cookies again and used preserve instead of jam and it ran out of the cookies. Apparently, only jam works in this recipe. See the difference between jam and preserves here.
(Visited 196 times, 1 visits today)