Ingredients
1/2 cup

Unsalted Butter

room temperature

1 cup

Greek Yogurt

plain or vanilla

3 large

Apples

peeled, cored, and coarsely chopped

1/2 cup

Dried Cranberries
Directions
When life gives you 30 pounds of apples, you…
…think of all the apple dishes you can and get to baking, cooking and eating.
My friend Dr. Rob was in town this weekend, and he picked gobs of apples off of his parents' apple trees. That's how I came into the apple treasure trove of the century.
I now have big plans for these little beauties. In fact, I feel like since I've inherited them, my whole life has revolved around them. See, you can't just have 30 pounds of apples sitting on your counter and ignore them. No, I will not waste, thee, apples.
Naturally, I had to go buy a new toy for my apple exploits. An apple peeler, corer, and slicer? Yes, please. I found one with relative ease. Okay, that's a lie. It took me half a day of looking.
I now have one of these glorious tools in my hot little hands and I'm way too excited about it every time I use it. Crank a handle, 20 seconds later, the apple is magically ready to rock. Yes, I know these things have been around for like hundreds of years.  I still think it's cool.
Confession: I probably ate six of these muffins today. Oops. They're kind of irresistible. The sweet apples with the tart cranberries is really a perfect pairing.
Now, as to that last 28 pounds of apples…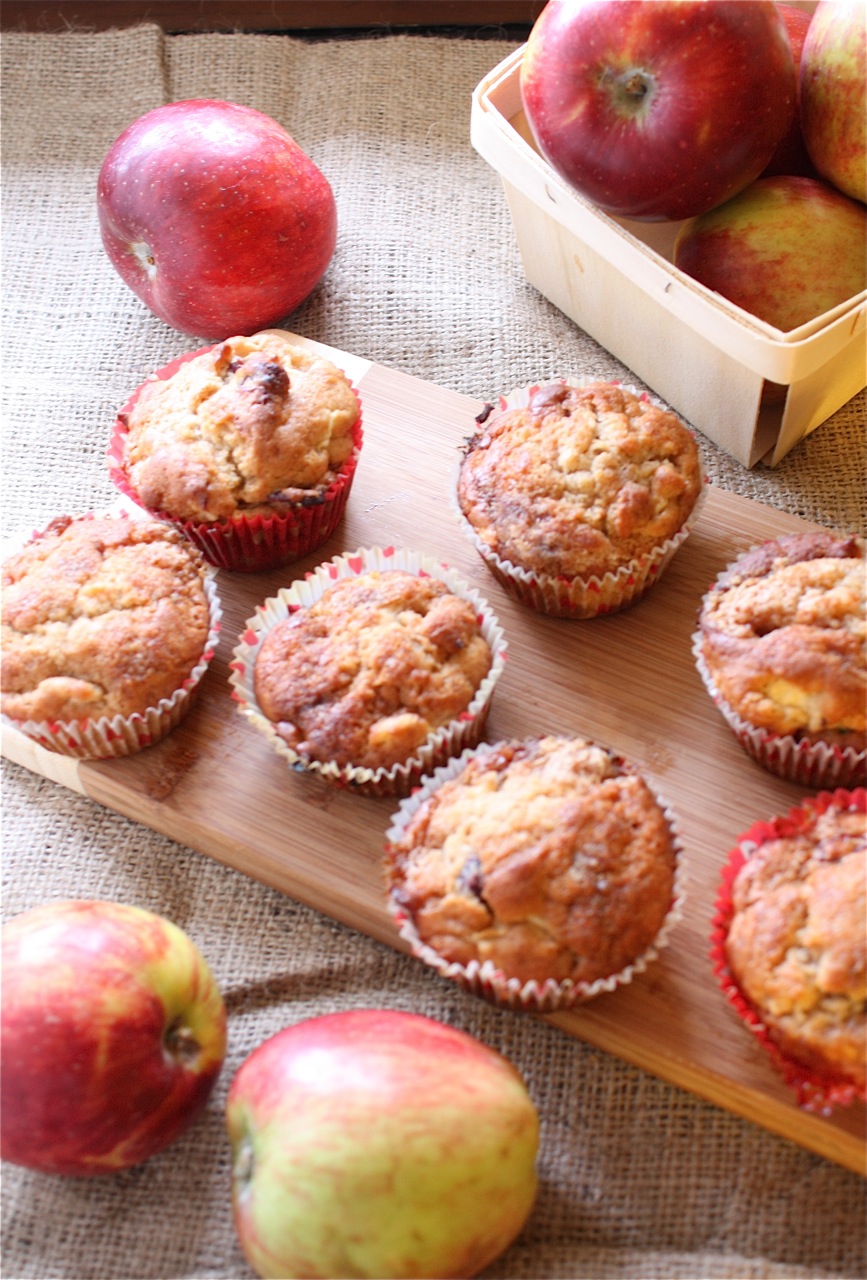 (Visited 2,040 times, 1 visits today)
Recipe Steps
| | |
| --- | --- |
| | Preheat the oven to 450 degrees F. Line 18 muffin cups with baking cups and set aside. |
| | Mix together the flours, baking powder, baking soda, salt, and cinnamon. Set aside. |
| | With a stand mixer or hand mixer, cream the butter and add the granulated sugar and brown sugar. Beat until fluffy. Add the egg and mix well. Scrape the sides and bottom of the bowl. Mix in the yogurt. |
| | Stir in the dry ingredients and fold in the apple chunks and cranberries. |
| | Divide the batter evenly among the prepared muffin cups, filling each cup 3/4 full. Bake for 7 minutes, turn the heat down to 400 degrees F, and bake for an additional 7 to 10 minutes, or until a toothpick inserted into the center of a muffin comes out clean. |
| | Cool for 5 minutes in the tin, then remove and cool on a cooling rack. |