Directions
Sometimes certain ingredients perplex me more than others.  Last week, it was radicchio that had me scratching my head.
I knew that I had seen a million recipes for people grilling it.  That sounded good to me.  Grilled lettuces are delicious, and a totally different flavor than your typical cold salad greens.
So there was one option.  But what to do with a head of grilled radicchio?  I had run across an Alton Brown recipe for grilled radicchio with bacon vinaigrette.  Bacon vinaigrette?  Sign me up.
Since this was lunch, I wanted to think of a way to make it into more of a complete meal.  My brain's answer to everything is add pasta and parmesan cheese.  This seemed like a reasonable solution.
It was really pretty good except that I realized I don't love radicchio.  For me, it's a little bitter.  The parmesan and bacon add a nice contrast to its bitterness, but I still couldn't get past it.  I do also think this would make a warm salad better than a pasta dish.
But if you are a radicchio lover, then give this a whirl and let me know how you like it.
Linguine with Grilled Radicchio and Bacon
Inspired by Alton Brown for Food Network
2 Tbs. bacon drippings
1 Tbs. cider vinegar
1 tsp. brown sugar
1/2 tsp. freshly ground black pepper
1 head radicchio, washed and halved
1/2 pound cooked linguine
4 pieces cooked bacon, crumbled
1/4 cup grated good quality parmesan cheese
Mix together bacon drippings, cider vinegar, brown sugar and black pepper.  Set aside.
Spray a grill pan or outdoor grill with non-stick spray.  Place the halved head of radicchio cut side down on the  grill pan or outdoor grill.  Grill until edges are wilted, about 2 minutes.  Flip and grill the other side another minute more.
Cut the radicchio halves into bite-sized pieces.
Toss the radicchio with the warm cooked linguine, and then dress with bacon dripping mixture.   Top with the bacon crumbles and parmesan cheese and serve warm.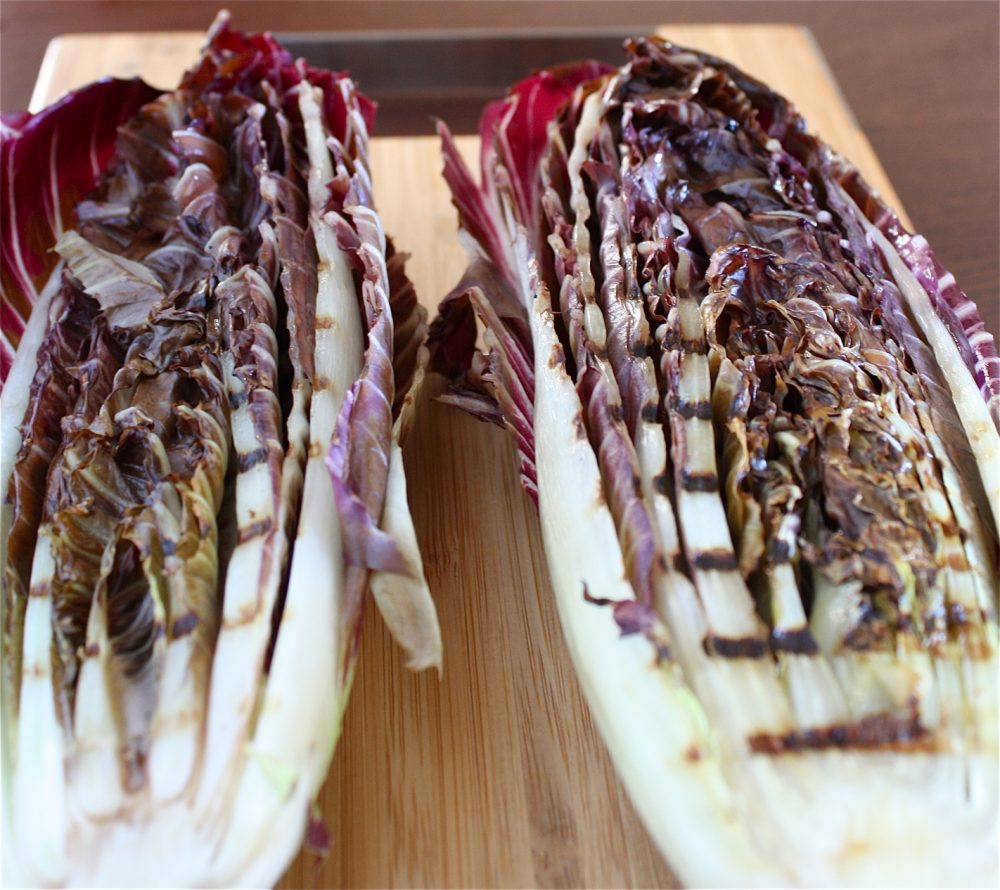 (Visited 135 times, 1 visits today)