Ingredients
1/2 cup

Carrots

peeled and grated

1/2 cup

Sharp Cheddar Cheese

1 tbs

Worcestershire Sauce

1/2 tsp

Fresh Ground Pepper
Directions
Today had us craving burgers. My mom makes a mean turkey burger, loaded with grated vegetables that is satisfying, yet doesn't come with all of the calories and heartburn of a genuine beef cheeseburger. Now, I have nothing against a good cheeseburger, but there's something slightly virtuous about my mom's turkey burgers that makes them okay to eat more often.
The best thing about these turkey patties is that you can sneak all kinds of vegetables into them, and you really can't taste them since they're grated, i.e. great for kids or picky eaters. Zucchini, carrots and red onion all work wonderfully. I suppose you could add any grate-able vegetable to these and no one will be any the wiser.
I don't recommend you use extra-lean ground turkey in this recipe, as it will make for a dry burger. Also, the cheddar cheese is optional if you're dairy-free, but it does help bind the burgers so they don't fall apart. It also adds a bit of lusciousness.
I say this in the recipe, but I'll say it again here because it's super important: do not grill these turkey patties on a gas or charcoal grill. They will not brown properly and will probably fall apart. Use a grill pan or skillet to get a nice caramelization on them, and don't mess with them too much.
If you're gluten free or paleo, these are great on their own, but you can also eat them as a burger on a gluten free or regular bun.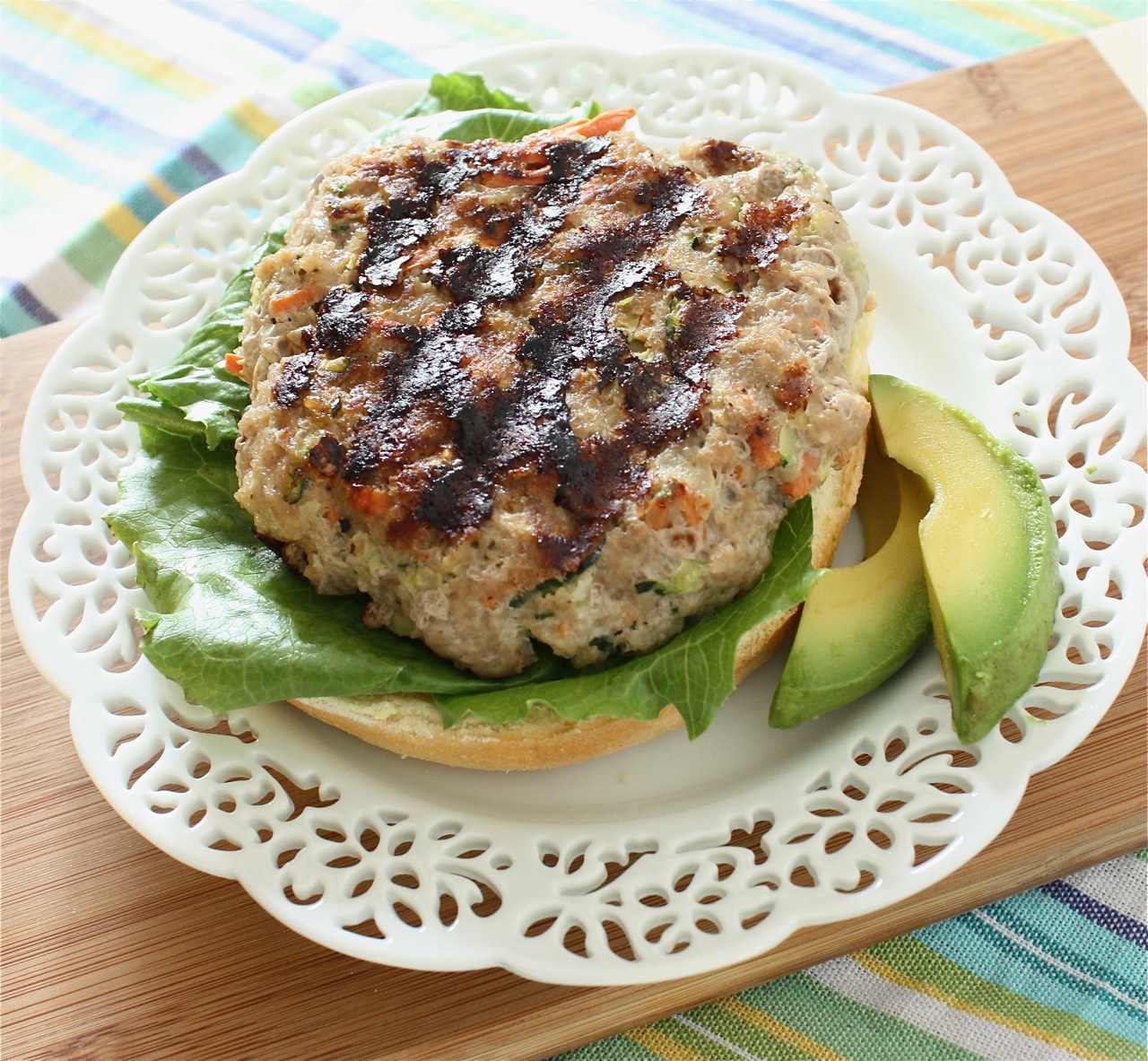 (Visited 2,743 times, 1 visits today)
Recipe Steps
| | |
| --- | --- |
| | Place the grated red onion and grated zucchini in a clean kitchen towel and squeeze over the sink to remove excess water. |
| | In a large bowl, add the red onion, zucchini, grated carrot, ground turkey, cheddar cheese, Worcestershire sauce, salt and pepper. Using your hands in a claw-like motion, blend the ingredients together until just combined, without overworking the mixture. |
| | Divide the mixture into four equally sized burger patties, patting them into a circle with your hands. Using your finger, poke an indentation into the center of the patty so it cooks evenly throughout. |
| | Heat a grill pan or skillet to medium-high heat. Do not grill on a gas or charcoal grill, as the patties will fall apart. Lightly coat the grill pan with cooking spray. When the pan is very hot and begins to smoke, carefully place the burger patties in the pan, being careful not to overcrowd the cooking surface. You may need to cook them in batches. |
| | Cook for 5-6 minutes, without flipping the patty. Carefully check to see if it's browned. If it is, use a spatula to carefully flip it over and cook another 5-6 minutes. |
| | Lightly press the middle of the patty with your finger to check for doneness. If it's fairly firm to the touch, it's done. |
| | Garnish with your favorite condiments. These are great with or without a bun. |