Ingredients
4 cloves

Garlic Cloves

minced

1/3 cup

Parmesan Cheese

grated
Directions
Have you ever been to The Pioneer Woman's website?
I shouldn't even call it a website.  It's more like her own little world of incredible recipes, gorgeous photography and writing that gets me every time I go there.
All of the fame and notoriety she has received from her site is well deserved.  I mean, it's chocked full of everything — everything — wonderful in this life.
Don't believe me?  Check it out for yourself.  I can guarantee that no matter who you are, you'll find something you feel is worth reading, browsing or cooking.
It makes sense then, when I found myself with copious amounts of mushrooms, that I go to her site to see just what the heck I should do with them.
When I saw her Phyllo Mushroom Bundles, I knew I had to give these a try.
I say "try", and I mean "try" because these babies are wrapped in phyllo, my arch enemy.  Sure, phyllo's convenient since it's frozen and you can pull it out when you need it…
But phyllo is my own personal hell.  I don't know how Giada makes it look so easy on TV when she uses it.  Oh, yeah, just keep it covered with a damp paper towel so it doesn't dry out.  Sure, delicately brush it with butter so it doesn't tear.  Oh, yes, easily layer it to create crisp, crunchy appetizers.
Yeah, sure.
I'm quite sure that phyllo can be easy to use if you know what you're doing.  But since I don't, I struggled a bit.
The good news is that it is quite forgiving in this recipe since you're bunching it all together to make a little purse for the mushroom filling.
I found that if the bottoms of these bundles tore because the filling was too wet or the phyllo too delicate, I could just add another layer of phyllo around it and bunch it up.   No harm, no foul.
These little babies are really tasty, though, and make an elegant looking appetizer, don't you think?
Mine don't look as good as The Pioneer Woman's, but they're good enough for me.
Check out her site for a very detailed, step-by-step photo tour of how to make these.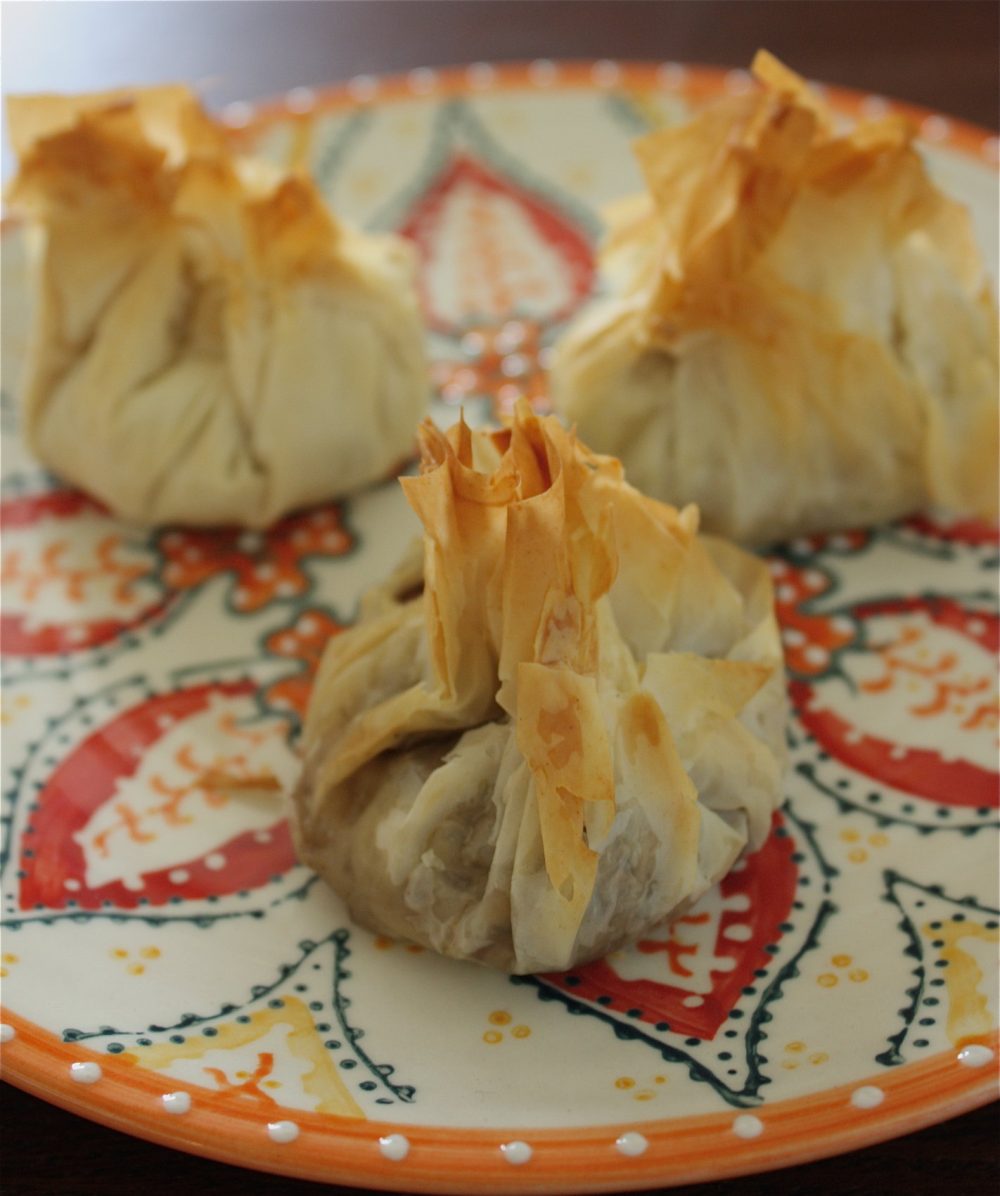 (Visited 3,140 times, 3 visits today)
Recipe Steps
| | |
| --- | --- |
| | Melt 1/2 stick butter in a bowl. Set aside. |
| | Melt 1/2 stick butter in a skillet over medium heat. |
| | Add garlic and mushrooms and cook for 1 minutes. |
| | Pour in wine, stir to mix, and cook for five minutes, or until all liquid is cooked off. Turn off heat and set aside. |
| | Unroll phyllo dough. Cut stack in half. |
| | Working quickly, place 1 sheet on a flat surface and brush lightly with melted butter. Place another sheet on top and brush with butter. Repeat this until you have four to five sheets of phyllo. Do not brush top layer with butter. |
| | Cut this buttered stack into four equal squares (rectangles). |
| | Place a spoonful of mushroom mixture in the middle of each square. Sprinkle Parmesan over the top of each mushroom. |
| | Gather each square into a neat little bundle, pinching the neck so that it remains as closed as possible when it bakes. |
| | Place bundles on a greased or parchment-lined cookie sheet, pressing lightly so that they're flat on the bottom. |
| | Bake at 375 degrees for 15 minutes, or until golden brown. Serve immediately. |