Ingredients
3 Tbs

Extra Virgin Olive Oil

1

Yellow Onion

Sliced thinly

2 Cloves

Garlic Cloves

Minced

1 Small

Green Cabbage

Cored, halved and thinly sliced

14 oz

Turkey Kielbasa Sausage

Sliced

3 Large

Russet Potatoes

peeled and cubed in 1-inch pieces

1/2 Cup

Apples

finely diced, peeled apple (Fuji, Braeburn, Honeycrisp, Cameo, etc.)

5 Cups

Low Sodium Chicken Stock

1/2 Tsp

Fresh Ground Pepper

2 Tbs

Apple Cider Vinegar
Directions
When I make Oktoberfest stew, I really go for it.
In our house, it's only my husband and I, but it's no matter. I make HUGE portions of soup at a time. It's the kind of thing where when you're making one of my soup recipes, and you start to wonder, "How many people is she feeding? Does she have 10 kids? Am I going to be eating this for a month? Is my pot going to hold all these vegetables?" You may even start to doubt my sanity.
Why make soup if you're not making a giant batch? I can't see a reason to make single-serving soups or stews. They're economical, easily frozen for eating later, great for sharing and taking to work for lunch. Most importantly it's just as easy to make a giant pot as it is to make a little bit.
Oktoberfest is upon us, and I can only imagine the amount of beer that has been consumed during this favorite of German celebrations. As if you needed another way to consume even more beer, it is fabulous when paired with cabbage, smoky meat and potato. While this was cooking, our house smelled like everything good from the Oktoberfest festival, minus the funky smells of thousands of frat boys and fraulein packed into a drinking tent.
I know adding apples to stew sounds weird, but when I tasted it, there was a bitterness that needed a little balancing. Apple is a friend of cabbage, and did the trick to ever-so-slightly sweeten up the broth.
Prost, my friends. Good luck with the hangovers at work tomorrow.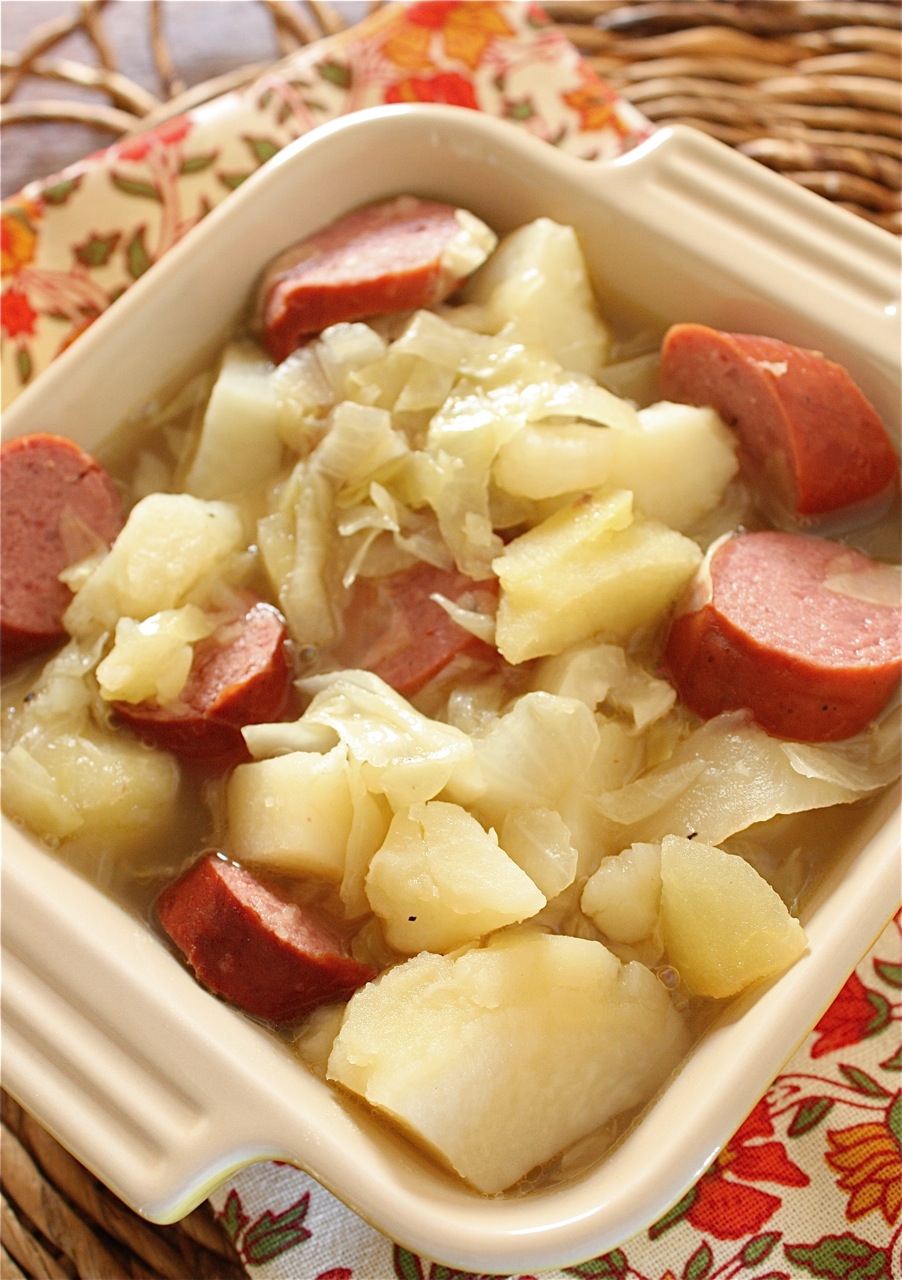 (Visited 1,597 times, 1 visits today)
Recipe Steps
| | |
| --- | --- |
| | Heat a large pot or Dutch oven (5.5 quart or larger) over medium-high heat. Add the olive oil and onions. Cook 10-12 minutes, stirring occasionally, until they begin to caramelize and brown. Add the garlic and cook, stirring, for 30 seconds. Add the cabbage and stir the mixture together. Cook for 8-10 minutes, or until the cabbage begins to soften and caramelize slightly. |
| | Add the kielbasa, apples and potatoes into the pot. Pour in the beer and chicken stock. Add the caraway seeds, pepper, salt and bay leaf. Bring to a boil, then lower heat to medium-low and let simmer for 25 minutes, partially covered. Remove the lid and cook for 10 minutes more. |
| | The potatoes should begin to fall apart, and the cabbage should be tender. Stir in the apple cider vinegar and taste for seasonings. Remove the bay leaf before cooling and refrigerating. |