Ingredients
2 tbs

Extra Virgin Olive Oil

1 small

Sweet Onion

finely diced

1 medium

Leek

trimmed, cleaned, and sliced thin

1 large

Celery Stalk

diced

2 cloves

Garlic Cloves

minced

6 cups

Low Sodium Chicken Stock

2 1/2 cups

Yukon Gold

1 inch pieces

8

Ears of Corn

kernals removed and set aside

2 tsp

Kosher Salt

divided into 1 tsp portions

1/2 tsp

Fresh Ground Pepper

16 oz

Cooked Lump Crab Meat
Directions
Admittedly, it's been a bit of a rough week.
From attending the funeral of one of my husband's high school friends to our family having to put down our beloved dog Rocco, let's just say I'm glad this week is over.
At times, the fragility of your own existence slaps you in the face and makes you take a hard look at how you're living and what you're doing with your short time on this earth.
Time with friends and family has certainly helped me get through this week. Moments of joy with them,  a special walk with my husband, or being with others at a community celebration bring me back to what really matters in life.
Celebrating the things you are passionate about and living the kind of life you want to live, whatever that may be, comes back into focus at times like these.
For me, cooking has a way of soothing my soul.
Something about quietly chopping vegetables, stirring a pot and being present in the moment, yet not really thinking about anything in particular, grounds me and helps me process whatever is going on.
This crab and corn chowder is the perfect thing to cook when you need a little quiet time, and it's a comforting dish to sit over when you've got a lot on your mind.
I wanted to create a soup that celebrates sweet summer corn, keeping it at the center of the dish. What better to go with corn than luscious lump crab meat? It's a perfect marriage.
Okay, so if you read this blog very often you know that me cooking with crab is a little unusual. It's a bit expensive. Much more than I would normally spend on one dish. However, this is a meal in itself and would be fabulous for a dinner party.
And let's face it, life is short and it's nice to treat yourself every once in a while? Am I right, or am I right?
Totally worth it.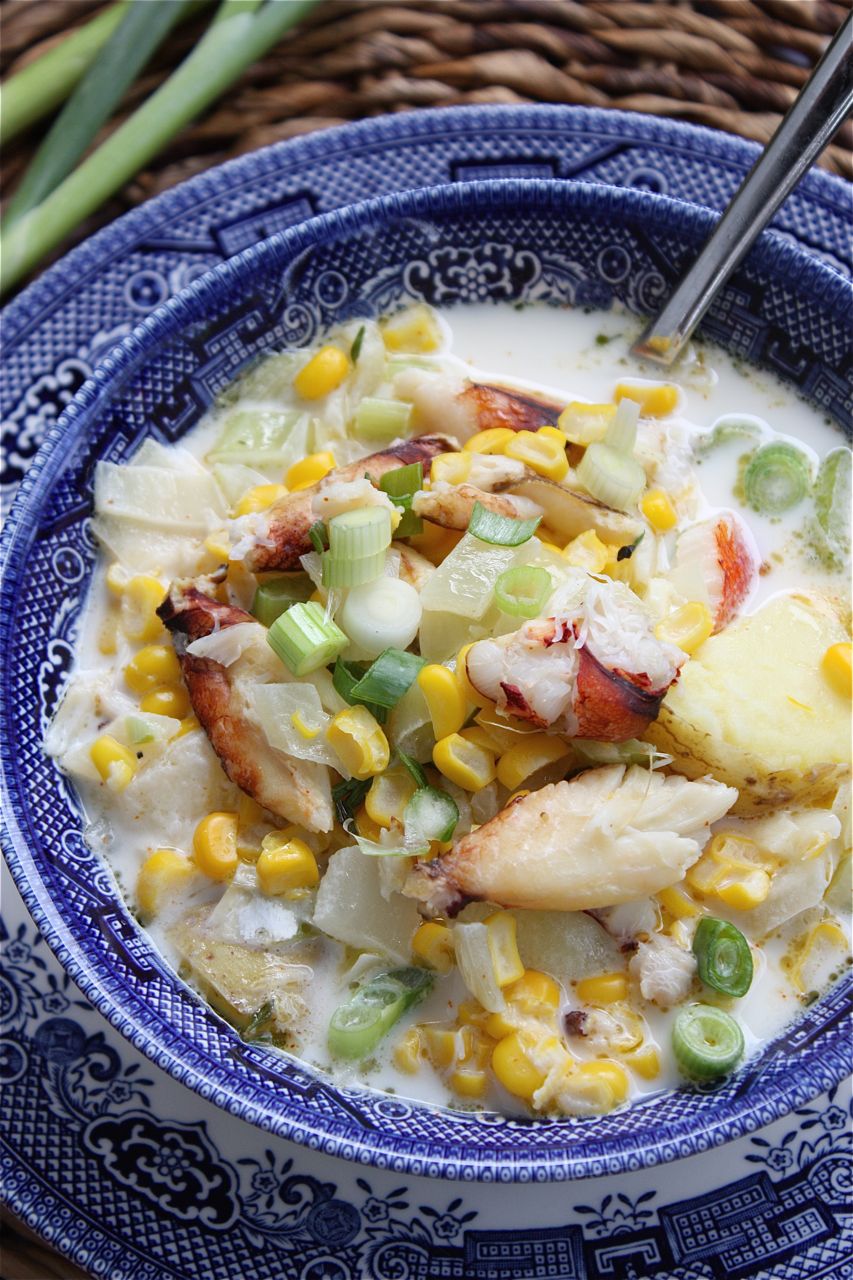 (Visited 4,468 times, 1 visits today)
Recipe Steps
| | |
| --- | --- |
| | Pour the chicken stock and water into a large stockpot and bring to a boil. Add the reserved corn cobs and boil to impart the flavor, about 10 minutes. Remove the corn cobs and discard. Add the Kosher salt. Add the potatoes and boil until cooked, about 10 minutes. Skim off and discard any impurities that have risen to the top of the cooking surface (they look like yellow bubbles). |
| | Meanwhile, in a skillet over medium-high heat, add the olive oil and heat until just shimmering. Add the leek, onion and celery. Saute, stirring occasionally, until the vegetables are tender. Add the garlic and cook for 30 seconds. |
| | Turn the heat down to medium and add the sautéed vegetables to the stockpot, as well as the corn kernels, white wine, thyme, pepper, cayenne pepper, half and half and another teaspoon of Kosher salt. |
| | Bring to a simmer, stirring occasionally. When simmering, stir in the crab. Taste, adjusting seasonings if necessary. |