Ingredients
1/2 cup

Unsalted Butter

room temp

1 3/4 cups

Canned Pumpkin Puree

1 cup

Chocolate Chips

dark preferred
Directions
Seemed like a great idea to sit down and figure out a recipe using a neglected can of pumpkin that's been sitting in the cabinet for a while. That's what you do this time of year, right? Recipes featuring pumpkin seem to be everywhere you look. I have nothing against pumpkin, but if I see one more recipe for standard pumpkin pie, I might just scream. Or open another bottle of wine and watch more Duck Dynasty.
My husband was a little skeptical when I told him I was making pumpkin chocolate chip cookies. Not only is he not fond of pumpkin, but he didn't like the sound of combining it with chocolate.
He should know by now to trust my decision making skills, especially when it comes to cookies.
They may not be the prettiest looking cookies, but they're orange and black, which is perfect for Halloween. It's just about the closest thing to a holiday-themed food you'll ever see me make. But that's a rant for another day.
Turns out, these soft, pillowy cookies go quite well with wine.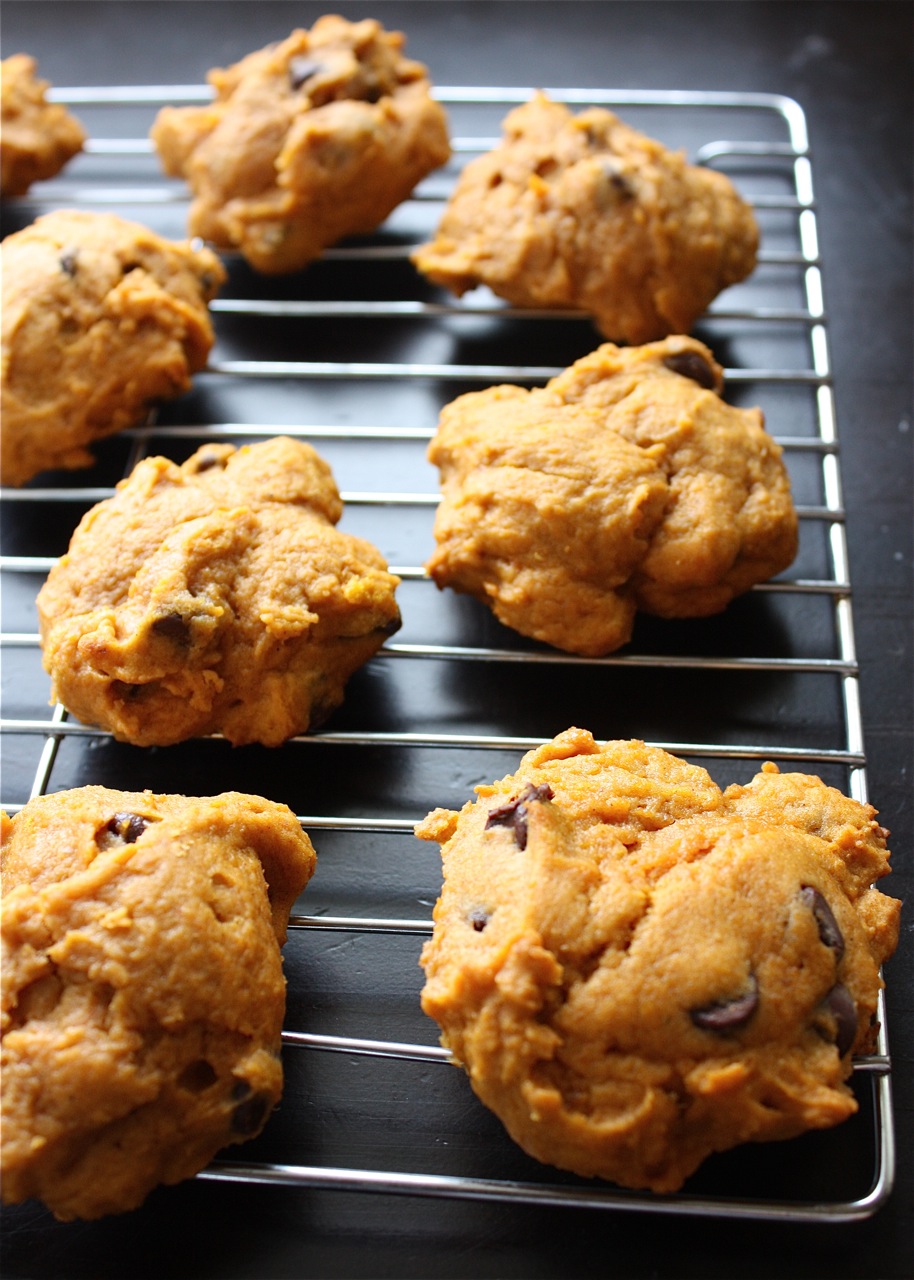 (Visited 2,098 times, 1 visits today)
Recipe Steps
| | |
| --- | --- |
| | Preheat the oven to 350 degrees F. |
| | Line two baking sheets with parchment paper. |
| | In a large bowl, stir together the flour, baking powder, baking soda, cinnamon, ginger, cloves, nutmeg and salt. Set aside. |
| | In a stand mixer fitted with the paddle attachment, cream the butter and sugar together until light and fluffy. Add the egg and beat for one minute to combine. Scrape down the sides of the bowl, and add the vanilla and canned pumpkin. |
| | Add the dry ingredients to the wet ingredients and beat just until combined. Do not over-mix. |
| | Gently stir in the chocolate chips. |
| | Drop the batter by rounded tablespoons onto the prepared baking sheets, 2 inches apart. Bake for 16 to 19 minutes, or until the cookies have firmed up and begun to brown. |
| | Remove from the oven and cool on the baking sheets for five minutes. Transfer to cooling racks to cool completely before storing. |