Ingredients
Cake

1 3/4 cups

All Purpose Flour

1 cup

Unsweetened Shredded Coconut

1/2 cup

Unsalted Butter

room temperature

2 tsp

Orange Peel

finely grated

1 cup

Unsweetened Coconut Milk

6 oz

Bittersweet Chocolate Bars

1/2 cup

Sweetened Flaked Coconut

Coconut Drizzle

2 tbs

Unsweetened Coconut Milk
Directions
I'm practically drooling right now just thinking of it.
When I saw this recipe in Bon Appetit's January 2010 issue, I knew I had to try it.
I had my opportunity this weekend when I attended my best friend's birthday party.  Weary of coconut haters (I'm convinced they are alien beings), I asked her, "Do you like coconut?"  "Of course I like coconut," she said.  This was my opportunity.
Needless to say, everyone thought it was delicious, commenting on how the orange really perks up the coconut and chocolate combination.
Try it for yourself.  You won't be disappointed!
Tips:
I couldn't find unsweetened flaked coconut or unsweetened coconut milk anywhere, even in specialty stores, so I just used sweetened for both.  The cake wasn't overly sweet.
Instead of a broken up chocolate bar, I used Dilettante semisweet chocolate chunks*, which I cut into smaller pieces with a large knife.  I think the chunks look prettier and provide more texture than the chocolate bar.
*A note on Dilettante Chocolates: I always try to use locally crafted ingredients when possible, and I absolutely love Dilettante Chocolate.  Made here in the Seattle area, these chocolates are quite wonderful and beg to be eaten.  It reminds me of when I was in college and used to go to one of the many Dilettante Mocha Cafes to study and enjoy sipping on rich and creamy mochas made with their chocolate.  A must try.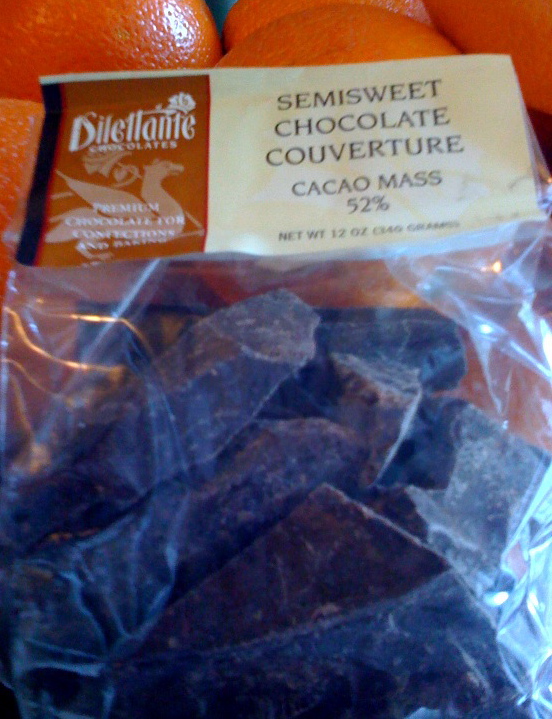 (Visited 3,321 times, 1 visits today)
Recipe Steps
Cake

Preheat oven to 350 degrees F

Generously butter 9-inch diameter cake pan with 2 inch sides. Dust pan with flour and shake out excess.

Sift 1 3/4 cups flour, baking powder and sea salt into medium bowl. Sir in unsweetened shredded coconut and set aside.

Using electric mixer, beat sugar, butter and orange peel in large bowl until light and fluffy. Add eggs one at a time, beating well after each addition. Beat in vanilla.

Add flour mixture in three additions, alternately with coconut milk in two additions, beating just until blended well after each addition. Fold in half of bittersweet chocolate pieces.

Spread batter evenly in cake pan. Sprinkle remaining chocolate pieces over batter, then sprinkle with sweetened flaked coconut.

Bake 60 to 70 minutes until golden and tester inserted into center comes out clean. Tent with foil if coconut on top of cake browns too quickly.

Transfer to rack and cool in pan 45 minutes.

Coconut Drizzle

For the coconut drizzle, whisk powdered sugar, 2 tbsp. unsweetened coconut, coconut and vanilla. Add more coconut milk until the mixture is thin enough to drizzle.

Carefully run a knife around the sides of the cake to loosen. Invert cake onto platter, then carefully invert onto another platter, coconut side up. Using a small spoon, drizzle mixture decoratively over cake.