Ingredients
6

Baking Apples

such as Granny Smith, Pink Lady, Crispin or Pippin

1/2 stick

Unsalted Butter

2/3 cup

Toasted Hazelnuts

finely chopped

1 1/2 cups

Sweet Marsala Wine

divided
Directions
Every now and again, a cookbook stands out to me with something a little special.  You can pick up pretty much any cookbook and find recipes that turn out well, or that have wonderful photos of the food.
Then there are the cookbooks with stories — personal stories that not only outline the recipe, but so perfectly illustrate the history, the very soul of the food.  These stories bring the recipes to life, give them breath and make them all the more beautiful and relevant, and beg to be prepared.
Cooking with Italian Grandmothers: Recipes and Stories from Tuscany to Sicily is just such a cookbook.
I knew, starting at the first line, this would be a cookbook that will be read, not just to skim the recipes, but like a novel, from cover to cover.
"This is a book about women and food and listening."
When you think of the best meals of your life, aren't these things so often at the very center of it all?
This book documents the author, Jessica Theroux's, travels through Italy, sharing stories and food with twelve Italian grandmothers.
Although they're all Italian, each woman has a different story and perspective, but with one common theme:  that the family and history is preserved and celebrated around the kitchen table.
This cookbook is full of simple, soulful recipes that celebrate their ingredients.  I've bookmarked nearly every page, and can't wait to make the Minestra di Fagioli con Riso (cannellini bean and rice soup, pg. 96), the chicken soup with poached eggs and herbs (pg. 158), or the roasted green cauliflower with saffron, currant and ricotta salata (pg. 283).
I thought the perfect recipe to try first, on these cold, gray winter days would be the roasted apples.
We've been getting loads of apples each week in our produce box, and I just so happened to have picked up some hazelnuts from our local hazelnut growers, Filbert Acres.
This is the perfect dessert to warm you and your guests up during the holidays, or you can bake off one or two for yourself.
I love the combination of the sweet, boozy Marsala, tart apples, bitter chocolate and bright lemon zest.
And I truly love this cookbook.  Stay tuned, because I will surely not be able to resist cooking from the pages of this book.
Note:  Cooking with Italian Grandmothers was provided to me gratis.   All opinions are my own, and I followed the recipe per the instructions in the cookbook.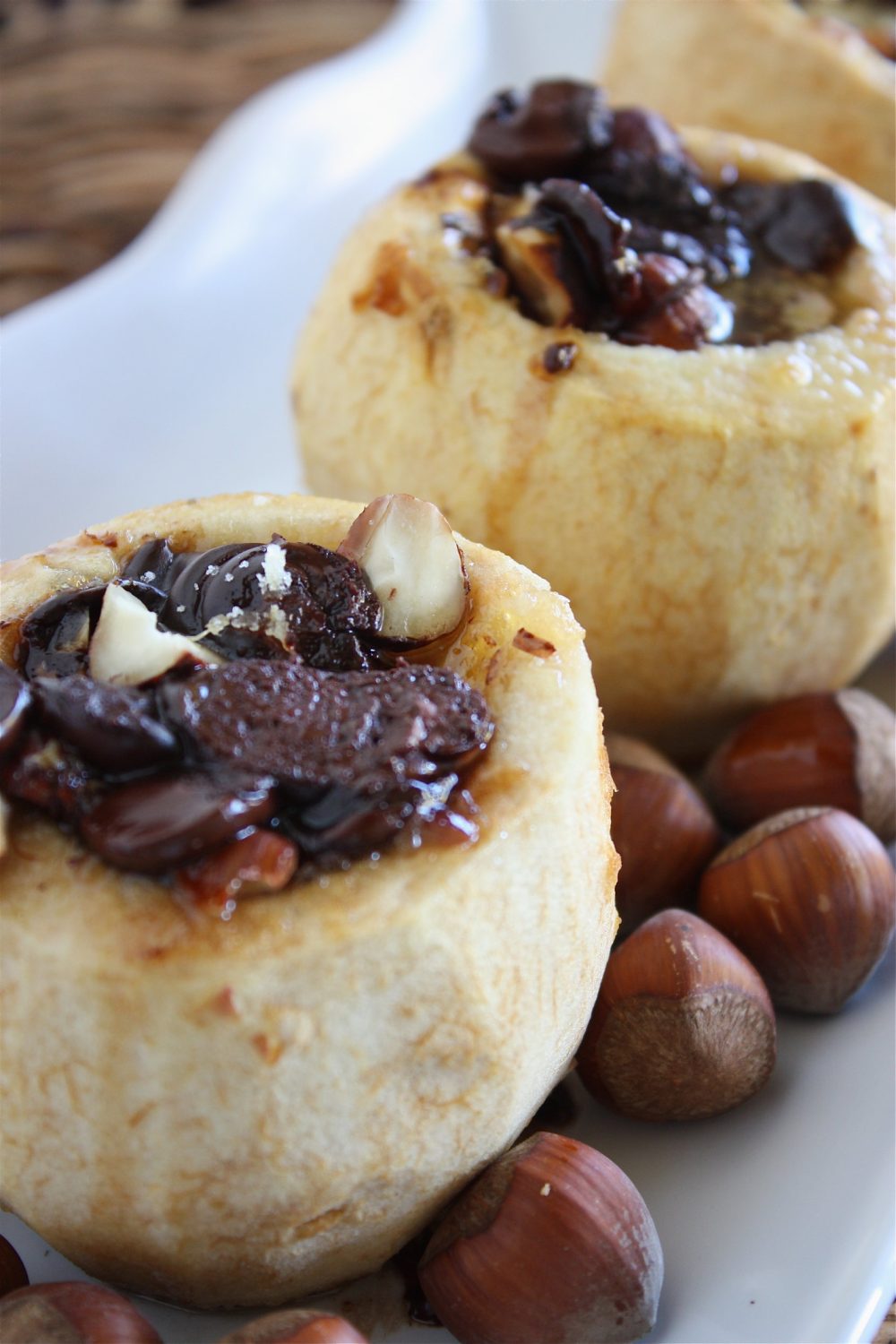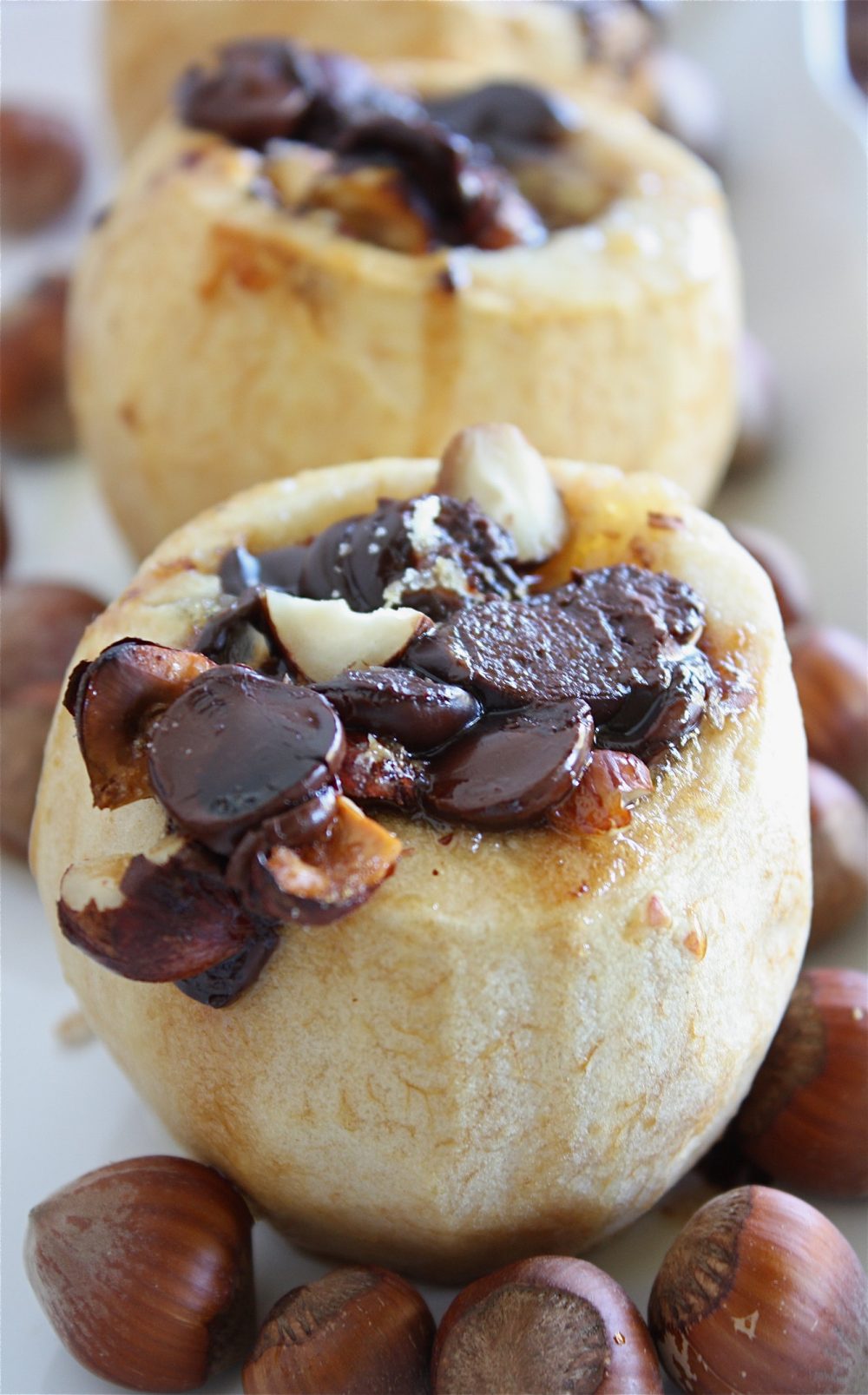 (Visited 4,729 times, 1 visits today)
Recipe Steps
| | |
| --- | --- |
| | Preheat the oven to 375 degrees F. Butter a small baking dish. |
| | Slice a thin layer off the bottom of the apples and discard to level them out and create a stable base. |
| | Slice 1/2 inch off the tops of the apples and set aside. Peel the apple bases. Then, using a small teaspoon, scrape out an inch diameter core from each apple, making sure not to cut through the bottom. |
| | Mix together 3 tablespoons sugar with the butter, lemon zest, hazelnuts and chocolate. |
| | Spoon the filling into the center of the apples, mounding any extra on top. |
| | Drizzle the exposed apples with the 3/4 cup of Marsala and cover them with their tops. Pour the rest of the Marsala over the apples and sprinkle them with the remaining 1 tablespoon sugar. |
| | Bake for 45 minutes, basting the apples with the hot Marsala a few times during their roasting. The apples are done when a toothpick can be inserted into them easily. Serve warm, with the Marsala spooned over the apples and, if you'd like, whipped cream on the side. |