Ingredients
2 tbs

Extra Virgin Olive Oil

1 tbs

Apple Cider Vinegar

1/4 tsp

Fresh Ground Pepper

1/4 tsp

Curry Powder

optional

1/4 tsp

Cayenne Powder

optional
Directions
I have seen kale chips all over the place lately.  And with good reason — kale is in prime season right now.
I should know…each week my farm box contents listing of kale, kale and more kale has got me looking for new ways to use it.  Okay, not just any ways to use it, but ways to get others to eat it who aren't so convinced they like it.
To be honest, I used to be scared of kale.  Now that I've got a couple of good recipes under my belt, it's a little less threatening.  If you don't normally cook with or eat kale, this would be a great way to introduce your family to this healthy green.
Great as a snack during a movie, or anytime really.  Flavor them with your favorite spices, and you'll be able to tweak these to whatever your craving may be.
If you don't have green kale, any variety of kale will work.
Notes:
Be sure the kale isn't soaked in the olive oil coating.  They will not crisp up if they are too wet.
The kale needs to be in a single layer on the baking sheet.  If it's overlapping, it will steam and get soggy.  If you have to, use two baking sheets.
I'm not sure how well it stores overnight, but six hours after baking, they are still crisp.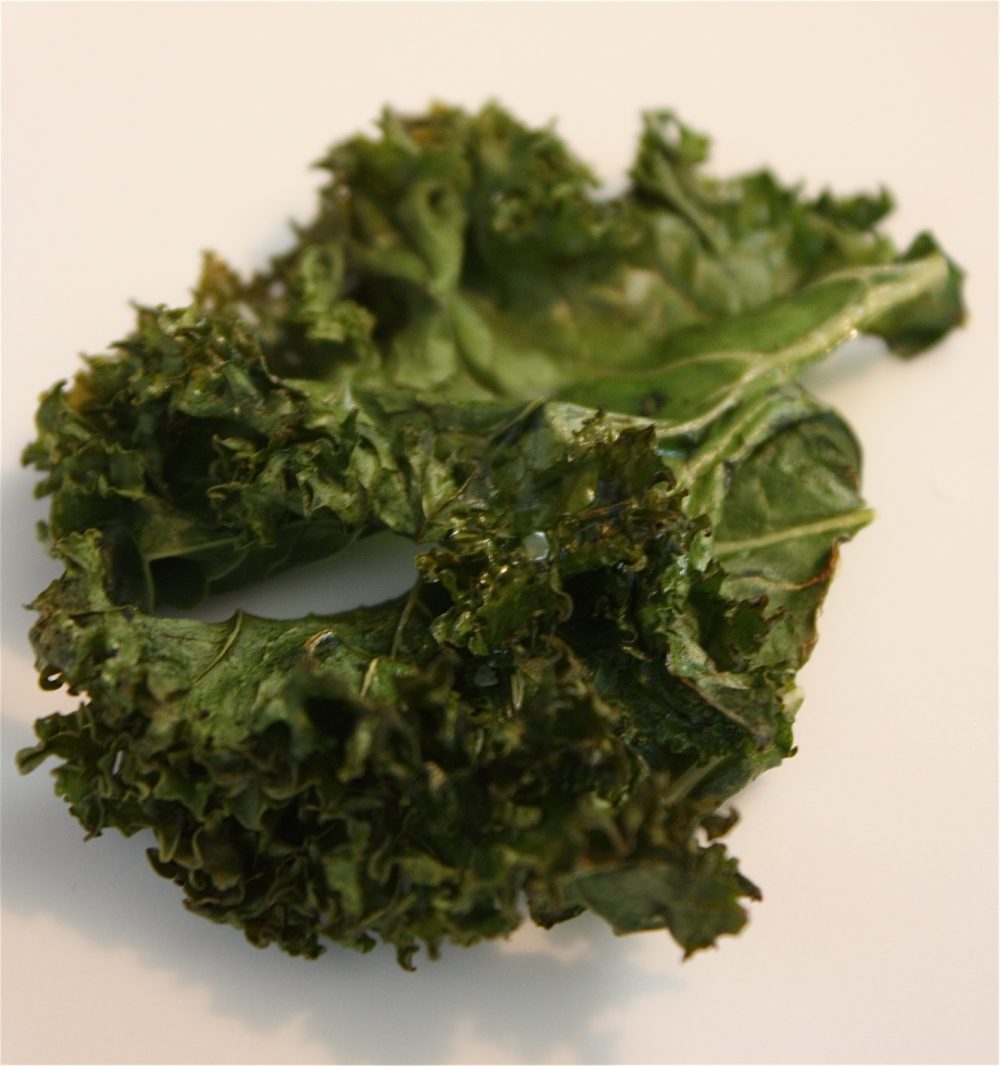 (Visited 3,300 times, 1 visits today)
Recipe Steps
| | |
| --- | --- |
| | |
| | Rinse and dry the kale well. |
| | Tear the kale off the thick stems and into bite-sized pieces. They shrink in the oven, so about 3 inch pieces work well. |
| | Toss with the olive oil, cider vinegar, and spices of choice until well coated. |
| | Place on a parchment-lined baking sheet in a single layer and bake for 10-15 minutes or until crispy and just starting to brown. |