Ingredients
3 Lbs.

Boneless Beef Chuck Roast

Trimmed and cut into 1 1/2 inch cubes, or 3-pounds of pre-cut stew meat

2 Cloves

Garlic Cloves

Minced

2 Cups

Low Sodium Chicken Broth

1.5 Pounds

Yukon Gold or Red Potatoes

Washed and cut into 1 2/2 inch chunks

4

Carrots

Peeled and sliced into 1/2 inch pieces
Directions
For the last few months, my mom and I have been splitting farm delivery from Full Circle Farm, an incredible organization here in Washington State.  They are both an organic farm, and a local organic produce and products distributor that makes both of our lives much easier by bringing us the freshest, local organic produce around.
Over the summer, we opened our boxes early each Wednesday morning to find juicy peaches, golden corn and plump blueberries, just to name a few of our favorite goodies.
Last week's delivery showed signs of the summer's end.  I took my box full of potatoes, carrots, kale and assorted root vegetables home and succumbed to the truth that it was the first official day of fall, and why not celebrate the change of seasons with a hearty beef stew.  Time to put that fall produce to work.
I have been coming back to this recipe year after year as the weather turns cold.  It's hearty, economical, and feeds a ton of people.  Plus, it features the gorgeous carrots and potatoes coming out of the ground.  You could really throw any root vegetables in this that you have on hand — yams, rutabagas, parsnips — as an alternative to potatoes.
Fall is here.  Love it, welcome it, and celebrate it with this recipe.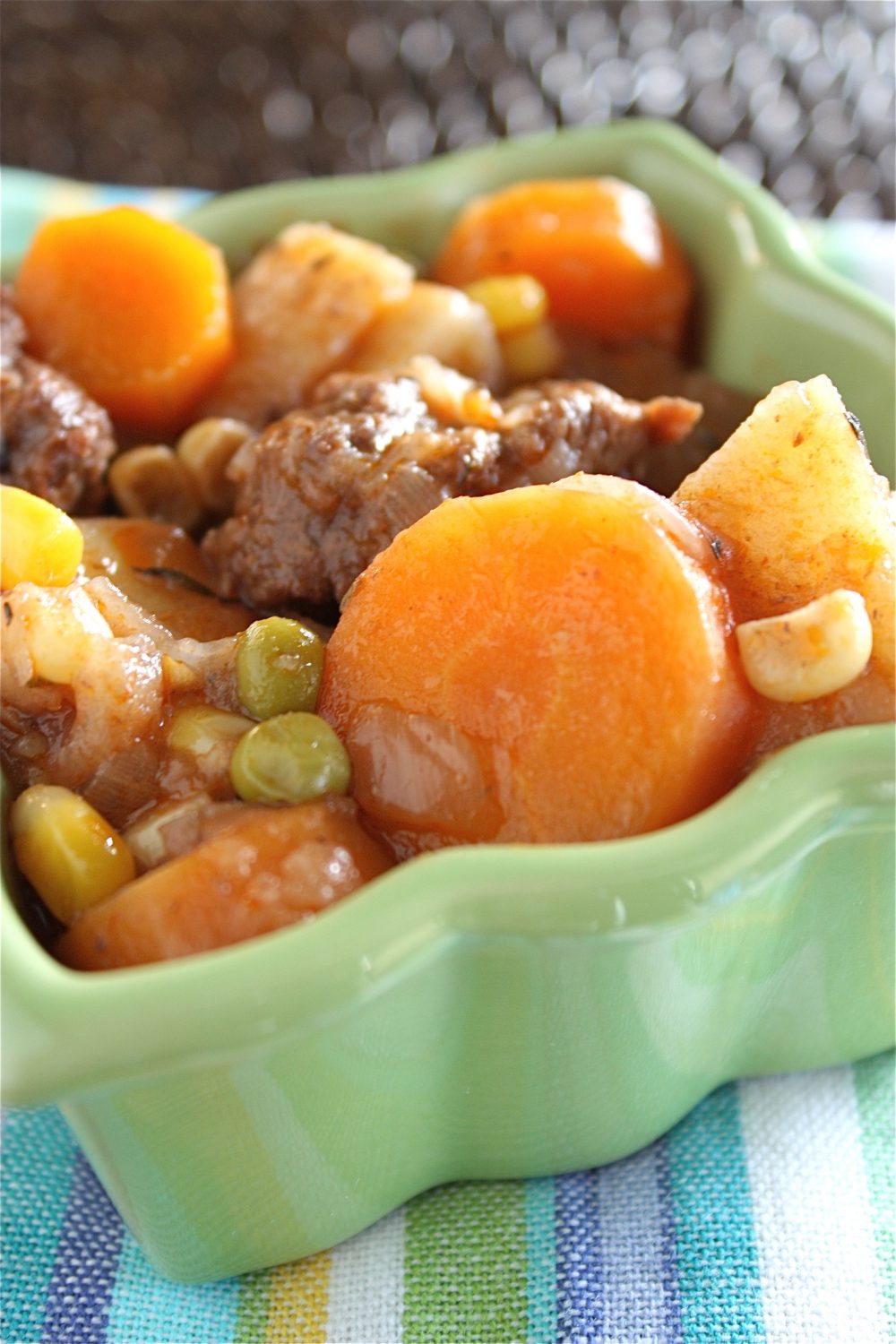 (Visited 5,252 times, 1 visits today)
Recipe Steps
| | |
| --- | --- |
| | Adjust an oven rack to the lower-middle position and pre-heat oven to 300 degrees. Pat the beef dry with paper towels, then season with salt and pepper. |
| | Heat 1 tablespoon of the oil in a large Dutch oven over medium-high heat until just smoking. Brown half of the meat (so as not to crowd the pan), about 10 minutes, then transfer to a plate. Brown each piece on all sides. This is where the flavor comes from! Add 1 more tablespoon of oil and brown the rest of the meat and transfer to a plate. |
| | Add the remaining tablespoon of oil to the pot and turn to medium heat. When oil is shimmering, add the onions and cook until softened, about 5 minutes. Stir in the tomato paste and garlic and cook for 30 seconds. Add the flour and cook for 1 minute. |
| | Slowly stir in the wine, scraping up the browned bits. Stir in the broth, thyme, bay leaves, and browned beef, along with accumulated juices. |
| | Bring to a simmer, cover and transfer the pot to the pre-heated oven. Cook for 1 hour. |
| | Stir in the potatoes and carrots. Cover and continue to cook in the oven until the beef is tender, about 1 hour. |
| | Remove from the oven and stir in the frozen peas and corn. Remove the bay leaves. Season with salt and pepper to taste. |
| | Serve hot with a crusty loaf of bread for sopping up the broth. |