Ingredients
1

Sweet Red Bell Pepper

stemmed, seeded and chopped

6 Cloves

Garlic Cloves

minced

Lean Ground Beef

browned and drained

16 oz

Red Kidney Beans

rinsed and drained

Toppings
Directions
Some days, nothing will satisfy you but a great, big, steamy bowl of chili.  I prefer mine with sour cream, grated cheddar and Ritz crackers.  I repeat, Ritz crackers.  I really won't touch chili if not for Ritz crackers to dip into it.  But I digress.
The great thing about chili is that it's a one pot meal, and can be prepped in minutes and set on the stove to simmer without worry.
This recipe is my all-time favorite chili.  Not too spicy, with a nice chunky texture of the vegetables and meat.  It's a basic chili, but a great one.
It's also a great place to start if you want to add additional ingredients to make this chili your own.  The possibilities are endless…different kinds of beans, corn, jalapenos, chicken…
Try this and share it with your friends.  And don't forget the Ritz.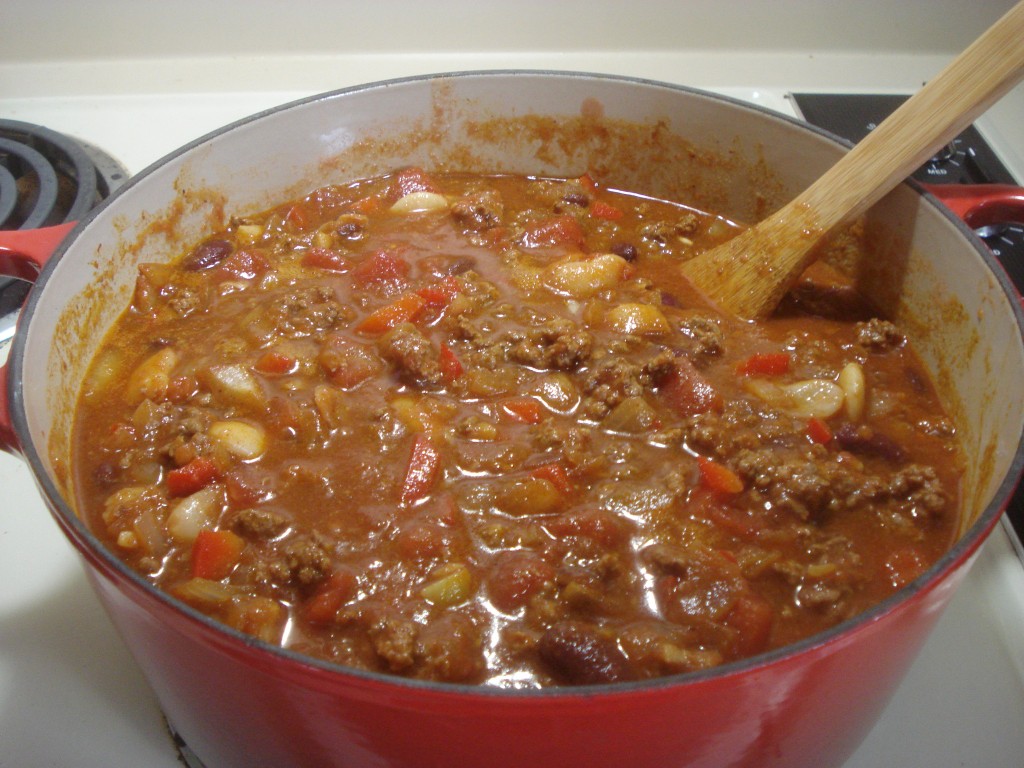 (Visited 12,745 times, 1 visits today)
Recipe Steps
| | |
| --- | --- |
| | Heat the oil in a large Dutch oven over medium heat until shimmering. Add the onions, bell pepper, chili powder, cumin, cayenne and 1/2 tsp. salt. |
| | Cook until the vegetables have softened, about 7 minutes. Stir in the garlic and cook for 15 seconds. |
| | Add the beef and increase the heat to medium-high. Cook, breaking up the beef with a spoon until no longer pink, about 10 minutes. Stir in the beans, diced tomatoes with their juice, tomato puree, and 1/2 tsp. salt. Bring to a simmer, cover and cook for 45 minutes. |
| | Remove the lid and continue to simmer until the beef is tender, about 45 minutes. |
| | Stir in frozen corn, if desired. |
| | Season with salt and pepper to taste before serving. |
| | Serve topped with cheddar cheese and sour cream. |