Ingredients
2 tbs

Extra Virgin Olive Oil

2 cups

Split Peas

rinsed and picked through for stones

6 cups

Low Sodium Chicken Broth

1/2 tsp

Fresh Ground Pepper

4 large

Carrots

cut into 1/2 inch slices

4

Yukon Gold or Red Potatoes

cut into 1 inch chunks

3

Celery Stalk

cut into 1/2 inch slices

1 pound

Turkey Kielbasa Sausage

cut into 1 inch pieces

1/2 lemon

Fresh Lemon Juice
Directions
Split pea soup, in all of its thick, green glory is delicious.  It's comforting, nutritious, easy and cheap to make.
But let's get real.  It can look a little…well, gross.  The color and texture can be a little off-putting.
Not to mention, have you ever tried to photograph it and make it look gorgeous?  It's tough.  Real tough.  Soup is hard enough to photograph and make look tasty, but split pea soup, my friends, is nearly impossible.
My mom's split pea soup always looks good to me, though.  She used to make this for us growing up, and I would pick out all of the slices of kielbasa and eat them first.
Speaking of kielbasa, I love, love adding it to soups.  It's already cooked, so you can just add it in at the end, and it adds a ton of flavor without much effort or thought.
If you've forgotten about split peas or disliked them in the past, give this soup a try.  Look past its chunky green exterior and enjoy all that it has to offer.  It's easier (and tastier) than you think.
Notes:
If you can't find turkey kielbasa, you can substitute other types of kielbasa or chopped cooked ham.
To keep this soup vegetarian, sub vegetable broth for the chicken broth and leave out the kielbasa.  It's just as delicious!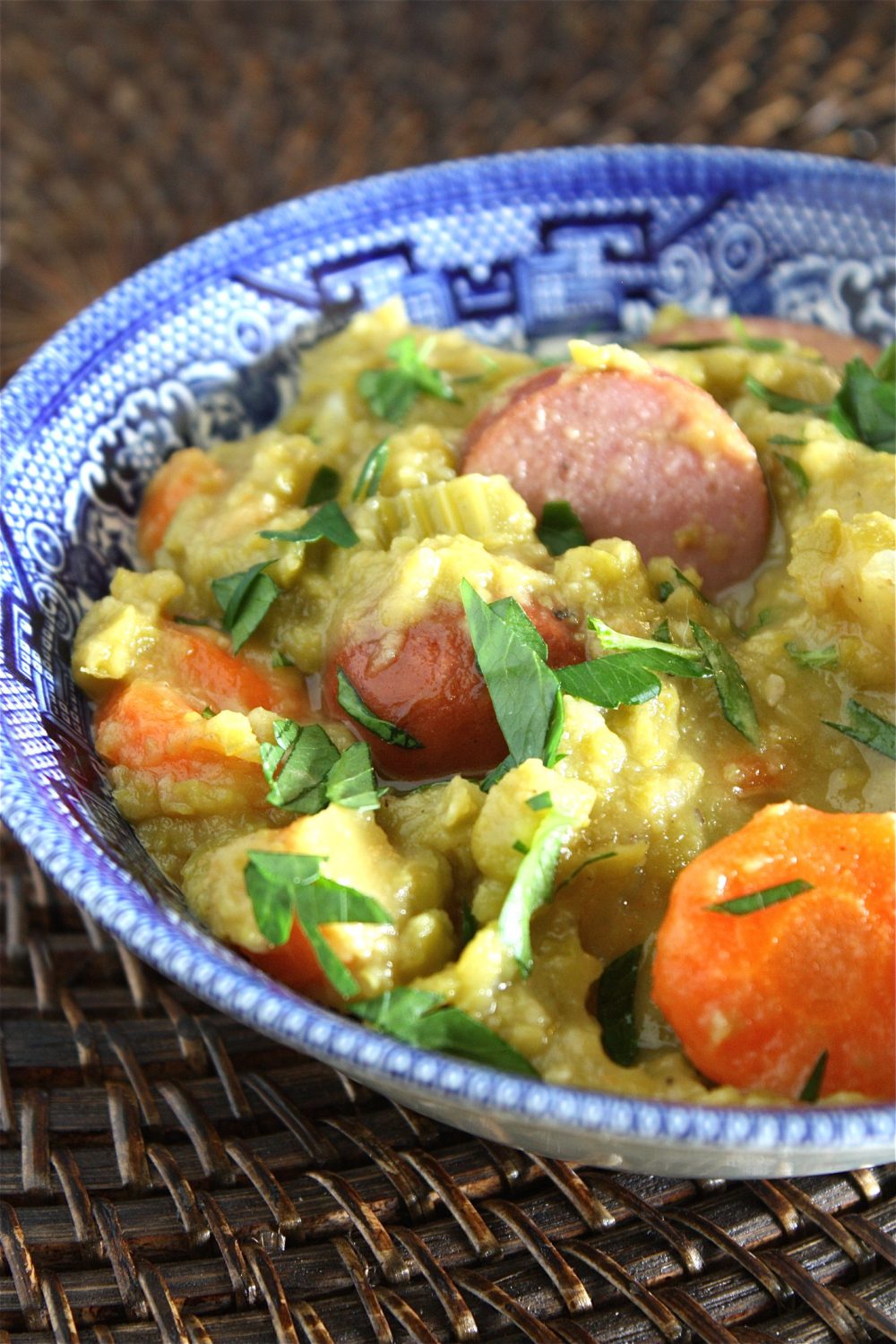 (Visited 6,729 times, 1 visits today)
Recipe Steps
| | |
| --- | --- |
| | Add olive oil to a dutch oven over medium-high heat. Add onions and saute until just soft. |
| | Add split peas, chicken broth, bay leaf, thyme, salt and pepper. Bring just to a boil and reduce to a simmer. Cover and simmer for 30 minutes. |
| | Stir in carrots, celery and potatoes. Cover and simmer 30 minutes more, or until the vegetables are tender. |
| | Stir in kielbasa and lemon juice. Taste and add more salt and pepper, as needed. |
| | Serve with crusty bread for dipping. |