Ingredients
8 small to medium

Golden Beets

washed and dried

4 cups

Fresh Baby Spinach

washed and dried

1 small

Red Onion

halved and thinly sliced

2/3 cup

Crumbled Goat Cheese

1/4 cup

Extra Virgin Olive Oil
Directions
I had never had a roasted beet until one fateful day this summer.
The beets appeared on the doorstep in my produce box.  I was clueless with what to do with them.  I'd only had pickled beets, which I liked, but I needed to figure out a way to make a meal out of these pretty little red orbs.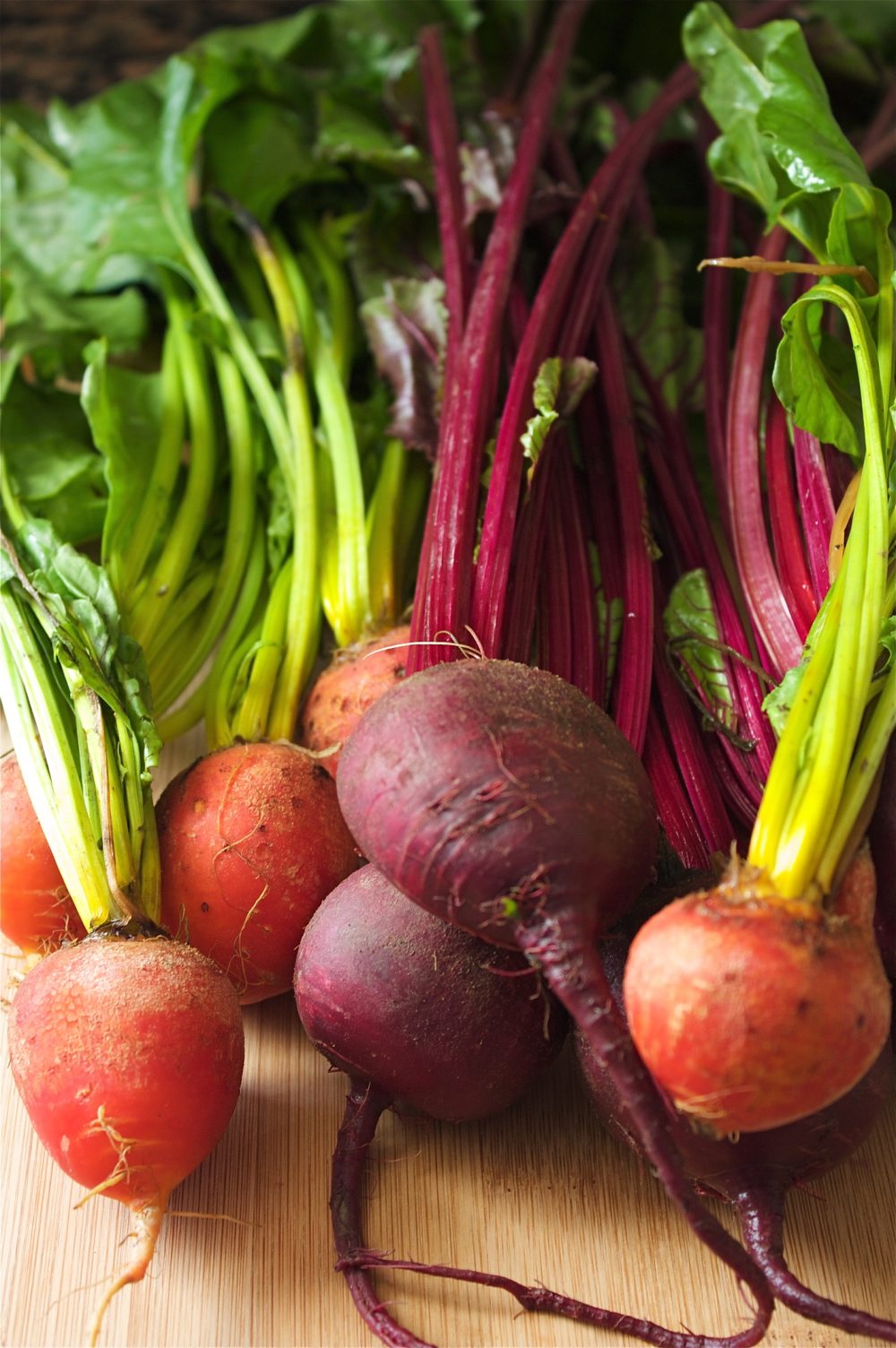 I took to Twitter, asking people their favorite ways to enjoy beets.  The overwhelming response was to roast them.  It seemed almost too simple — wash and trim them, wrap them in foil and voila — deliciousness?
Well, believe it.  The sugar in the beets caramelizes in their little packets, and their skin magically glides off after they are cool enough to touch.
Their taste is complex after roasting.  Earthy but sweet, a perfect texture between firm and soft. My mom describes it as a party in her mouth.
That's pretty good to me.
This salad has become a staple in our house.  I am convinced that beets and goat cheese were made for each other.  With the addition of the pine nuts and red onions, it's just too good to be true.
If you're not convinced you like beets, give roasting them a try.  If you're like me, you might not even get to making the salad, because you'll be tempted to pop the freshly roasted beets in your mouth.
Beware of "beet fingers" after peeling them.  But it's a small price to pay for this perfect dish.
(Visited 1,494 times, 1 visits today)
Recipe Steps
| | |
| --- | --- |
| | |
| | Scrub the beets and trim off the tops. Do not peel them. |
| | Tear off 5 inch portions of aluminum foil for as many beets as you have. If you have some small beets, they can be grouped together. Wrap each beet in their foil and seal well. Place the beet packets on a sheet pan and roast for 45 minutes to 1 hour, or until tender and their skins slide off easily. |
| | |
| | In a small bowl, mix together the olive oil, red wine vinegar, lemon juice, salt and pepper. Pour over the beets. |
| | Toast the pine nuts by placing them in a dry sauté pan or skillet over a moderate heat. Watch them carefully because they can easily burn. When the pine nuts become golden brown, remove them from the heat and transfer to a small bowl. |
| | When ready to assemble the salad, toss together the spinach and red onions. |
| | Place the dressed beets in a mound on top of the spinach. Sprinkle with the goat cheese and toasted pine nuts. |