Ingredients
12 oz

Tuna

Oil-packed reccomended

15 oz

Cannellini Beans

Drained and rinsed

12 oz

Roasted Red Peppers

drained and roughly chopped

1

Fresh Tomatoes

Roughly chopped

3 tbs

Extra Virgin Olive Oil

1/2 tsp

Fresh Ground Pepper

Crunchy Bread or Crackers
Directions
Being a native of Seattle, I feel comfortable in saying that we Washingtonians are not used to soaring temperatures.  Get over 80 degrees, we get a little wacky.
Call us wimpy or even ungrateful for the beautiful weather.  But see, the problem really is that many of us just aren't prepared for the heat.
Yes, Twilight might be set in our beautiful state, but believe it or not, we're not all vampires.    We love the sun as much as anybody.  But nine months of the year, we live in a gray wonderland with schizophrenic weather that gets us frisky with any hint of sunshine.  65 degrees, flip flops come out and our glowing white legs appear in shorts.
So when the heat is rising, we get to schvitzing in our non-air conditioned homes and offices.
This past week was a hot one for us,  and I began searching for meals that did not require the use of the stove or frankly, much movement at all.  We even went on "drives" as an excuse to be in the air conditioned car.
This salad is packed with protein and makes for the easiest possible lunch or dinner…in any weather.  It is light and lemony, but fills you up in all the right ways. And best of all,  no cooking required.
So suck it up, neighbors.   Find your nearest box fan, and grab a spoon.  It'll be okay.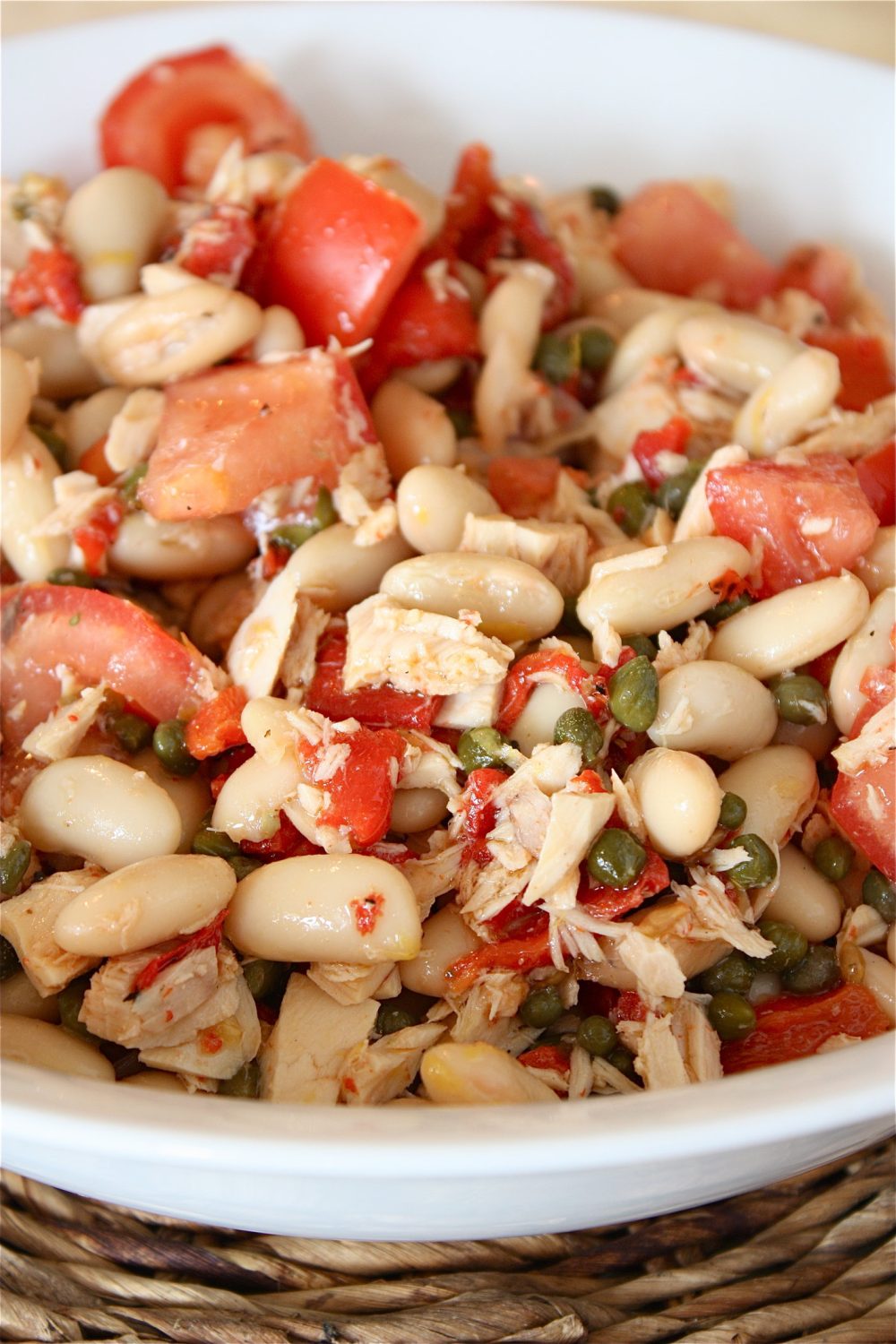 (Visited 2,631 times, 1 visits today)
Recipe Steps
| | |
| --- | --- |
| | In a large bowl, combine the tuna, beans, red peppers, capers, lemon zest, and tomato. |
| | In a separate bowl, whisk together the lemon juice, oil, salt, and black pepper. |
| | Pour the vinaigrette over the tuna mixture and toss. Serve with the bread or crackers. |