Ingredients
5 Cups

Kellogg's Rice Krispies Cereal

1 Cup

Kellogg's Fruity Pebbles Cereal

3 Tbs.

Sprinkles

Don't use crystal sprinkles because they'll melt
Directions
In Tacoma, we have a fabulous bakery called Corina Bakery.  Every so often, they make these amped-up Rice Krispie treats that are a fruity twist on the classic ones. My husband loves them, and this last year, I went to buy him one for his birthday.  Alas, they hadn't made any that day.  Determined not to disappoint, I recreated them at home.
Yes, they are a sugar bomb.
But who can resist sprinkles and colorful candy?  Kids and adults alike can't keep their hands off of them.
Will Bake for Food was yesterday, and these were my most popular sellers by far.
But I do have one, um…clarification to all of you, since I received this question no less than three times yesterday.
My Magical Rice Krispies do not contain an ingredient that has any real, how you say… hallucinogenic properties.  Or, uh, relaxation effects, if you get my drift.  I mean, you could always make them at home to, you know, contain such a "magical" ingredient, but I can assure all who consumed these yesterday that mine don't. I have to say, I found that repeated question HILARIOUS.
Moving on.
I had made these mostly for the kids because I knew they wouldn't be able to resist spending their little tickets on these.  But really, the adults bought them in multiples and couldn't get enough of them.
It really did make me smile when one little girl was having what I'd call a mini meltdown and her mom rushed over, grabbed one and gave it to her.  She immediately stopped crying.
See, I told you they were magical!
Here she is.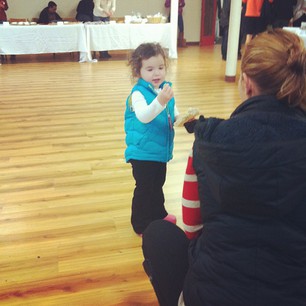 Participating in Will Bake for Food was a really great experience, and I hope to do it again next year.  There were well over 40 food bloggers from the Seattle area, and it's always nice to find an excuse to meet them or see them again in real life.  The quality and variety of their baked goods was truly awesome, and I could see that they all baked from their hearts to support the Emergency Feeding Program.
You can see photos of the event on my Instagram.
Some of my favorite treats from the event were homemade Twinkies, homemade creamsicle marshmallows dipped in chocolate, and these gorgeous mini pumpkin cheesecakes with whiskey caramel topping that sold out right away.
All together, we raised $2571 and several huge barrels of food for the Emergency Feeding Program.  Thanks to Jenny of Purple House Dirt and Jenny of Rainy Day Gal for putting together such a wonderful event and to everyone involved in organizing it and baking!
If you didn't get to attend the event, but would still like to donate to the Emergency Feeding Program, you can do so here.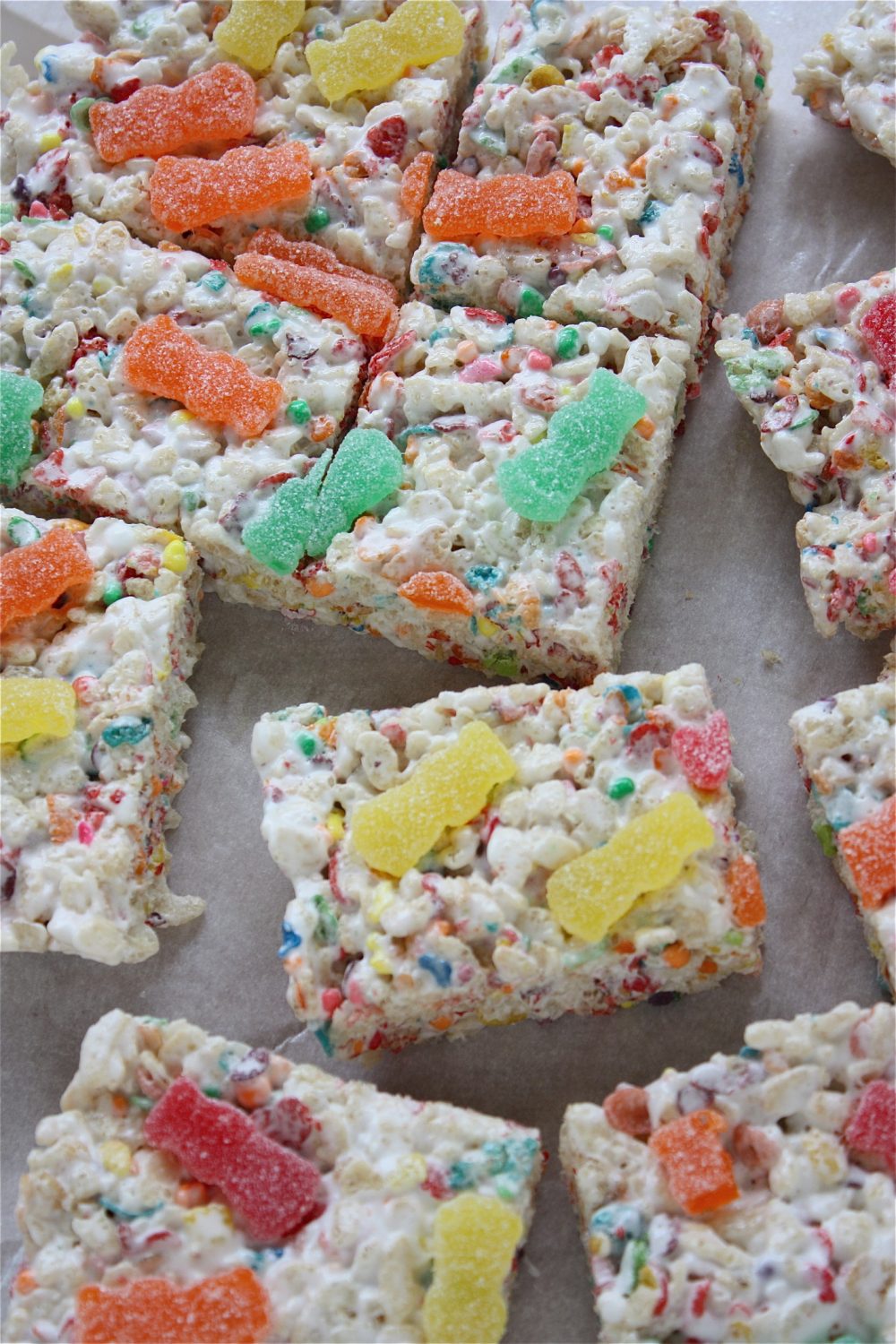 Warning: If you eat too many of these, you might turn into a unicorn who poops rainbows.
(Visited 1,881 times, 1 visits today)
Recipe Steps
| | |
| --- | --- |
| | Stir together the Kellogg's Rice Krispies cereal, Nerds candies, Fruity Pebbles and sprinkles. |
| | In a large saucepan, melt the butter over low heat. Add the marshmallows and stir until the marshmallows have completely melted. Remove from heat. |
| | Stir in the cereal mixture, coating them well with the melted marshmallow mixture by stirring with a silicone spatula or wooden spoon. |
| | Press the mixture evenly into a 13 x 9 x 2 inch pan which has been lined with wax paper. I like to spray a little vegetable cooking spray on my hand and press it with my hand, or you can use a silicone spatula. Scatter with Sour Patch Kids candies and press firmly so they stick. |
| | Cut into squares when the mixture cools. |