Ingredients
2 Tbs.

Extra Virgin Olive Oil

6 oz.

Crimini or Button Mushrooms

Sliced

1 Cup

Mozzarella Cheese

Grated
Directions
With Easter this weekend, as well as the beginning of Passover, it's prime time for brunch.
For me, brunch is not complete without at least one egg dish gracing your table.
When you've got company over, making eggs to order is not the way to go. Who wants to make 15 omelets or eggs over easy? Heck no!
Luckily, there's make-ahead egg dishes that get the job done, and are kid friendly to boot. Kids seem to like little, individual servings of things. To get the little ones interested, make quiches in muffin tins. They're all ready to go in single servings, and voila! Watch them disappear off their serving plate.
I happen to love spinach and mushrooms with eggs, but you can add pretty much any cooked vegetable, meat or cheese to these.
More good combos would be asparagus and feta, broccoli and cheddar, caramelized onion and sausage…whatever!
These little quiches are crustless. If you'd like to add a crust and still use the muffin tin, see my previous post on Spinach Feta Pop-in-your-Mouths.
Whatever holiday you celebrate this weekend, if any at all, have a lovely weekend filled with joy!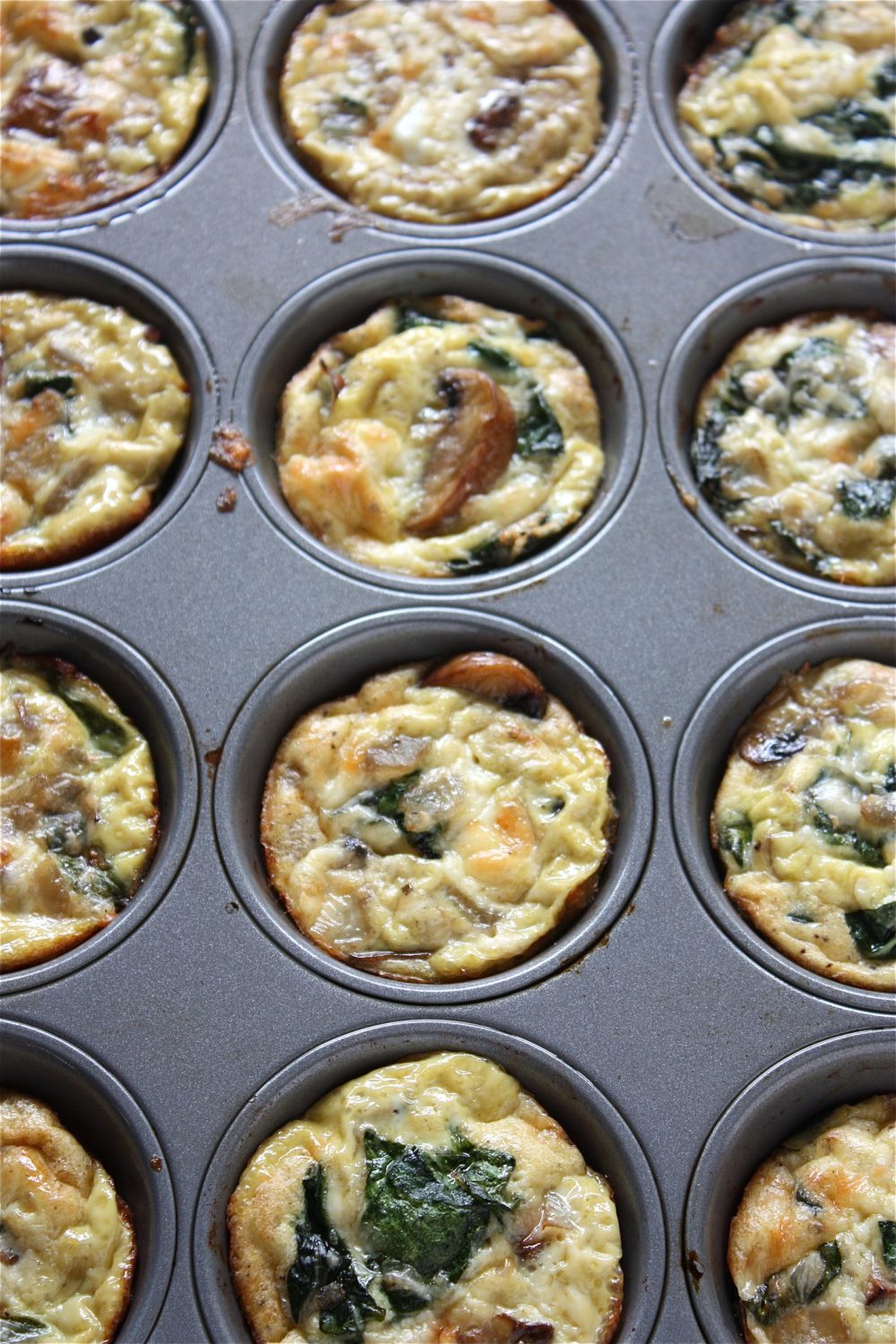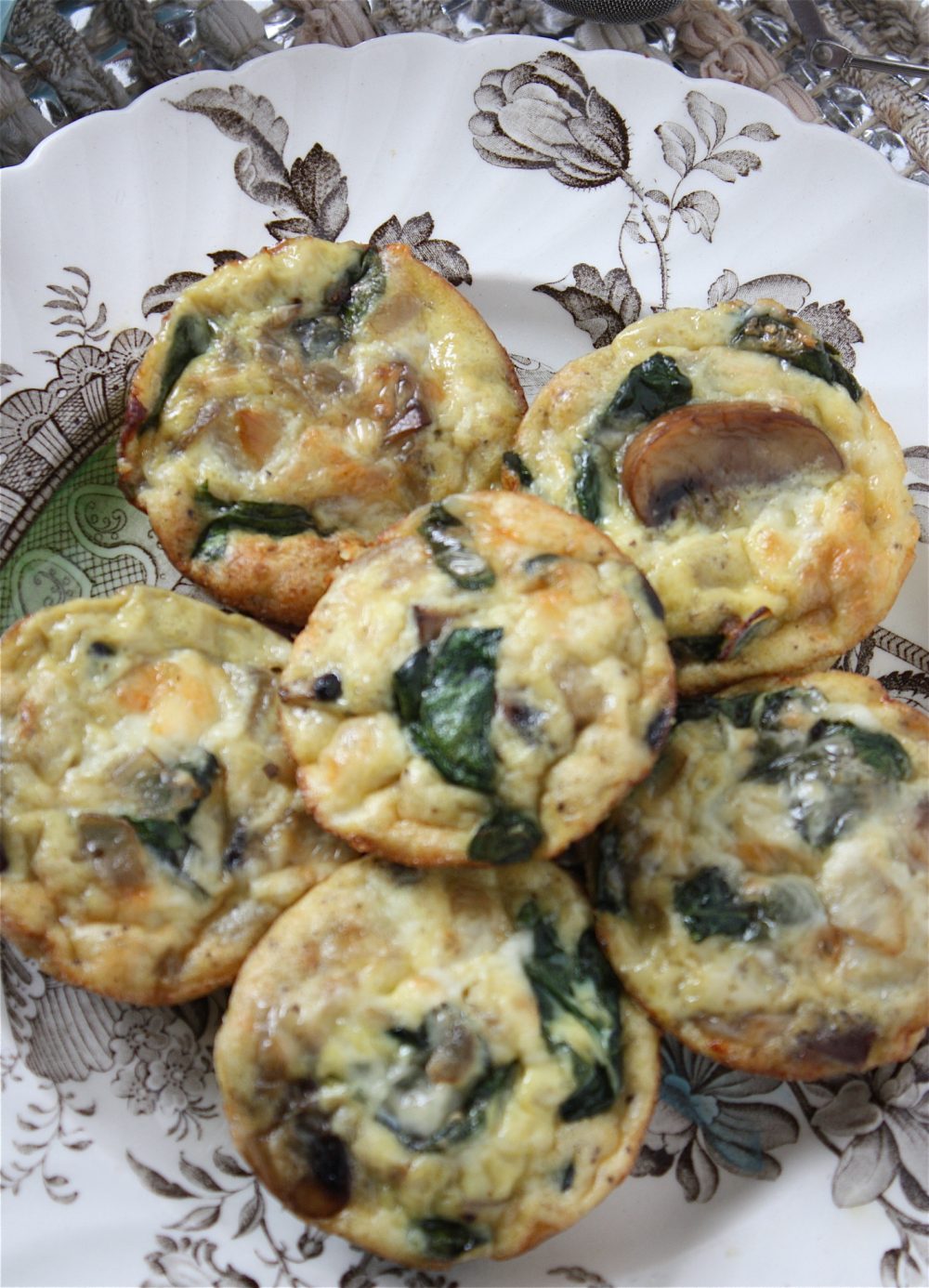 (Visited 3,500 times, 1 visits today)
Recipe Steps
| | |
| --- | --- |
| | Preheat the oven to 350 degrees F. |
| | Generously spray a standard-sized muffin tin with cooking spray, making sure to cover each cup completely. Set aside. |
| | Heat a large saute pan over medium heat. Add olive oil. When the oil begins to shimmer, add onions. Cook until softened, about 5-8 minutes. |
| | Add the mushrooms and cook, stirring, until they shrink in size and begin to brown, about 5 minutes. |
| | Turn the heat to low and mound the spinach on top of the mushrooms and onions. It will look like a lot of spinach, but it will wilt down. Gently stir until spinach wilts, about 2 minutes. Set aside to cool. |
| | Crack eggs into a medium mixing bowl. Pour in the milk. Whisk until the eggs and milk completely combine and the mixture slightly fluffy, about 1 minute. Stir in the cheese, salt and pepper. |
| | When the spinach and mushroom mixture has cooled slightly, add it to the egg mixture and stir gently to combine. |
| | Fill each muffin cup with 1/4 cup of egg and vegetable mixture (I like to use 1/4 cup measuring cup). |
| | Bake for 25-30 minutes or until the tops of the mini quiches begin to brown. |
| | Remove from oven and let cool for 5 minutes. Run a butter knife around each mini quiche to free it from the muffin tin. |
| | Serve warm or at room temperature. |