Directions
It's Sunday.  Ahhh.  Time to rest, relax and…well, do a few of my favorite things.
This should come as no surprise, dear reader, that I love, love cookbooks. Trips to the bookstore involve me bee-lining straight to the cooking section to peruse the shelves filled with glorious cooking knowledge.
The weekend, then, is the time I get to sit down, surrounded by cookbooks, new and old, and read them. Yes, read. For me, cookbooks are not simply to be read while standing over the stove, following a recipe. Good cookbooks can be read like any other novel or work of literature. A well-written cookbook can not only teach you about technique and ingredients, but can transport you to the writer's world through their passion and love for food. Not all cookbooks are written with an overt story written through it, but just by reading the recipes, a kind of story can be woven through the ingredients used and the way they use them.
For me, it's pure entertainment, with a dash of education.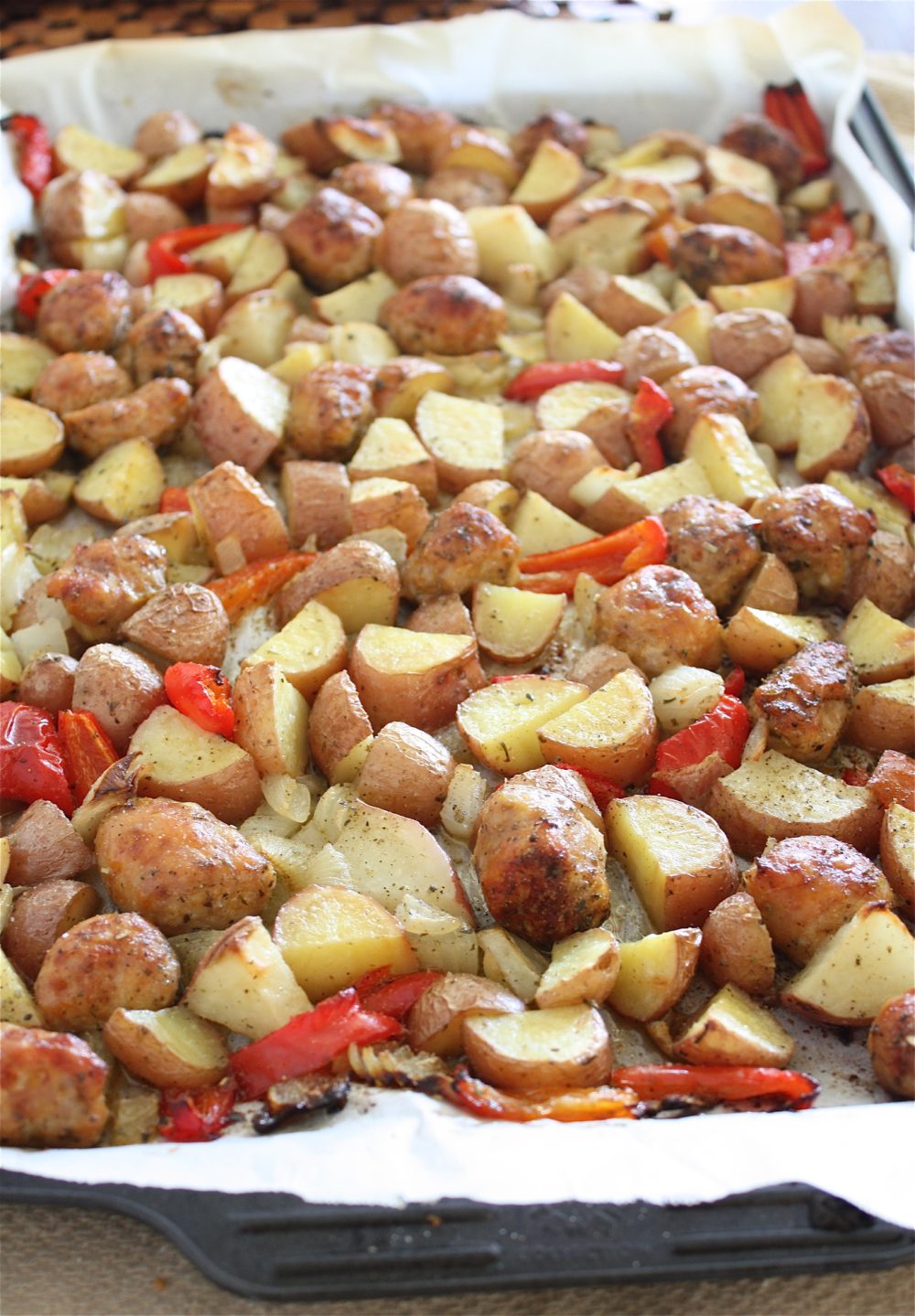 Weekends are also for cooking. If you read this blog, even a couple of posts, you will notice that I tend to cook simple, non-fussy food. Family-style food, even. Sunday cooking is no exception.  One of my very favorite weekend breakfasts is this sausage and potato breakfast bake.  Hearty enough to fill you up until dinner, yet simple enough to pop it in the oven and forget about it, this breakfast is both comfort food for the soul and an economic answer to feeding a crowd, or two people with leftovers.
By roasting the sausage, peppers, onions and potatoes together at a high heat, they all get a bit of that glorious brown, crispy goodness that takes these humble ingredients to the next level. Each ingredient flavors each other, and all are perfectly cooked at the same time.
Similar to a hash, but more rustic, I like to serve this with an over-easy egg.
It's that simple. Breakfasts like this one leave me more time for Sunday reading. Cookbook reading, that is.
Sausage and Potato Breakfast Bake
1 medium onion, sliced or in a large dice
1 red pepper, cut into strips
2 pounds any waxy potato, such as Yukon Gold or baby red potatoes, cut into 2-inch pieces
1 pound sweet Italian chicken sausage, sliced into 1 inch pieces
1/2 Tbs. Italian seasoning
1 tsp. garlic powder
1 tsp. Kosher salt
1/2 tsp. freshly ground black pepper
2 Tbs. olive oil
Preheat oven to 400 degrees F.
Line a baking sheet with parchment paper. Place sausage, potatoes, onions and peppers on the baking sheet and arrange in a single layer. Season with Italian seasoning, garlic powder, salt and pepper. Drizzle with olive oil and toss with your hands, making sure everything is coated evenly with oil and spices. Rearrange in a single layer.
Bake for 15 minutes, remove from oven and gently stir to turn everything over for even cooking and browning. Place back in the oven and cook for another 15 or 20 minutes,  or until the sausage and potatoes are browned.
Serve with an over-easy egg on the top.
Notes:
This isn't just breakfast or brunch food. It would also work wonderfully as a simple lunch or dinner with a green salad.
If you wanted to veganize this, leave out the sausage and prepare it the same way.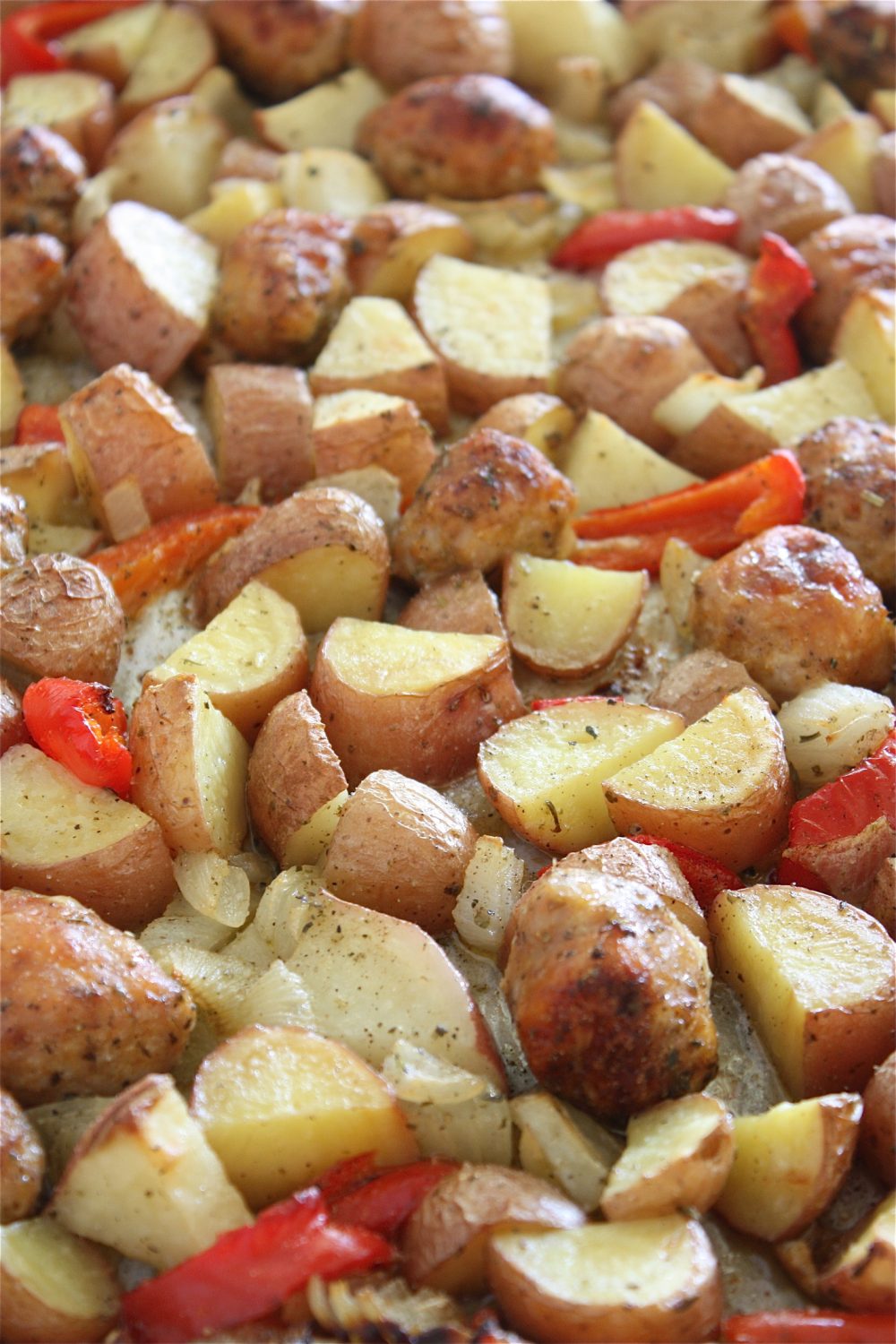 (Visited 11 times, 1 visits today)