Directions
I've noticed that there are chicken wing people and non-chicken wing people.
I'm a non-chicken wing person.  The typical wing in a restaurant is fried and covered in buffalo wing sauce, a texture and flavor I've just never quite gotten into.
My fiance, Casey, is definitely a chicken wing person.  Chicken wings on a menu in a restaurant?  Pretty sure he's ordering them.  He's ordering them and then devouring them like a mad man.
Then there's the technique of eating them.  I'm consistently amazed at how Casey can grab a wing with one hand, put it into his mouth, and pull off all the meat in one fell bite.  Maybe it's a guy thing, but this is one technique that I probably won't ever master.  One of these days, I'm going to enter him into one of those wing eating contests, preferably one with a hefty grand prize.  Surely, he'd win.
When I saw this recipe in Food & Wine Magazine, I knew I had to try it at home.  If not purely for Casey's pleasure, but for my own personal curiosity of trying them in a different sauce to see if maybe I liked them this way.
The great thing about this recipe is that the wings aren't fried, yet they are crispy.  The sweet and slightly spicy sauce acts as a glaze, and creates a satisfying stickiness.
The original recipe instructed to just toss the wings in the sauce after being broiled, but I found that taking them out of the oven, tossing them in the sauce, and then broiling them for three minutes gave them a nice caramelized glaze.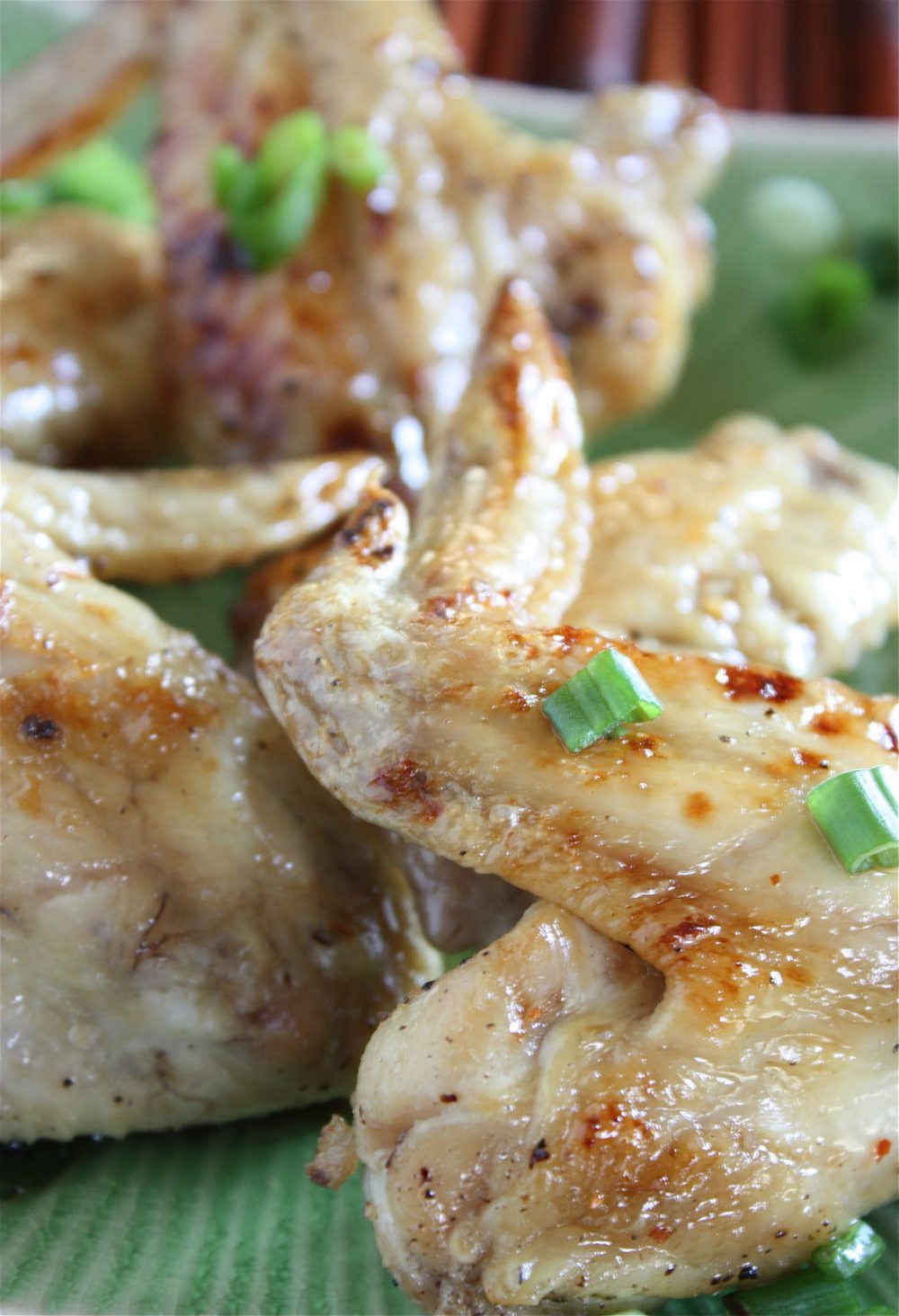 Honey-Chile Chicken Wings
From Food & Wine, with modifications
4 pounds chicken wings
1/4 cup extra-virgin olive oil
Salt and freshly ground pepper
1/4 cup unseasoned rice vinegar
1 teaspoon crushed red pepper
1/2 cup honey
2 tablespoons soy sauce
2 scallions, thinly sliced
Preheat the broiler and set a rack in the center of the oven.
In a large bowl, toss the chicken wings with the olive oil and season with salt and pepper.
Arrange the wings on a wire rack set over a large, sturdy baking sheet. Broil for 45  minutes, turning once or twice, until the wings are cooked through and crisp.
Meanwhile, in a small saucepan, combine the vinegar and crushed red pepper and simmer for 1 minute. Let cool, then whisk in the honey and soy sauce.
In a large bowl, carefully toss the chicken wings with the honey-soy mixture.
Place the sauced wings back on the baking sheet and broil for another 3 minutes.
Transfer the wings to a platter, sprinkle with the scallions and serve.
Note: This was the easiest thing to make, and really perfect for a large crowd.  You could even make them ahead of time.  To reheat, place them on a baking sheet and broil for 4 minutes.
(Visited 76 times, 1 visits today)