Directions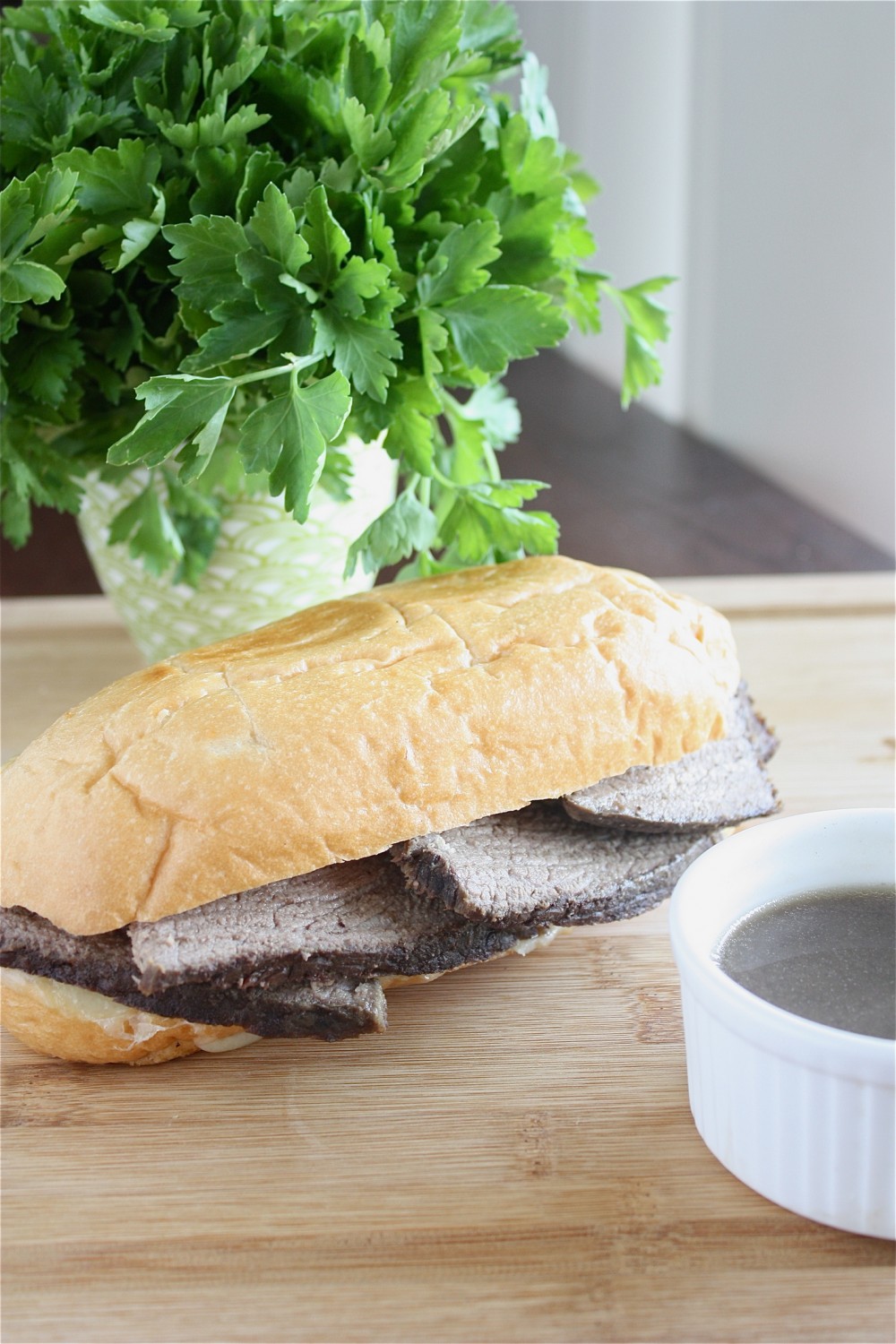 When's the last time you had a good French dip sandwich?  For me, it's been years.   The signature of this sandwich is that  crunchy bread made soggy after being dipped into flavorful broth.  As a kid, I never really liked the soggy-factor.  After making it myself, I see now the flavor it adds and it's not to be missed.
This is the first time I've had a French dip with homemade au jus.  Before, it's always been the typical deli counter roast beef and canned au jus.  Not that there's anything wrong with that, but oftentimes the canned version is a little salty for my taste.
I don't believe horseradish is a typical condiment on French dips, but it made the sandwich a little more interesting and a little zing.
It's great to be able to throw this into the slow cooker before work, arrive home and have dinner (and lunch for the next few days) waiting for you.
Slow Cooker French Dip Sandwiches
3 1/2 pound beef chuck roast
16 oz. low sodium beef broth
1 medium onion, chopped into large pieces
3 cloves garlic, peeled
1/2 cup red wine
1 tsp. garlic powder
1 bay leaf
Kosher salt and freshly ground black pepper
4 to 6 French rolls
Provolone cheese, sliced
Prepared creamy horseradish
Trim excess fat from chuck roast and rub all over with salt and pepper.
Pour beef broth and red wine into slow cooker.  Add garlic powder, whole garlic cloves, bay leaf and onion pieces.  Place roast into slow cooker.
Cook on low for 6 to 8 hours, until beef is tender.  Remove beef and let rest under aluminum foil.  Slice thinly.
Strain cooking liquid over a bowl as to remove the vegetable pieces.  Reserve the liquid as the au jus for dipping the sandwiches.  Salt liquid to taste.
Place Provolone slices onto the sliced French rolls and toast in the oven until the cheese is melted.  Spread creamy horseradish onto the roll.
Layer with slices of beef.  Serve with bowls of au jus for dipping.
(Visited 20 times, 1 visits today)