Ingredients
1 pint

Grape or Cherry Tomatoes

1 pound

Fresh Asparagus

chopped 1 inch

3 medium

Zucchini

cut lengthwise, and chopped into 2-inch pieces

2 tbs

Extra Virgin Olive Oil

Dressing

1/2 cup

Extra Virgin Olive Oil

1/2 tsp

Fresh Ground Pepper
Directions
Summer has officially begun. Well, by the calendar, that is. Last week held the first day of summer. Looking outside today in the Pacific Northwest is another story. It's cold. It's raining.
Boo.
While the weather might not get the message, summer foods are in full swing. I'm eating all the Rainier cherries, asparagus, watermelon and peaches I can get my hands on.
My Opa brought over some home-grown strawberries earlier this week, and I even got the chance to make strawberry jam. Look for that post later.
If you've never had homemade strawberry jam, you've not lived. It tastes so…strawberry-y. It's so strawberry-y, you'll feel like you're tasting them for the first time. Summer in a jar.
Recently while at Mayfield Lake with my family, I went on a cooking marathon and came up with this Roasted Tomato, Asparagus and Zucchini Couscous with Lemon Basil Dressing.
It is easily my favorite thing I've made in a while. So simple. So freaking full of flavor and goodness.
This salad is also a problem-solver. It's the solution to some of your common summer food woes.
1) Do you have too much zucchini? Is there zucchini coming out your ears? It's growing in the garden faster than you can eat it, your produce share is practically pushing it on you, and it's on special at the market. Put as much zucchini in this dish as you like, and show it who's boss.
2) You're invited to yet another barbeque, graduation party, camping trip, wedding shower, cat baptism, half-birthday party…you get the idea. What can you make that you can make ahead, is easily portable and meets the food wishes of lots of different kinds of eaters? Make this. And then pray you never get invited to another cat baptism.
Don't ask.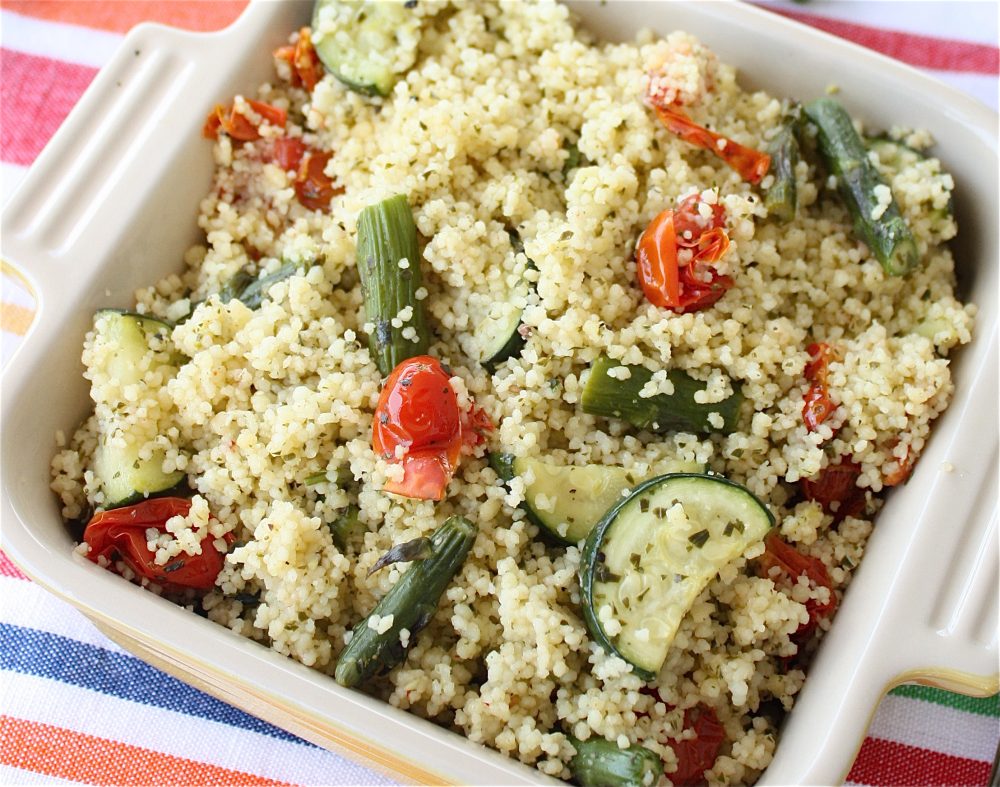 (Visited 3,674 times, 1 visits today)
Recipe Steps
| | |
| --- | --- |
| | Preheat the oven to 375 degrees F. Line a baking sheet with parchment paper or aluminum foil. |
| | Place the tomatoes, asparagus, zucchini and garlic on the baking sheet and drizzle with olive oil and sprinkle with salt and pepper. Toss to combine and arrange the vegetables in one layer. |
| | Bake for 20 minutes, or until the vegetables have just softened. Reserve the garlic and set aside. |
| | Meanwhile, cook the couscous according to the package directions and set aside. |
| | In a food processor or blender, add the lemon zest, lemon juice, olive oil, basil, roasted garlic, salt and pepper. Pulse until combined, about 30 seconds. |
| | Carefully combine the roasted vegetables, couscous and dressing. |
| | Serve warm or at room temperature. |