Directions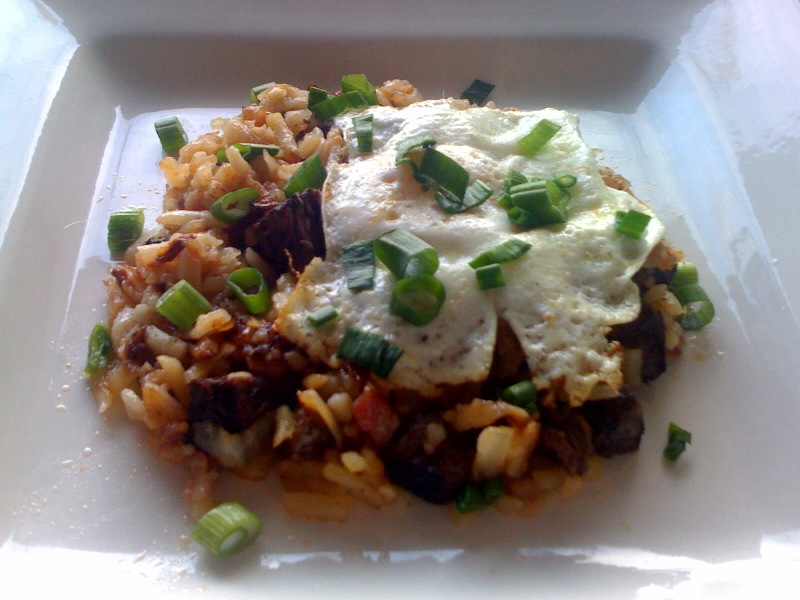 My absolute favorite breakfast is corned beef hash, but I never have any corned beef laying around.  Usually when we have steak during the week, there are leftovers, so I save them for a weekend breakfast.
It's practically the only thing that will drag my boyfriend out of bed at 8 a.m. on a Sunday morning.
Steak Hash

1 medium onion, chopped
1 clove garlic, minced
3 slices thick-cut bacon, chopped into small pieces
1 tsp. Fresh thyme
2 cups frozen shredded hashbrowns
1 egg
1 cup cooked leftover steak, chopped
Kosher salt
Freshly ground pepper
2 scallions, sliced thinly, for garnish

Cook bacon in a skillet over medium heat, until some of the fat begins to render out.  Add the onions and cook until they begin to soften.  Add garlic and thyme and cook for 15 seconds, stirring.  If there is not enough bacon fat to cook the hashbrowns, add 1 tablespoon olive oil.   Add frozen hashbrowns and cook according to package instructions until golden brown and crispy. Season with salt and pepper.  Add steak to heat through.

Add butter to another small skillet.  Heat over medium heat until just sizzling.  Crack egg into skillet without breaking the yolk.  Sprinkle with salt and pepper.  Cook until the white is firm on the bottom.  Slide a thin spatula firmly under the egg and flip to cook the other side.

Place hash onto a plate and top with egg.  Garnish with chives.
Tips:
If you don't have any leftover steak, you can leave it out or add cooked, chopped breakfast sausage or corned beef, if you have it.
Great for large groups or families.  You can make more or less, depending on how many people you're feeding, and it can be ready all at once to serve.
If you don't eat pork, leave out the bacon and instead start with 2 tablespoons olive oil.  If needed, add more oil after cooking the onions to cook the hashbrowns.
(Visited 14 times, 1 visits today)