Directions
As soon as I ordered my new wok, I knew I had to add some great wok-cooking cookbooks to my repertoire.
I came across Jaden Hair's The Steamy Kitchen Cookbook, and after glancing through some of the recipes, ordered it immediately.  I was not disappointed when it arrived.  There are so many dishes I want to cook!  But I had to make a choice for my first one, and here it is.
The colors of this dish really drew me in.  The red and yellow peppers, the green of the basil — you can practically taste it just by looking at it.
And it really was delicious.  Both a little spicy and sweet, the chicken hit all the right places on your tongue.
Absolutely one of the greatest things about this dish is it took no time to make.  That's why I have begun a new-found love affair with my wok — it's hot and cooks super fast.  No excuse not to make dinner on a weeknight with one of these.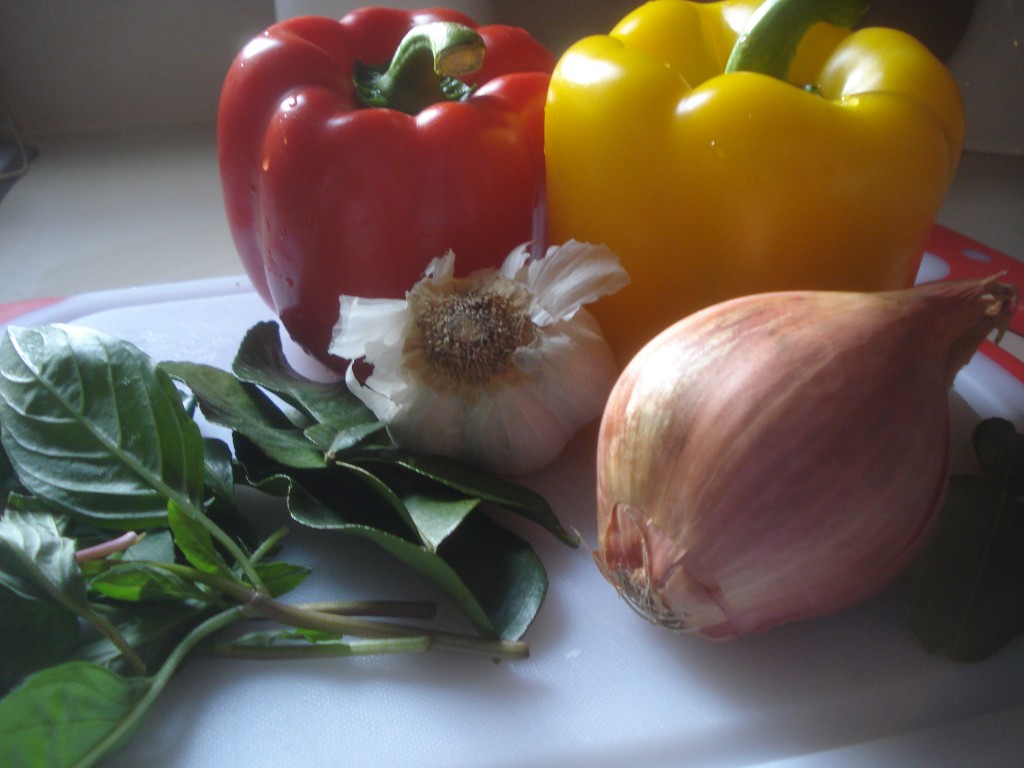 Thai-style Chicken in Sweet Chili Sauce
From The Steamy Kitchen Cookbook by Jaden Hair

Cornstarch Slurry: 2 tsp. soy sauce, plus 1/2 tsp. cornstarch

1 lb boneless chicken, sliced thin, pinky-sized pieces
1 tbsp. high-heat cooking oil 3 shallots, sliced thinly
2 fresh kaffir lime leaves, sliced into thin slivers (optional)
2 cloves garlic, minced
1 red bell pepper, thinly sliced
2 tsp. fish sauce
2 tbsp. soy sauce
1/4 cup sweet chili sauce
1/4 cup fresh Thai basil

In a large bowl, make the cornstarch slurry by stirring together 2 tsp of soy sauce and cornstarch until the cornstarch has dissolved.  Add chicken and toss to coat.  Marinate for 10 minutes at room temperature.

Set a wok or large frying pan over high heat.  When a bead of water sizzles and evaporates upon contact, add the oil and swirl to coat.  Add the chicken in one layer and cook for 2 minutes, flipping halfway.  Remove the chicken from the wok, keeping as much oil in the pan as possible.  The interior of the chicken will still be raw.

Lower the heat to medium and add the shallots, lime leaves and garlic.  Stir-fry for 30 seconds.  Add the red and yellow peppers and stir-fry for 1 minute, until the peppers are softened, but still have a nice crunch to them.  Pour in the fish sauce, soy sauce and sweet chili sauce and stir well.  Add the chicken pieces back into the pan and let the entire thing simmer for 2 minutes.  The chicken should have finished cooking and the sauce should be glossy and thickened.  Turn off the heat and stir in the fresh basil leaves.
Tips:
If you can't find lime leaves, just leave them out.  However, if you can find them, they do add a complex flavor that you can't get with anything else.
Make sure when you're cooking with a wok that you have everything prepped, chopped and ready before you start cooking, otherwise it can get stressful and things can burn.  Everything cooks so quickly that you have to be ready to add ingredients right when you need to.
(Visited 114 times, 1 visits today)