Ingredients
8 Tbs.

Unsalted Butter

Cold and cut into pieces

1 Cup

Feta Cheese

Crumbled

3/4 Cup

Sun Dried Tomatoes

Well drained and roughly chopped

1/2 Cup

Fresh Basil

Chopped
Directions
Ever take a bite of something and moan out loud?  That's what I did when I bit into a sun dried tomato, basil and feta scone made by Upper Crust Bistro and Bakery.
I first experienced them at the Proctor Farmer's Market.  Really, I've never had any scone like this one.  It was crisp and crunchy on the outside, and fluffy and moist on the inside.  The fresh green basil was flecked throughout, and the sun dried tomatoes offered a sweet, chewy tang.  To make it even more perfect, the feta cheese added a salty, rich note.
I've been meaning to ask them how they do it — the fluffiness, I mean.  I've never experienced the lightness in a scone that they've mastered.   (Their white chocolate cherry scone is another great example, but that's another matter).
Not having had a chance (or the courage) to ask them to divulge their trade secrets, I set out to recreate these on my own.  It was no easy feat.  While the flavor is there, the lightness needs some work.  When they first come out of the oven, the crunchy outside is perfect, and the inside is fairly fluffy.  Over time, they become more like the scones I'm used to.
Thus, the quest to reach scone nirvana is not over.  Don't get me wrong, these are great (and definitely worth making), but if anyone has any scone fluffiness tips, let me know.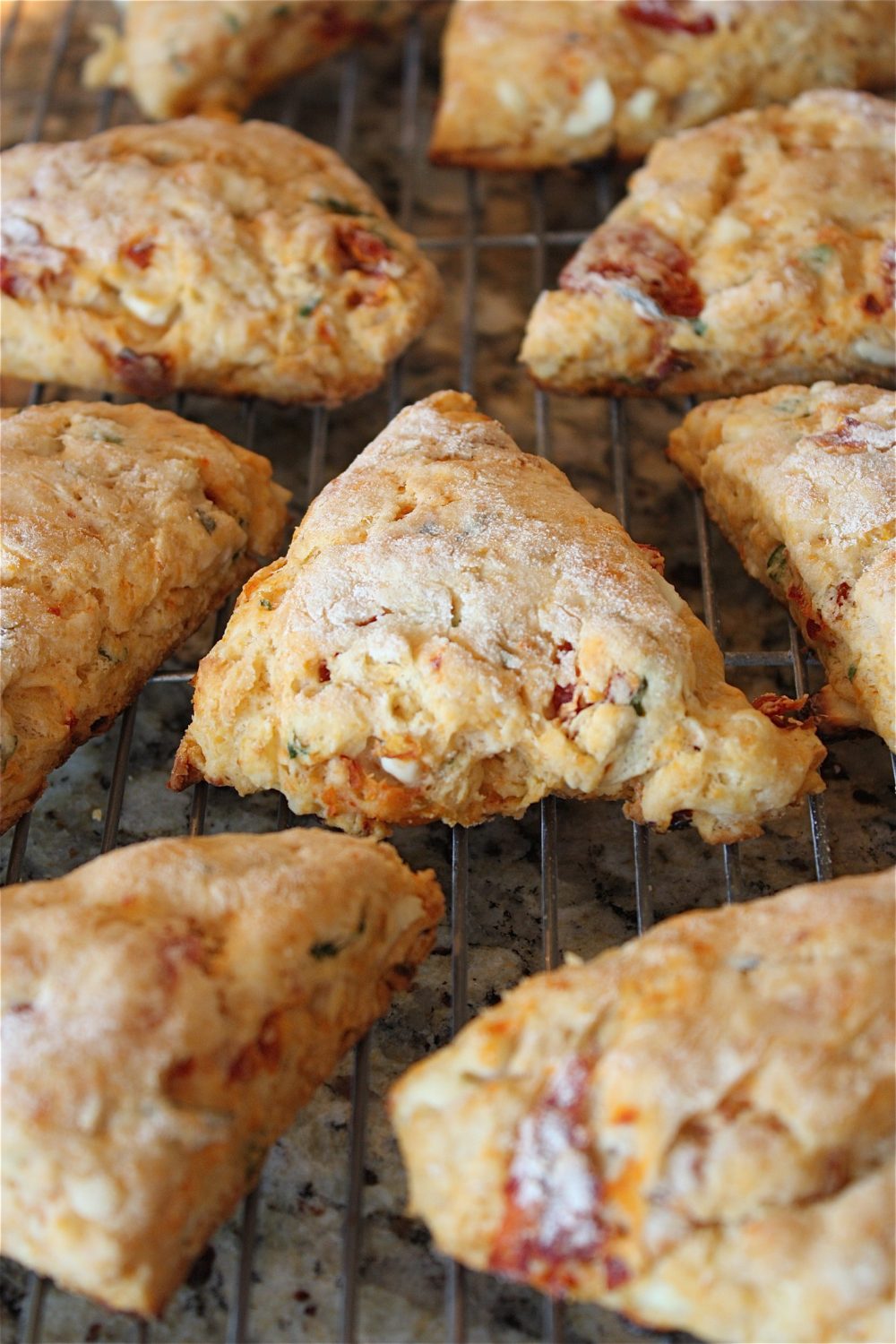 I'd recommend eating these the same day they're baked for optimal texture, although you can store them for a few days in an air-tight container.
(Visited 4,612 times, 1 visits today)
Recipe Steps
| | |
| --- | --- |
| | Pre-heat oven to 400 degrees F. |
| | Line two baking sheets with parchment paper. |
| | Mix together flour, baking powder, baking soda, sugar and salt. |
| | Cut in the butter piece by piece. Using a pastry cutter, cut in butter until it becomes the size of small peas, and is well incorporated. Refrigerate for 20-30 minutes. |
| | Remove the flour mixture from the refrigerator and gently mix in the buttermilk, feta cheese, sun dried tomatoes and basil, making sure to not overmix. You will have a sticky dough. Turn the dough out onto a floured work surface and roll out to a thickness of 1 inch. You can either cut the scones into triangles or use a cookie cutter to make circles. Place onto parchment-lined pans. |
| | Bake for 15 to 17 minutes, or until they are puffed and browned on top. |